Visas
Beside the usual visas, jabs and health certificates, you still officially need to be invited to the country. No casual encounter here; this is a full-on formal date. If you are going to visit a friend or contact in Sierra Leone ask for a short letter from them. If you are going on a genuine holiday, then arrange one through your tour operator or hotel.
Some bodies, such as Visit Sierra Leone and IPC travel agency, offer fast-tracked tourist board-approved services to skip this archaic letter-writing hurdle. Go to Visit Sierra Leone for an up-to-date list of visa prices, as well as information on how to secure your visa in advance without visiting your local Sierra Leone high commission or embassy – scan the relevant passport page, provide your name and dates of travel, and let Visit Sierra Leone do the hard work, for an admin fee of US$30. It'll be a single-entry, one-month visa, and you pick up a scan of it via email and carry it in your passport.
Getting there and away
By air
Sierra Leone's airport, Lungi International, isn't actually in Freetown, but in fact on the opposite side of the water in Lungi. Several international airlines pulled their Freetown routes during the Ebola crisis and not all of them had returned at the time of writing. The most notable absence is that of British Airways, who suspended their route in 2014 – rumour on the street is it was an unprofitable route to begin with and Ebola provided a convenient pretext to axe the service.
A hastily arranged substitute meant to serve the London–Freetown route, Fly Salone, both started operations and collapsed within a four-month period in 2015–16, and Sierra Leone remains without a direct air link to the UK. It's not all doom and gloom in the air sector though; KLM introduced new direct flights from Amsterdam in March 2017, Fly Mid Africa started services to Banjul that May, Mauritania Airlines added Freetown to their Dakar–Conakry route in August, and Turkish Airlines was in negotiations to start offering connections to Istanbul before the end of the year. According to the Minister of Transport and Aviation, Emirates are considering adding Freetown to their network as well.
You can generally pick up a return from the UK for about £700, although deals at certain times of the year can see them drop below that – for example, a month-long return from Freetown at Christmas might go for as little as £500 – while in summer months prices can rocket.
Most international flight tickets already include US$40 departure tax, but local flights tend not to, so be prepared to stump up the extra cash at the airport.
Should they resume, direct flight time between the UK and Sierra Leone is only about 6 hours. Not the most favoured of worldwide destinations, many planes depart Freetown horribly late at night, leading many a confused ticket-holder to arrive a day late for their 02.00 flight. Be prepared too for lengthy delays.
In 2006, the EU banned many African carriers from landing in Europe, although that obviously doesn't stop airlines that don't meet European safety standards from flying within their own region – something to bear in mind when you book your tickets. You can check the updated list at here.
By road
Long eschewed by overland travellers thanks to years of turmoil in neighbouring Liberia and Guinea, the newfound political calm in the Mano River neighbourhood means it's now easier than it's been for decades to enter Sierra Leone by land. Whether that means bouncing through the pretty hills and mountains of rural Guinea, or grinding along the steaming swamps and jungle of Liberia, it makes for a pretty spectacular way to arrive.
While the state of the roads and the sheer unpredictability of the environment mean it's no picnic, a road trip to Sierra Leone is certainly not impossible. Make sure you possess Job-like reserves of patience (and charm) to deal with ubiquitous police checkpoints, the only thing south of Tangiers more prominent than Premiership football shirts. Driving down from Europe, hugging the coast via Morocco and Mauritania on tarmac roads to Dakar, takes about three weeks. The Bradt Africa Overland guide has some good advice about kit and other essentials.
Border crossings and checkpoints
Crossing into Sierra Leone itself is relatively straightforward. The simplest way from the north is via Conakry, the Guinean capital, from where the border is a couple of hours away at Pamelap, on a poorly maintained tarred road that continues to the Sierra Leone town of Kambia. 
Following the border about 100km northeast, the crossing at Madina Oula is more difficult thanks to the poor state of the roads; it's 65km from the Guinean city of Kindia, which is itself about 3 hours northeast of Conakry. It offers direct access to Outamba-Kilimi National Park once over the border in Salone, but you'll have to take ocada transport for at least part of the trip.
There's also a great route into the far northeast of Sierra Leone from near Faranah in Guinea, east of Falaba – good if you're sweeping down south from Mali. Border officials at Gberia Fotombu (also known as Koindu Kura) are courteous and keep the post open 06.00–18.00, with fairly hassle-free paperwork.
Heading into the east of Sierra Leone, the main border crossing from Liberia is at Jendema, linked to the Liberian town of Bo-Waterside by the Mano River Bridge. From here the road to Monrovia is tarred and in a good state of repair, and you can reach the capital in a couple of hours.
There's also a pair of decidedly remote crossings in Kailahun district, either at Baidu, near Koindu, or Dawa, near Buedu, from where it's 17km and 25km onwards to the Liberian town of Foya,  respectively, on rough roads all the way through. 
By sea
The regular ferry service between Freetown and Conakry has long been out of action, although there are occasionally hopeful rumours of it starting up again. Cargo and passenger ships berth at the Queen Elizabeth II Quay, while some passenger/cargo and private craft can land at Government Wharf in Central Freetown, arriving most often from Conakry and Banjul. Enquires should be made to cargo shipping agencies via the Sierra Leone Ports Authority. Also contact Sea and Land Services, Sierra Leone Shipping Agencies and the Sierra Leone National Shipping Company. 
Getting around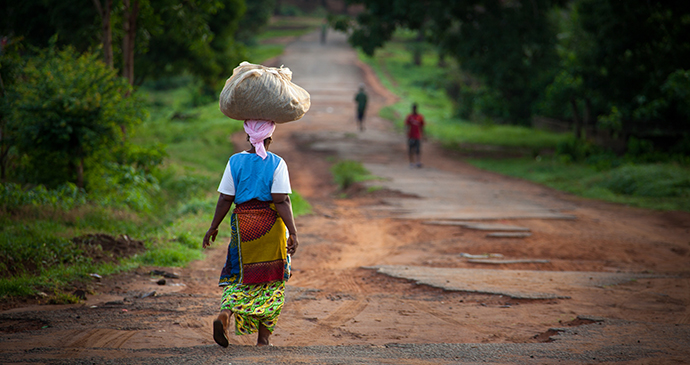 Walking into towns and villages is a great way to experience rural life and spark up conversations with locals © robertonencini, Shutterstock
Traffic drives on the right, a shift made in 1971 to keep pace with neighbours and fellow right-handers Guinea and Liberia, as well as an attempt to shed the yoke of colonialism. Drivers stuck notes all over their cars to remind themselves, and some radio jingles had people so on-the-ball they switched lanes ahead of time, with disastrous results. Today you could be forgiven for thinking that many people still aren't quite sure, as cars overtake into oncoming traffic, and hazard lights are switched on by those in a hurry as an apology for doing whatever they like.
Accidents are common, and transport is often in a state of ill-repair – think nothing of vehicles with cracked windscreens, missing mirrors and no seatbelts, with so much paraphernalia piled up on the dashboard (family photos, fake flowers, encouraging cards, plastic toys, totems) that it's hard to see out anyway. Roads upcountry are often dire and particularly dangerous during and directly after the end of the rainy season.
By poda poda
Poda podas are the backbone of the public transport system. Perhaps it's no surprise then that the phrase is often taken to mean 'slowly slowly'. These wood-slat-seated minibuses travel on numerous fixed routes, and in central Freetown, this usually means the most congested roads. They pick up and drop off on request, and are easily hailed. Crammed with people, they are also among the best places to find out the latest music hits.
By taxi
For those without transport, taxis are the easiest way to get around. You can spot them by their yellow sides, although there are a few magnificently incongruous black and red London cabs plying routes too. You can hail one whenever you see it, but bear in mind they are shared and tend to keep to fixed routes. Shout out your destination and be prepared to be refused if it's not in the right direction. Learn the key routes and in your head combine them in order to reach your destination.
Taxis are priced by the distance you travel. 'One-way' costs Le2,000 (although this rises in line with petrol price hikes), but is a variable unit of distance (roughly 1–2km). Expect to be overcharged the first few times you use a taxi, and watch how much other passengers pay to get a feel for how far Le2,000 will take you.
By motorbike
Sierra Leone is also home to the motorbike taxi – hop on the back, hold on, and go. Known locally both as Hondas and ocadas, they are most popular in the provincial towns of Bo, Makeni and Kenema, but pop up in other towns such as Kabala and Koidu. In Freetown they are a handy way to dodge the traffic in the east of town, and to head out from Lumley to get to the beaches on the Peninsula.
By car
For travel within Freetown or between regional capitals, a car is fine, but beyond it a 4×4 is a prerequisite. That means either having your own, cadging lifts or hiring – a super expensive option. Fuel is available in most towns, but often from old pumps, and can be full of impurities. Try to fill up in Freetown and provincial capitals where possible.