Authors' take
More than any outstanding vista, perhaps the greatest pleasure, and privilege, lies with some of the extraordinary people you may meet.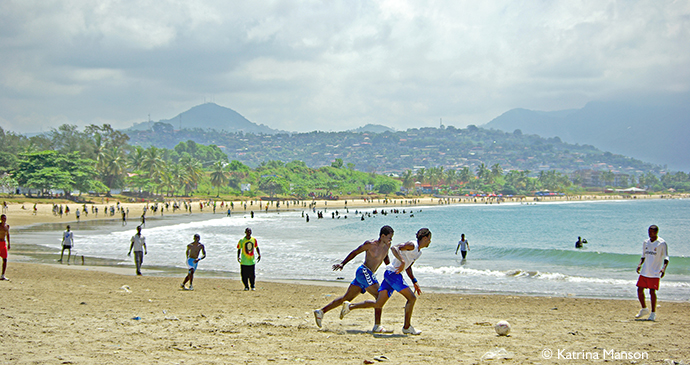 Much of life in Sierra Leone takes place on the beach © Katrina Manson
From the wingflash of an emerald starling, to the shouts of the star-fruit seller in the market, to the salty fur of the ocean, Sierra Leone gleams with life, brilliance and pain.
Salone, as it is affectionately known (and Sweet Salone for extra affection), is not always an easy country, or a happy one. Plenty of things don't work, and won't work for a good while yet. Energy, water, roads, education and healthcare – these basics are erratic, if present at all. Travelling across the capital is tough, let alone going a few miles down the coast or trekking upcountry.
But Sierra Leone's love of life, the determination to make something of itself, even while it shuffles near the bottom of the UN's human development index, shows a spirit the world should gasp at. Young rappers sing of their love of peace, nature-lovers strive to protect rare species, fashion designers pioneer African looks, campaigners agitate for for justice and health workers, now and during the recent Ebola epidemic, bravely care for their communities, often in the direst of circumstances.
In short, Salone keeps trying: after all, this is the place with a rousing history so full of fortitude that it took three waves of former slaves to found the capital in their search for freedom.
It is not yet a 'destination' in the travel industry sense of the word. Once a playground for the French jetset, and adventurous couples in search of an untrammelled paradise, today only 10,000 of 54,000 annual visitors a year call themselves tourists. While this book is for that growing number of intrepid spirits, it is also for the other 44,000: primarily those in the Sierra Leone diaspora visiting friends and relatives, perhaps thinking they might just come home for good this time; and for the business people, development workers and diplomats who come to stay for a while.
More than any outstanding vista, perhaps the greatest pleasure, and privilege, lies with some of the extraordinary people you may meet. We try to tell a fraction of their stories, but thousands more exist far beyond these pages. This guidebook is a jumping-off point: it is not exhaustive, and Sierra Leone never stands still long enough for all of what we have said here to apply in six months, let alone two years. Ask questions, and listen to the people around you.
'We need people to know that Sierra Leone is a destination that is safe, in spite of the fact that we have come out of war. There's no mayhem in the streets,' Cecil Williams, former manager of the National Tourist Board, told us on one of our trips.
His favourite story revolves around five travel journalists who were meant to visit. Prior to arriving, two backed out because they were too scared to come. 'The first night I took them out and by one o'clock I went home,' he said, with the beginnings of a smile. 'The next day I found out they had stayed out until four in the morning and they had never felt so safe. They did it every day until they left.'
Authors' story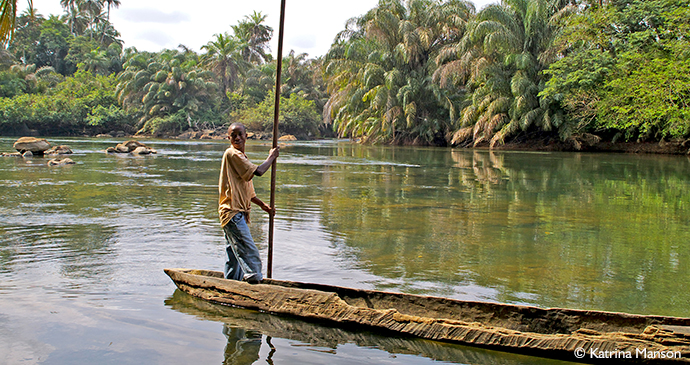 A visit to Tiwai Island is undoubtedly one of Sierra Leone's wildlife highlights © Katrina Manson
It all started in a bar in Ouagadougou, Burkina Faso's dry, dusty capital. The music was raging, but we could just make out the words: 'It's the most beautiful place in the world.'
That alone had us hooked. The fact that this total stranger was talking about Sierra Leone – not exactly top of everyone's 'must-visit' wish list – made the comment even more astounding. A little more than a year later we were there.
The raw beauty of the place is overwhelming. You can track monkeys and rare hippos; dine on an unspoilt, empty beach with only the moon for company; step onto a former slave island drenched in history; clamber to the top of mist-shrouded mountains; swim around a tiny island poking out of the Atlantic; and camp in a treasured patch of rainforest.
Such a feast of picture-perfect moments is miles from what people might expect from a 'war-torn' country. A few years ago the only place you could find Sierra Leone on a book spine was in sections far more grisly than travel. Things have long since changed, and Sierra Leone offers a chance to explore beautiful wilderness, stunning beaches and extraordinary culture. Even so, when we first told people about writing a travel guide to Sierra Leone, many snorted with derision. Except Bradt. And anyone who had actually been there.