Eating and drinking
Accommodation
Eating and drinking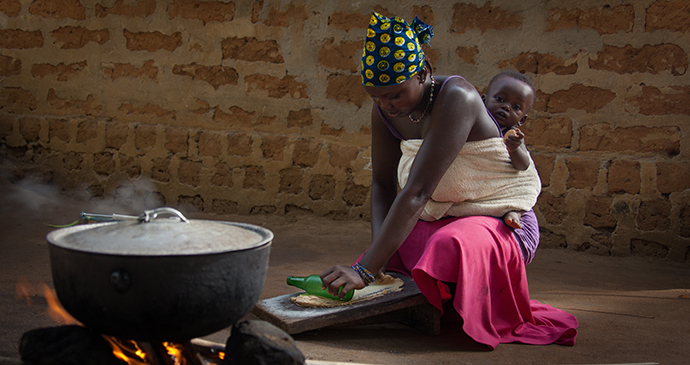 Wander the streets of any rural village and you'll see the same familiar scenes of washing, cooking and chatting © robertonencini, Shutterstock
Staple dishes
You may hear the phrase that a Sierra Leonean has not eaten unless he's had rice. Pile on the salad, protein or sweets, but a Salone man will still walk away hungry unless he's had a plate of the stuff. There are more than 20 different Mende words to describe rice in its variant forms, from 'sweet rice' to 'pounded rice' to 'the rice that sticks to the bottom of a pot upon cooking'. Relying on white imported rice from India, Pakistan and Thailand, world price rises have hit the country hard, although 'country rice' – the brown chubby version – is also popular upcountry among subsistence farmers.
The classic dish of the nation is rice and plassas (also called palaver sauce), a word to describe any of the various green leafy sauces, drowned in fatty, lip-staining orange palm oil (also known as pamine), which can leave a scratchy taste in the back of the throat. Among the most popular options are cassava leaf sauce, potato leaf sauce (both a bit like spinach) and slimy crain crain, described by one smiling detractor as 'reminiscent of the middle of a cockroach'. (If crain crain is served with a rich pamine sauce, it's known as obiatta.) Whatever the main ingredient, the sauce is usually cooked with onions, fresh chillis and stock cubes. An unusual taste at first, it doesn't take long for the homely, filling nature of rice and plassas to take on a comfort of its own. Palm oil can give everything a bitter or overly fatty taste, and some prefer to use coconut oil or groundnut oil. If ever you're asked if you'd like your plassas 'white', it means having a clear oil – taken from the nuts inside the kernels rather than the soft pulp surrounding them – instead of the usual red palm oil. If you're vegetarian, watch out. Just because a sauce is described by the relevant type of leaf that doesn't mean you won't find meat in there – chicken, beef, goat, grasscutter, duiker or monkey (depending on how rural and remote you are) and smoked fish are all favourites.
A sweeter alternative is the Salone version of satay – a groundnut sauce (often called a soup or stew) and made from peanuts, with whatever animal is to hand thrown in. The thicker the sauce, the better.
All these dishes are usually riddled with chilli pepper, so be sure to speak up if you're not a fan of having your head blown off, although as dishes are often served from giant pots there's not much the cook can do to tone things down. Another popular rice dish is jollof rice, cooked with tomatoes and onions, spices and stock. A much subtler flavour, it's sweet, moreish and often cooked on special occasions.
The other key carbohydrate is cassava. Chunks of flaky cassava with black-eyed beans (pronounced 'binch') are hard to beat. Gari – grated cassava – is popular in the second city, Bo. Strong on texture, it's less bland than foofoo, also made of cassava, which is ground up, mixed with a little water, pushed through a sieve, cooked over a slow fire into a thick paste, and then rolled into balls. Foofoo tends to be eaten with palm-oil stew or ebu as an alternative to rice. Roast cassava is heated over hot coals. The roadside traders of Waterloo, just outside Freetown, have a fine reputation for thin discs of cassava bread with a hot fish sauce. Sweet potato, pasta (from packets) and chips are found on most Freetown menus. If you still feel there aren't enough carbs in your diet, do not miss the chance to try street-sold Fula bread, rich, fluffy and almost baguette-like. For Le1,000–4,000 a stick, from wooden boxes carried high on vendors' heads, you can't go wrong. Much of the bread sold in shops is grim, and imitation croissants are mostly an embarrassment (with a few exceptions).
Side dishes
Other local accompaniments include fried plantain (sometimes roasted or boiled) and bitter okra sauces with rice. Beans and plantain is a dish in itself, fatty, filling and delicious. African salad can sound marvellously exotic. But in place of passion fruit and unknown fresh-picked leaves, it generally translates as 'straight out of a tin'. The base is often luncheon meat, ketchup and mayonnaise, with some tasteless tinned vegetables and possibly a boiled egg and some tuna thrown in.
Street food
All towns have a road or two lined with wooden food stands. Favourites include fried and breaded chicken; grilled meat (skewered beef, chunks of liver and heart, and goat are popular); chunks of grilled snail with raw onions and groundnut sauce; cutting grass, or grasscutter (bush rat), fried yams, sweet potato and plantain; eggs, whether boiled, fried or even scotch; and attieke, a medley dish of the ubiquitous cassava (this time fermented, crushed and steamed to resemble couscous), chicken or meat if available, chopped-up spaghetti and whatever else might be to hand, such as onion or tomato and hot pepper. Everything comes with lashings of mayonnaise (Le300) and ketchup (Le300). Fry fry refers to any of the contents you might end up putting in your bread, such as beans. Upcountry, look out for entire grilled bush 'fowl', a small local chicken, and porcupine soup. The more remote you go, the more likely you are to come across bushmeat. At transport stops there are fairly regular offerings of grasscutter sandwich, as well as dead monkeys hung up on wood-stick tripods at roadsides and the odd deer leg and porcupine sold at market.
In shacks, bread with condensed milk is popular, and many people pour the milk straight from the can onto the bread for breakfast, adding an egg in some form if any are available. Others dip their bread into seriously sweetened tea, coffee or cocoa.
Cookeries – often no more than wooden shacks offering a bit of shade from the sun – serve up rice and sauce. In the most humble of them, you can request a plate size according to price (usually Le2,000 or Le4,000 per plate), other grander affairs charge set fees that do not usually exceed Le6,000. For the same meal in a restaurant, expect to pay Le25,000 or more.
Snacks
Don't miss pounded corn, a sugary yellow paste wrapped in kola leaf sold for Le200 a bundle. It's a shot of energy for the afternoon post-rice lull. Popcorn and roasted corn on the cob are also popular.
Morko makes for a sweet breakfast – a deep-fried mixture of ground rice with banana. Or try various akaras: beans or rice ground up, made into a ball and boiled or fried. Likewise fish balls, also for Le200 each, are a quick energy burst.
Biscuits include benni cake, made from a bitter plant and sugar and shaped into a diamond; coconut cake; bulgar cake, made from wheat; kebbe, rolled into a ball; and brittle groundnut cake.
Less a snack and more a social tool, the kola nut figures heavily in local shows of custom and respect. It's a ceremonial lynchpin, time-passer, dye and mini-high all in one. 'He who gives kola nut gives life,' goes the saying, and this bright purple, smooth nut from the kola tree is a perfect offering for chiefs and elders. Breaking one in two or biting off a small piece and then sharing it around are established ways of building trust and unity, but take your lead from your company. While many foreign visitors mistakenly sometimes come laden with kolas as gifts for the local chief, by tradition they are in fact given from the host to strangers. Otherwise it's a bit like bringing coal to Newcastle, and will be seen as a bit cheap too, quite frankly.
Drinks
Hard stuff
Booze is a mainstay of village life, with homemade moonshines the norm. Best known is poyo, or palm-tree wine. Distil poyo and you have the clear spirit omele, so hard it also goes by the name of 'bush kerosene'; not only will it make your eyes water, they may feel like they are about to pop out of their sockets.
Manpikin (man-child) is the name of the rather less appealing local rum; be warned, it doesn't give you the bulging biceps of the hastily drawn figure in the promotional pictures – you're more likely to be turned into a dribbling fool, as the name suggests. Shot-sized clear plastic tubes, called Pegapak, contain neat gin and sell for Le500. Look down and you'll see the ground of some villages strewn with the discarded packets.
Beer is widely available. The local brew, Star, comes in green bottles and chubby cans. They can go for as little as Le4,000, depending on where you're buying, but more often Le6,000–8,000. Most beers are served with a paper napkin, so you can wipe down the recycled bottle rim. Taste varies depending on the batch, but generally it's slightly heavier than the imported beers – Heineken, Carlsberg and Becks – which usually sell for at least twice the price, making them the brands of choice for well-to-do Sierra Leoneans. Guinness enjoys affection, based mostly on the memory of the now-banned adverts suggesting it offers 'strength' (often interpreted as sexual potency). The newest beer on the market, Salone Beer, hit shelves at the end of 2016 and is notable for being brewed from 100% locally grown sorghum rather than imported barley.
Soft stuff
Bottled Coca Cola, Fanta and Sprite are all present; there's also sticky-sweet purple Vimto and energy drinks – Red Bull, Battery – to keep Freetowners going into the early hours. Malt drinks are also popular. Locally produced equivalent colas tend to be slightly sweeter and cheaper; some bars stock a range of imported juices. Sadly there's not yet a large-scale outlet for the country's exotic fruits, but some bars do sell delicious freshly squeezed juice, whether mango, pineapple, banana or in one rather extraordinary case, avocado (head for Bliss Patisserie in Freetown to sample that one). Oasis Café in Freetown sells an innovative range of juices and icy brews. Try the gingered iced tea or the mint-laced watermelon juice for a refreshing quaff.
While thick, strong Turkish-style coffee is a favourite among the Lebanese community, green tea is the brew of choice in the provinces. Known as ataya it is served in small short glasses with a healthy dose of froth on top, often from wooden stands that, like poyo shacks, serve as popular meeting points – look for the sign Ataya Base. In the bush, ataya is often shared, and the more froth you're offered the greater the honour.
Tap water isn't safe enough to drink – never mind the quality of the water treatment, the pipe network is filthy and often exposed. If cooking, boil first for at least a minute and add purifying tablets if you have them.
Bottled water is sold in all supermarkets, with a range of French and Lebanese imports. To support the local stuff, buy Blue Spring, Grafton, Luvian or Magram, bottled fresh from the local springs. A six-pack of 1.5-litre bottles costs from Le18,000. You can also buy plastic sachets of water all over the country – bar the villages that rely on well water (often cleaner than tap water) or (less reliably) the nearest stream. They sell for Le500 each. Some street-sellers offer much cheaper cold water in unmarked plastic bags – this is chilled untreated water and should be avoided.
Accommodation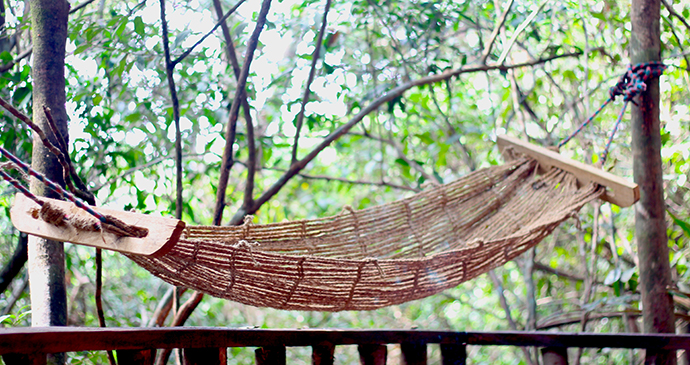 Visitors to the Tacugama Chimpanzee Sanctuary can spend a night in one of their elegant lodges overlooking the forest canopy © Dennis Jensen, Tacugama Chimpanzee Sanctuary
In general, accommodation in Sierra Leone is not as good as it should be. It is undoubtedly improving, as electricity flows more regularly and those with an eye for what a visitor appreciates take a firmer hold of the design reins. As it stands, the pricier joints are business-angled breeze-block hotels proud of their fridges and television aerials, devoid of soul. Guesthouses can be filthy and more expensive than you might hope. However, there are the occasional gems, which are marked throughout the text with the author's choice symbol.
In most upcountry hotels and guesthouses a single room is, confusingly, fine for a couple. It just means the bed isn't quite as large as in a double room (double beds tend to be wider than they are long – a luxury that comes with the cheapest of stays). As for pricing, some rates are per room, others per person, so check first. Tax, which stood at 15% at the time of writing, is sometimes included in the price, sometimes added at check out.
In many spots, it's worth negotiating over price, especially if you plan on staying more than one night. Only the top hotels in Freetown accept credit cards, so come flush with cash. Many hotels will not allow same-sex couples to share, even if they pose as, or really just are, friends. Others don't give two hoots.
While there's nothing in the way of luxury camping (though Bafa Resort on the Banana Islands comes close), endless opportunities beckon for a night in the wilderness – camping in ready-prepared tents in wildlife parks; bringing your own; or, better still, bedding down under a mosquito net hung from a palm tree on an island oasis.