March
Freetown Music Festival
The hottest ticket in town since 2016, the Freetown Music Festival is held over two nights on the north end of Lumley Beach in March/April and seeks to celebrate local talent and showcases a long list of up-and-coming Salone musicians, all backed by live licks from the Freetown Uncut band.
April
The Lantern Festival
Freetown's neighbourhoods compete against each other to create the most colourful and fantastical floats with inspiration drawn from both past and present.
Easter Monday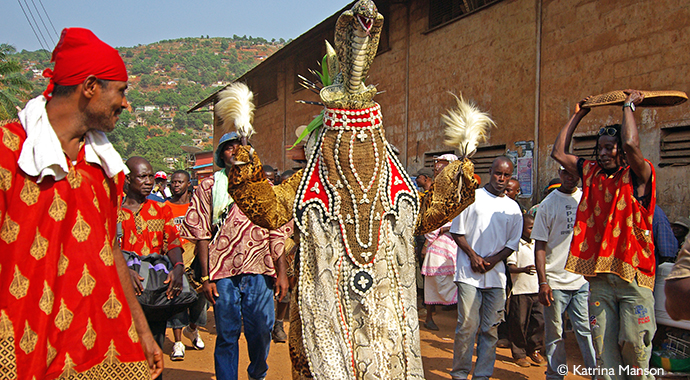 At Easter celebrations, traditional 'dancing devils' take to the streets accompanied by a menagerie of dancers and musicians © Katrina Manson
Whenever Easter may fall, if you're in the country look out for the eclectic spiritual celebrations. Religious bands chant through streets while downtown a series of 'dancing devils' in elaborate masks and costumes come out to parade with musicians.
May
Sierra Leone Marathon
Organised by NGO Street Child Sierra Leone, the marathon is held in Makeni every May.
August
Eid al-Fitr
August marks the end of the Islamic holy month of Ramadan and the annual arrival of Eid al-Fitr. After a long month of fasting, Eid ceremonies are also held at mosques across the country.
October
Fishing season
October marks the start of fishing season on Sherbro Island with sports anglers coming from all over the world to fish in the waters around the island.
November
When to go
Visit Sierra Leone in November and December for the welcome combination of very little rain and less fearsome heat.
December
Tangains Festival
A lively festival of traditional music, dress and food.
Ma Dengn Festival
A raucous celebration of Sierra Leonean music and culture, this mega beach party has quickly become a mainstay on the Freetown festival scene.