One of the world's smallest capitals, Victoria is an interesting little town, with an interesting mix of architecture.
Victoria, one of the smallest capitals in the world, nestles beneath the imposing granite mountains on the northeast side of Mahé on a ribbon of flat land edging the sheltered bay. It is an interesting little town with typical Creole-style buildings interspersed with more modern architecture. In keeping with the promotion of Creole culture, many of the new buildings follow the traditional style, and some even have a vaguely Indian influence with ornate archways and small tiles. There is a general air of prosperity, new buildings are under construction, the streets are clean, the people appear healthy and well fed, and there are no beggars. However, sometimes the shops simply do not have the specific item that you require as everything has to be imported.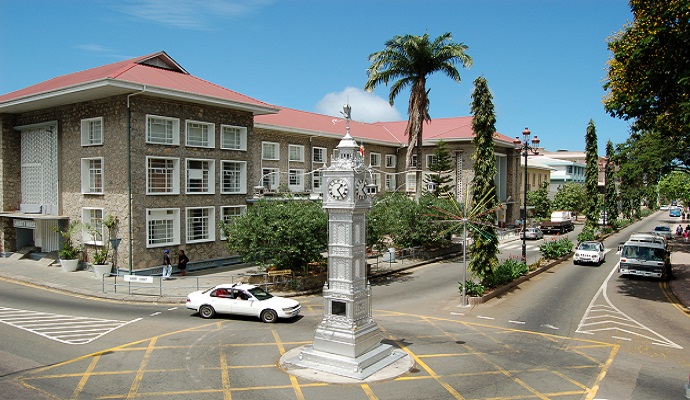 The silver-painted clocktower in Victoria is a replica of the one on London's Vauxhall Bridge © Gerard Larose, Seychelles Tourism Board
Victoria is a busy commercial centre, well serviced by banks, shops and restaurants. Taxis and buses operating from the town centre provide quick and easy connections with the rest of the island. Down at the harbour, the inter-island quay has boats of all descriptions travelling to many of the islands, and the deep-water international quay provides access for large cruise ships and cargo vessels. Located between the two busy quays are the Seychelles Yacht Club and the Marine Charter Association. Unfortunately, the tuna factory is also down on the quayside and, at times, the smell from the processing strongly pervades the air.