Author's take
Geographically, culturally and politically, Senegal has always been an African standout, and as the closest African 'winter sun' destination to Europe, it's both endlessly fascinating and eminently accessible. With some of the best flight connections in the region, Senegal has long been a popular destination for Francophone travellers escaping the long nights and low temperatures of the northern latitudes, and the swaying palms of Dakar are much closer to home than you might think. With flight times of under six hours from Paris and less than eight from Washington DC (with non-stop connections to both), Americans and Europeans alike are only a day's journey from this superlative and surprising nation at Africa's westernmost edge.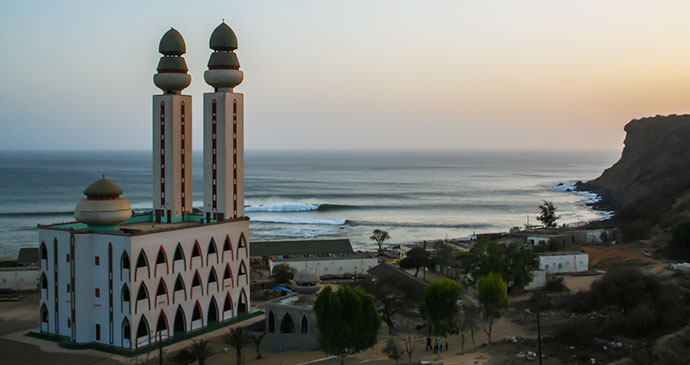 Situated just steps from the beach, the Mosqueé de la Divinité is one of Dakar's most impressive sights © Marco Muscarà
Politically, there's hardly a more stable place anywhere on the continent: there's never been a coup d'état or a particularly authoritarian government, and the population is remarkably politically engaged – people here follow the latest palace intrigues with the zeal of a soap opera. Thus, it's little surprise that the first African to serve in the French parliament hailed from here more than 100 years ago, it was the first place on the continent where a president voluntarily handed over power, and it saw sub-Saharan Africa's first-ever change of government at the ballot box. Behind this string of achievements lies a country and a people that are both confident and diverse, who have long been at ease with themselves and their neighbours, and whose knack for welcoming visitors is hard-wired into the national DNA.
Often touted as the 'land of teranga', which is Wolof for hospitality, the importance of welcoming guests here is not simply a tourist-brochure buzzword, but rather a concept that informs nearly all elements of Senegalese life. Whether it's welcoming cousins in from out of town or travellers from across the globe, the red carpet is rolled out just the same, and by the time you've spent a few weeks here, it'll be harder and harder to keep track of how many bowls of the national dish, thieboudienne, or glasses of the ubiquitous green tea, attaya, that you've been asked to sit down and share with a complete stranger. Given the many charms of Senegalese cuisine and the warmth with which it's offered, you might find yourself accepting more of these invitations than you'd imagine.
Apart from its island neighbours in Cape Verde, Senegal is the westernmost country in Africa, and Senegal's population and economy are both inextricably tied to the coasts, which are amply blessed with mile after mile of rich fishing waters and uninterrupted, postcard-perfect powdery beach. Tourist facilities largely mirror the settlement patterns of the country as a whole and, given that nearly 25% of all Senegalese live in the Dakar region alone, the sparsely settled interior feels both literally and figuratively miles away from the twinkling lights and ocean breezes of the coastline. The deluxe seaside hotels and resorts also quickly disappear as you head inland, and are replaced by guesthouses aimed at the local market and an admirable network of rural campements offering a true village experience.
Regardless of where you are, however, the road network has improved dramatically in recent years, so even if you've only got a week's holiday, the further reaches of the country are more accessible than ever before. Geographically, Senegal sits squarely in the transition zone between the endless deserts of Mauritania to the north and the impenetrable forests of Guinea to the south, occupying something of a climactic middle ground. Indeed, it's perfectly possible to trek the green Fouta Djallon foothills, catch some world-class waves, and watch a sandstorm blow in from the Sahara within a day's journey of each other, and all without ever having to cross a border. And even though the whole country is accessible within a day or two's journey, it's easy to feel as on or off the beaten track as you like. Whether your aim is to dance your feet off to Senegal's frenetic mbalax beat at an all-night party in Dakar, loll in a hand-woven hammock somewhere along the Petite Côte, inspect the century-old manors of Saint-Louis, or escape to an island lost deep in the rivers of Casamance, the immense diversity and warm welcome to be found in all corners of the country make Senegal a thoroughly satisfying destination for both Africa first-timers and old hands alike.
Author's story
While it would be impossible to distil the months I spent in Senegal into just one experience or pithy anecdote, perhaps nothing was so illustrative of Senegal's contrasts and charms during my time there as running out of fuel on the Vélingara–Kolda road. Seeking to wring a few cents' more profit out of his trip, our sept-place driver played a bit fast and loose with the amount of petrol we'd need to reach our destination, and we wound up puttering to a stop, at sunset, in an uninhabited patch of forest somewhere about 25km outside of Kolda. Amid sarcastic jeers and cries of 'Economiser!', our driver took off on foot into the increasingly inky night with nothing but a jerrycan, and we were left at the roadside to fend for and/or entertain ourselves.
Thinking the situation a bit grim, I was resigned to my fate until the two savvy Dakarois sitting next to me pulled out their laptop and invited the car to watch a film with them. Moments later we were sharing snacks and taking pictures on the roof rack together, taking turns trying to wave down passing traffic for a lift. It was there, on the side of a dirt road illuminated by nothing but a few stars above and the glow of a pirated Kate Hudson movie, that I first noticed the easy grace with which Senegal has put on the mantle of modernity.Today, everyone has a mobile, but they'll still look up from it long enough to invite a total stranger to share their bowl of rice and, when you're stuck on the side of the road together because your clapped-out sept-place has called it quits, you go home with a phone full of photos and a bunch of new Facebook friends. Chalk it up to teranga or whatever you like, but Senegal walks the tightrope between the traditional and the modern with an effortless poise.
After a couple of hours, the Dakarois and I were the only passengers who had yet to fi nd a lift when an ancient, hulking beast of a truck finally shuddered to a stop and offered us a ride into town; the only problem was that there was hardly room for two inside, let alone three. No matter, it was decided, we'd all go or none of us would, and we piled into the cab – air already thick with diesel and day-old sweat – and my two new friends, unprompted, sat on each others' laps for the whole of the excruciatingly slow last few miles into Kolda, just to make sure there was enough room for me. We never did see the thrifty sept-place driver again, but, after getting dropped off at my hotel door in Kolda, I had plenty of fantastic shots from what I thought would be a horrible night stuck out on the roads, and some new friends to share them with.