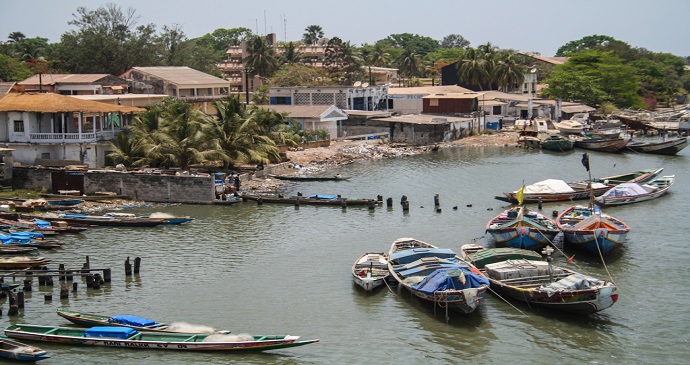 There's no better Casamance experience than pushing out onto the water in a pirogue from the steamy river town of Ziguinchor and disappearing into the mangroves beyond © Marco Muscarà

Find your own tropical island in the Sine-Saloum and Casamance river deltas, twin labyrinths of mangrove creeks and lost-in-time fishing villages.
Sine-Saloum
Recognised in various overlapping permutations as a national park, Important Bird Area, UNESCO World Heritage Site and RAMSAR wetland, it's safe to say the Sine-Saloum Delta is nothing short of spectacular and that you should make your way down here post haste – any visit to Senegal without at least a peek into this wild and disorienting expanse of saline bolongs (creeks), lofty palms, gnarled baobabs, surreal shell islands, ancient burial mounds and a bewildering expanse of mangroves larger than the world's 25 smallest countries would be woefully incomplete. This is where the Sine, Saloum and Diombos rivers meet the ocean, and is the heartland of the fiercely independent Serer people, who, despite making up less than 15% of Senegal's population, count among their ranks both of Senegal's first two presidents, 'the father of African cinema' Ousmane Sembène and global superstar musician Youssou N'Dour. As with the rest of Senegal, Islam plays an important rôle here, but in the delta Christianity and traditional beliefs predominate, and Sunday morning mass is often even busier than Friday afternoon prayers.
The countless islands of the delta are home to dozens of fishing villages ranging from decently sized to downright diminutive, but outside of these settlements, a patchwork of uninhabited land, tidal flats, rivers, and ocean is protected as a part of the 76,000ha Sine-Saloum National Park. Most trips into the delta offered by tour operators or hotels will end up in the national park, so it's usually not necessary to liaise with the park authorities directly. The northern sector, including the Pointe de Sangomar, is most easily accessed from Palmarin, Mar Lodj or Ndangane, while the southern bit, including the Île aux Oiseaux and surrounds, is better reached from Toubacouta or Missirah.
Casamance
For travellers with a penchant for the faraway, Basse (lower) Casamance and its agreeably dishevelled capital at Ziguinchor are quite simply an embarrassment of riches. With seemingly endless tracts of spiralling mangrove labyrinths playing host to rare river dolphins, manatees and dozens of hidden traditional villages, this is quite simply the best place in Senegal to disappear right off the map, and it's got absolutely nothing to do with rebels. While today it's easier to get around the compact region than it's ever been, in its further reaches it would be possible to spend days travelling Basse Casamance on nothing but footpaths and bolongs, let alone a surfaced road. Still, if your idea of a vacation is more piña colada than canoe and paddle, Basse Casamance has you covered as well. Home to nearly 30km of powder-fine beaches centred on Cap Skirring, Senegal's largest resort colony outside of Saly, and a wilder but equally dazzling 30km stretch north of the river from the Presqu'Île aux Oiseaux to the Gambian border at Niafourang, Casamance has something for sun worshippers and adventurers of all stripes.
Lush, tropical and covered in a bewilderingly dense maze of forest, mangrove, and an uncountable number of creeks, Basse Casamance both looks and feels a very long way from the baking plains and wide expanses of Senegal's north. Cut off from the rest of the country by The Gambia, Basse Casamance is not only a geographical place apart, but a cultural and political one as well and, as a traveller here, it's easy to feel you've arrived in an entirely different country. Indeed, today it's also a religious anomaly in overwhelmingly Islamic Senegal, as Animism is practised openly and comparatively widely, and Catholics represent a higher percentage of the population here than in any other region, though neither Christianity nor Islam made significant inroads here before the late 1800s, already centuries after Islam established itself in the north of the country. Homeland to the Diola people, the pre-colonial political and state structures here were, in sharp contrast to their neighbours, comparatively egalitarian, and lacked the rigid social hierarchies and permanent warrior, priestly and ruling classes of Wolof and Fulbe societies to the north and east. As such, a centralised Diola state never emerged in Basse Casamance, and the area remained a pastiche of small traditional chieftancies operating at the village level, and a few small kingdoms like Blouf, Bandial (Mof Awi) and Floup, all of which retain some ceremonial relevance today, particularly Floup, centred in Oussouye.