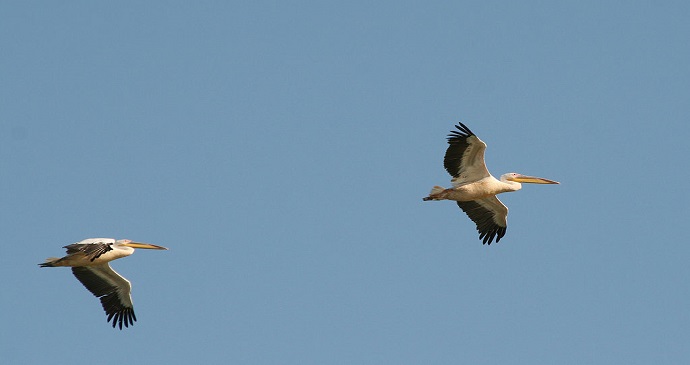 Pelicans flying overhead at this important bird sanctuary © Remi Jouan, Wikimedia Commons

Be sure to pack binoculars for a pirogue trip through the wetlands of the Parc National des Oiseaux de Djoudj.
On an inland delta southeast of the Senegal River, this 16,000ha park was gazetted by the Senegalese government in 1971, listed as a Ramsar Wetland of International Importance in 1977 and declared a UNESCO World Heritage Site in 1981. Across the river in Mauritania, Diawling National Park is has been contiguous with Djoudj since its gazetting in 1991, bringing over 32,000 uninterrupted hectares under protection. Situated on an inland delta just southeast of the Senegal River, the park is afforded by multiple layers of recognition and protection afforded to the park are indicative of its massive importance to African and European birdlife, particularly Palearctic migrants.
The first permanent water source south of the Sahara, Djoudj is the destination for hundreds of thousands of birds as they depart Europe and cross the wastes of the Sahara in search of more amenable climes both here and further south. Seasonally inundated, the park is crisscrossed by a lush, labyrinthine network of brackish marshes, lakes and tidal streams that are visited by 3,000,000 birds annually, with no less than 350 different species represented among them. The terrestrial fauna here isn't quite as exciting, but you're still very likely to spot at least a few warthogs (Phacochoerus africanus), possibly some red-fronted (Eudorcas rufifrons) or Dorcas gazelles (Gazella dorcas), and with a real stroke of luck, perhaps an African manatee (Trichechus senegalensis) gliding silently by.