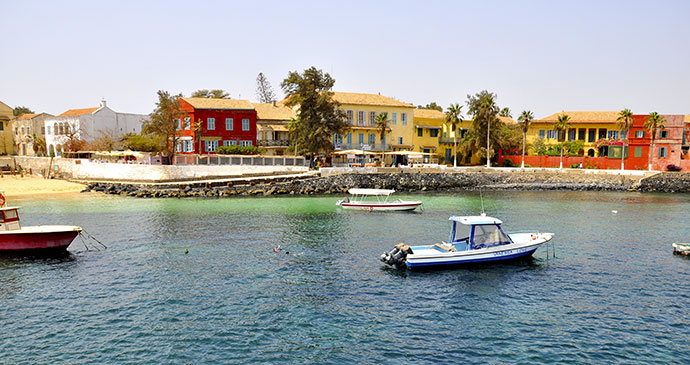 Quiet Île de Gorée is a massive contrast to Dakar © Smandy, Dreamstime
Often overshadowed by its painful history but today a place to reflect and recharge, pastel-hued Gorée is the perfect antidote to the Dakar madness.
Built from old walls, populated by old ghosts, and wrapped in the folds of old silences, Île de Gorée is within easy grasp of the the past, unvarnished in all its glories and horrors, despite being barely 20 minutes and 3km from the monuments and motorways of forward-looking Dakar and its shimmering, shape-shifting landscape across the water. Without a car or tarred road on the entirety of the island, Gorée's 36 hectares are as striking an antidote to its younger sibling across the water as can be imagined. Narrow sand-and-cobblestone streets shaded with palms and baobabs wend their way between the thick pastel walls of centuries-old homes, some bright and newly restored, others assuming the cracks and imperfections of venerable old age, all of them home to a close-knit village of families, some of whose roots on the island go back centuries.
Gorée's tranquillity today belies a sordid and tortured history, and the island has long been synonymous with the slave trade. It remains among the best-preserved of hundreds of major and minor entrepôts along the West African coast, where abducted Africans were imprisoned to await the detestable prison ships that would periodically arrive to haul them off yet again, this time to either their deaths on the Atlantic during the Middle Passage or, for the survivors, slavery in the Americas. As such, a visit to Gorée can be deeply contemplative and intensely emotional. The quietness of the island allows those so inclined a space for meditation on the raw wounds of a human tragedy that are far from fully healed.
Many visitors come to Gorée on a day trip from Dakar but, if you have the time, it's absolutely worth spending a night on the island and absorbing the hush that descends on the streets after each departing ferry takes more visitors, souvenir sellers, and would-be tour guides back across the water for the night. Locals promenade on the streets and go visiting from house to house, and the quayside here is as fine a place to feel the day slip into darkness as there is anywhere in Senegal.