Eating and drinking
Food
Held together by the common thread of the Atlantic Ocean and a near-universal love of fish and rice, Senegalese cuisine is a rich and diverse mélange of offerings informed by the country's drastically varied geography and long, cosmopolitan history. From the locally grown rice and palm oils of the tropical south to the soured milk and traditional millet couscous much loved by pastoralist communities on the northern plains, no matter what the dish, cooking here is approached with a French-inspired flair and a reverence that will be appreciated by any traveller who's put up with one too many slapped-together meals and plates of soggy chips.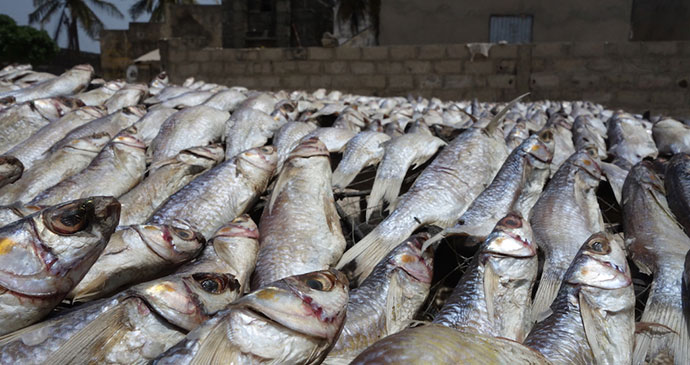 In Mbour the catch of the day dictates the daily schedule © Sean Connolly
Drink
What to wash all this down with? If it's the afternoon, the only answer is attaya, the gunpowder green tea sipped scaldingly hot and eye-wateringly sweet from the daintiest of little glasses while seated under shade trees and around coal burners in a carefully choreographed ceremony that's replicated innumerable times in compounds across the country each and every afternoon. It shares a lot in common with the tea ceremonies further north in the Maghreb, but pure green tea is used here, without the addition of mint common north of the Sahara. Otherwise, in the morning you might be offered a glass of douté, or Kinkeliba tea, made from the boiled leaves of the Combretum micranthum bush, a plant held in particularly high esteem by the Mourides, as Ahmadou Bamba was known to espouse its curative properties. Today it's drunk both as an all-around health tonic and as treatment for everything from liver ailments to diabetes to migraines.
Accommodation
Accommodation in Senegal runs the gamut from five-star luxury lodging to thoroughly déclassé dives, and the prices reflect this. The highest-standard accommodation is found in Dakar and the Petite Côte, but international-standard hotels also exist in tourist centres like Saint-Louis, Cap Skirring and Toubacouta. Elsewhere, most cities have well-tended mid-range accommodation geared towards travelling business people as well as tourists. A notch down from these mid-range places you start to lose perks like swimming pools and the like, but these local guesthouses will usually be the first port of call for budget travellers.
Lodging in Senegal goes by a variety of names besides hôtel: campement, auberge, résidence and occasionally gîte. They're all more or less interchangeable, though campements usually (though not always) lean towards the modest end of the spectrum, while a hôtel or résidence would tend to be higher-end. All accommodation, regardless of standard, charges a government-mandated 1,000F tourist tax per guest per night. This is often, but not always, itemised separately on your bill.