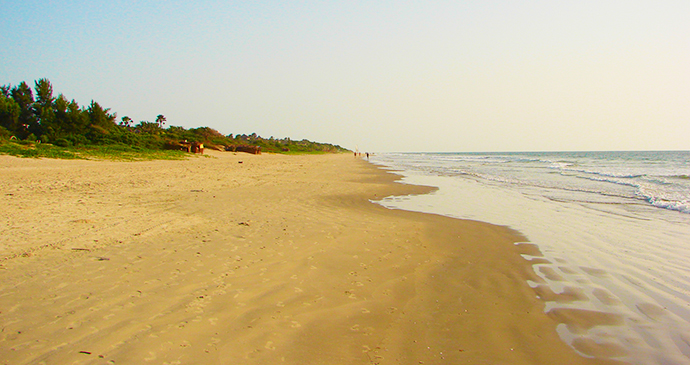 The beaches around Cap Skirring are some of the country's finest © Bjørn Christian Tørrissen, Wikimedia Commons
The jewel in Casamance's crown, the low-key resort of Cap Skirring has a jaw-dropping stretch of beach where cows graze and tourits laze.
Situated just north of Cape Roxo, where the coast finishes its longitudinal course and takes a sharp turn to the southeast as it enters Guinea-Bissau, the twin towns of Cap Skirring and Kabrousse sit at Senegal's extreme southwestern edge, and along what could very easily be the finest beach anywhere in the country. Set beneath a dramatic escarpment (dramatic for topographically challenged Senegal, anyway) with sensational views from the top, the beach arcs its way up the coastline in a series of shallow crescent-shaped coves that are made all the more striking by the riotous vegetation climbing the hillsides behind. As far as tourist centres go, the station balnéaire or seaside resort at Cap Skirring is second only to Saly in terms of its popularity as a European holiday getaway, and the direct flights from Paris to Cap's miniscule airport are proof.
It's still much smaller and calmer than its Petite Côte cousin, though, and it continues to get quieter as you head down the beach towards Kabrousse, which is impressively low-key given that it's only a few kilometres down the road from central Cap's quad-happy main drag. As such, Cap Skirring and Kabrousse play something of a happy medium when it comes to resort towns. Yes, you'll see plenty of wristbands, beach buggies and Club Med guests on parole from their private beach at the centre of town, but you'll also find family-run campements, great music, lively bars, a panoply of land and seaborne activities on offer, and even if none of these things fire you one bit, there's still that absolutely magical stretch of beach.