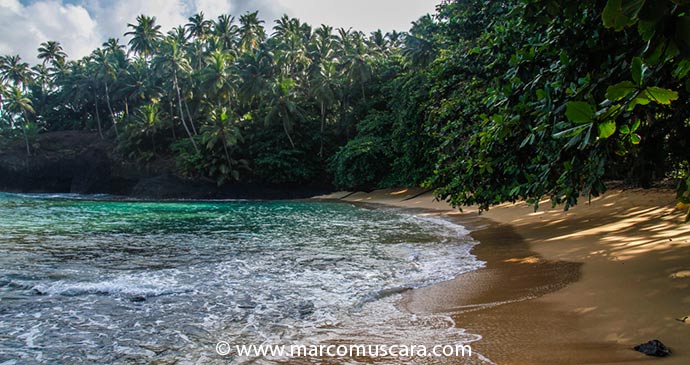 Visas
Entry requirements
You need a passport that is valid for another 12 months after your return date (an unusually long period, so don't be caught out, express passports are costly), a return ticket, and a visa.
Visa requirements
Unless you are a citizen of São Tomé and Príncipe, you will need a visa (visto). Do not attempt to enter the country without one, and don't believe what you see on out-of-date websites, such as, surprisingly, the Foreign Office's. São Tomé and Príncipe has no diplomatic representation in the UK, despite old contacts circulating on the internet. UK citizens should either go through Brussels or obtain a visa through one of the major agencies such as Navetur or through one of the major hotels, which provide assistance.
In the US, the São Tomé and Príncipe embassy, reopened in 2013, is a one-man show, and unless you live in NYC, it might save you hassle to go through a visa service (eg: www.traveldocs.com). Australians, New Zealanders, South Americans and the rest of the world can apply to any São Tomé and Príncipe embassy; I would recommend the one in Brussels. South African citizens can obtain their visas from the São Tomé and Príncipe embassy in Angola or Gabon. STP has no diplomatic representation in Brazil, and according to the Embassy, visas for Brazilian visitors are best arranged with local support.
It is also possible to apply for a visa online but the process is far from smooth. In the words of a US citizen resident in STP, 'Most of the bugs have been worked out, but a few of our travellers have had to attempt more than once'. Successful completion of the online application will result in an approval page (Authorization for Entry) that must be printed and presented to the airline in lieu of a visa. The actual visa is paid for and inserted into the applicant's passport upon arrival in STP. It is a good idea to have the correct money to hand, currently US$80, as immigration agents rarely have change.
Unless you are a citizen of São Tomé and Príncipe, you will need a visa (visto). Do not attempt to enter the country without one!
Even applicants for a tourist visa are asked to provide a 'reference' in São Tomé; just put 'Direcção Nacional do Turismo, Av 12 de Julho, CP 40, São Tomé, tel: 00 239 2221542'. If you are using a tour operator in your country or locally, they will take care of your visa. For instance, Navetur or Mistral can email you a form to fill in for a 'permission letter' sufficient to obtain a pre-arranged visa payable at the airport (€60 if you are from a country with a visa-issuing São Tomé and Príncipe representation, €50 otherwise). In addition, Navetur also requests a photocopy/scan of the first four pages of your passport.
You might hear through the grapevine that you should be OK to get a visa on arrival if there are a couple of you. This might have happened in the past – the airlines have a duty to take you back to your country of origin and risk a fine, but in practice don't always check visas – but the law has long since been tightened, and tourists arriving without a visa have been sent back, and no offer of paying a fine will help. Don't take the risk.
The immigration services, Serviço de Migraçao e Fronteiras (Sao Tome: Av Marginal 12 de Julho (next to CACAU); tel: 222 2098; fax: 222 2695; email: secretaria@smf.st; Principe: Delegacao Regional Pacos do Concelho (City Hall), Santo Antonia; tel: 225 1183; email: deirap@smf.st; https://evisa.st) is where, once in the country, extensions to your visa can be requested. Be aware that there is a dress code – no shorts or skimpy tops – and the attitude is none too helpful. When I needed to extend my stay by a week, I was forced to return three times and only received my passport the day before I was due to travel. For a short period it may be less hassle to incur the fine (about 1,000,000$) at the airport.
Getting there and away
São Tomé
São Tomé Airport/Aeroporto de São Tomé (tel: 222 1877) is 15 minutes' drive out of town. There is no public transport link, but if you have booked with an agency, somebody will meet you there and this is the easiest option if you're arriving on your own. On the other hand, there is no problem getting a shared taxi for about 20,000$ – or offer €3 as you probably won't have any dobras yet and your luggage will most likely take up a whole seat. A private run will cost about €10 as you will have to pay for all the seats. Even if your phone works here, there is no taxi company that you can ring, but a few taxis will always be waiting to fill up with passengers outside the terminal building. The taxis do not have a meter.
By air
The information below details how to reach STP via Portugal or the African mainland. Visitors may want to combine their trip to STP with a visit to Cape Verde, or spend a few days discovering the city of Lisbon.
Via Portugal
The most common route for Western travellers is through Lisbon, the capital of Portugal. One option is the reliable Portuguese national airline TAP (www.flytap.com), which has recently switched its traditional once-weekly direct flight for a daytime service operating three times a week, with a refuelling stop in Accra (Ghana), returning at night, with the same stopover. This increases TAP's seating capacity to 400 a week for STP. It remains to be seen whether this routing is viable longterm, so always get the latest information from TAP or one of the agencies in STP.
The alternative is the national carrier STP Airways, which at the time of going to print was operating a weekly direct overnight flight and regularly offers good promotional fares. STP Airways is technically on the European Union's aviation blacklist (updated in 2013), which bans carriers from members' airspace for safety concerns or not meeting regulatory standards. In practice, STP Airways gets around this problem by operating with planes belonging to Euroatlantic Airways, the Portuguese charter carrier majority-owned by the Pestana Group, the owner of three hotels on São Tomé. It can actually be cheaper to buy a Pestana package with STP Airways, splitting your stay between Pestana Ocean Resort in the capital and the Rolas Island operation, than buying the flights separately!
Round-trip air fares start at around €700 with TAP – economy class gets booked up very quickly. If you are travelling from outside Portugal, it might be cheaper to book your tickets separately, coming in to Lisbon with a budget airline; however, if there's a delay with your incoming flight, without a TAP through-ticket you lose the right to take the next available flight the following week. In any case, make sure on the return flight that you don't cut it too fine between arriving back in Lisbon and your onward connection. Always get the latest information from Navetur, and ideally, plan to spend a couple of days in Lisbon. Whilst I was in STP in late 2013, both the TAP and the STP Airways flight were delayed by a day: one plane had to turn back because a bird wrecked the turbine; the other already came in with an engine problem. At one point in 2013, runway lights at TMS Airport were stolen.
Via Africa
From the African continent, the points of entry are Libreville, the capital of Gabon; Malabô (Equatorial Guinea), Accra (Ghana), currently the refuelling stop for all TAP flights from Lisbon; Douala (Cameroon); Luanda (Angola); and Port Gentil (Gabon). Generally, book early, and, as the flight situation can change very quickly, it is probably best to start your research by sending an email to Navetur. It is possible to book a through ticket from Europe to São Tomé with Air France but it involves an overnight in Libreville and unless TAP and STP Airways flights are completely booked up the pricing and the potential stopover required probably makes Paris–Libreville–ST less attractive than Paris–Lisbon–ST.
Via Cape Verde
Visitors may want to consider combining a holiday to São Tomé and Príncipe with one to Cape Verde. There are many fascinating historical and cultural ties between STP and the arid archipelago, also an ex-colony of Portugal and now a popular tourist and property investment destination, with its own Bradt guide, too. Keen hikers should choose Santo Antão and Fogo over flat-as-a-pancake Sal. From the UK, there are now direct flights to Sal and Boavista from London Gatwick and Stansted airports, as well as from Manchester with TAP. The national Cape Verdean carrier TACV has flights from London Stansted and Boston, as well as European, Brazilian and African hubs.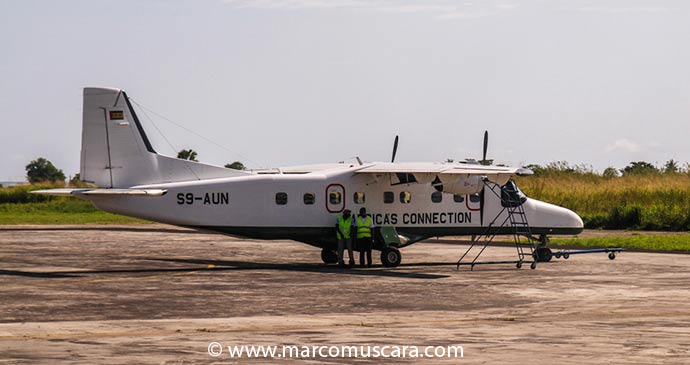 The small aircraft that connects São Tomé & Príncipe © Marco Muscarà
Príncipe
By air
This is the recommended option: a short hop in a comfortable two-propeller plane with great views of the Tinhosa Islets and the spectacular coastline of Príncipe. Currently, STP Airways flies five times a week, using Africa's Connection planes. Buy your ticket from the office in São Tomé and have cash ready as you can't pay by card. Choose a seat on the left -hand side for the best views. A huge new runway is being constructed (due to be completed 2015), but for the time being hens are still pecking around a stranded plane that has been rusting away for years, against the backdrop of rock fingers jutting out of the dense rainforest. The new runway will be nearly 3km long, able to receive larger planes, and will enable holidaymakers to fly direct.
The flights now leave São Tomé from the international airport on the Praia Gamboa road. The journey takes about 40 minutes; however, there is often a delay. Sometimes, the plane can't land because of the mist hanging over the island and a plane chartered by STP Airways is sometimes needed to fight oil spills in the Gulf of Guinea. So, if you need to be back on São Tomé for your flight home, don't cut it too fine; make sure you're back with a couple of days to spare. Tickets (around €200 round trip) can be booked directly through the STP Airways office in the capital (including online, but payments in the office have to be in cash) or through the Navetur or Mistral agencies, but seats get booked up quickly, especially for festivities such as São Lourenço in mid-August. If the plane is not full, you can also just turn up and buy your ticket at the airport, but don't rely on this.
By sea
Few locals can afford the air fare so most go by cargo boat, on an overnight passage taking about ten hours (fast charter boats can do the trip in 3½ hours). Be aware that boats have gone down on this crossing, with loss of life, and others have lost their way and have had to be rescued. In recent times, one of the vessels mentioned in our first edition of this guide sank, the other exploded. At the time of writing, there was a once- or twice-weekly departure on the Principe costing about €80 round trip (mobile: 991 5024). From spring 2014, a new service might be up and running, set up by the Belgian honorary consul, Jean-Philippe Van Nyen (tel: 222 7511; mobile: 991 3051; email: jpvnbe@gmail.com).
Travellers who have travelled by boat reported waking up to dolphins alongside the vessel nearing Príncipe, but a rough return journey due to the wind. Budget travellers could consider taking the boat from São Tomé to Príncipe and flying back. To find out which boats are due in or out, visit the harbour office in São Tomé (Av 12 de Julho; tel: 222 1520, 222 2207) or in Santo António (Senhor Armando: tel: 225 1246; mobile: 990 9352; open: 07.00–noon & 13.00–15.30 Mon–Fri): the Capitánia is the bright-blue building above the pier in front of the hospital.
A regular, reliable and fast boat connection would be one of the best things that could happen to Príncipe, and STP tourism in general, but as long as tourist numbers are low, and air fares to the country high, investors are understandably reluctant.
Getting around
São Tomé
By car
The country has about 1,100km of roads (1,000km in São Tomé, 100km on Príncipe, 250km sealed and 850km unsealed), supplemented by countless dirt tracks. Whilst there are a fair number of pot-holes on the capital's roads, the roads inland and north from the capital are pretty good overall and, in particular the north and south coast roads, navigable by ordinary saloon car.
The interior road goes past the suburb of Madre de Deus to Trindade and leads up 1,000m to the botanical gardens at Bom Sucesso and the Monte Café plantation. You can access these by saloon car, though it will get badly rattled. The northern road – due to be resurfaced in 2015 – which runs from Guadalupe to Lagoa Azul and hugs the coast to Neves until eventually fizzling out into a grass track a few kilometres past Santa Catarina on the northwest coast. The road south towards Angolares and Porto Alegre that in the past was diabolical and full of pot-holes has been remade – though from Porto Alegre onwards it is still the same. Meanwhile, the number of cars and motorbikes is increasing, as are accidents; as a pedestrian in towns, watch out when crossing the road.
Traffic signs were introduced on a large scale in 2013, but signs indicating destinations are mainly limited to the capital, pointing out the main roads south to Angolares or north to Neves. People are happy to give directions and sometimes they might ask for a lift, boleia. Santomean drivers sound their horns frequently, Italian-style, to alert other road users. While traffic drives on the right, outside the city, cars coming from different directions are often competing for the same bit of road with the fewest pot-holes.
Car rental is still expensive, or alternatives are motorbikes and bikes. Most Santomeans travel by shared yellow taxis and these can also be hired individually (called a frete), paying for all the seats.
By bike
At the moment there is no official bike hire on São Tomé island, though you can contact Navetur or the Cycling Federation to see whether that has changed. Mucumbli ecolodge near Neves, owned by the president of the Cycling Federation, has bikes. You could buy a bike to use for the duration of your stay and sell it on (to another expat probably) when you leave. A large store on Rua de Angola in São Tomé, Martins & Azevedo, (tel: 222 2156; open: 08.00–12.30, 15.00–17.30 Mon–Fri, 08.00–13.00 Sat), sells bikes (EMT brand) for around €135.
By boat
A great way to see São Tomé island is by boat. Navetur can take you on a volta a ilha, with two nights beach camping and excellent birdwatching opportunities. You can also try Tropic Venture, or arrange a trip through your hotel.
Príncipe
There are only a few kilometres of paved road: between the airport and Santo António, westwards to Porto Real and south to Santo Cristo. Transport is the biggest issue for budget tourists on the island; part of the difficulty in organising trips lies in the local perception that all white visitors are either staying at the Bom Bom Island resort or can still afford high prices. For backpackers, or travellers, students or researchers on longer stays this can be frustrating. Most visitors will eventually crack, as nobody wants to spend their holiday hunting around for transport. If you're on a budget, your best bet is to bring the price down by sharing with other people. If you hitch a lift, contributing to the cost of combustivel is good form.
Public transport
With the demise of the shared taxis (wrecked by the roads) and the paltry public bus service, the only public transport is by informal mototaxi or COMEL's motorised rickshaw-type vehicles. The locals get around by lifts.
Car and motorbike hire
Hired 4x4s come with drivers included, and cost a whopping €90 per day – a month's wages. The Bom Bom Island resort offers driving excursions with English-speaking guides and refreshments, while Pensão Residencial Palhota and the Residencial D&D (also known as Residencial Delmata) guesthouse hire out jeeps, but prices will be steep. Your only chance to get a better deal is to ask around locally. You can also ask for Mario Papagaio, owner of a kiosk at the market; he hires out his Suzuki Vitara for €50 a day.
Cycle hire
The regular price quoted will be around 100,000$. To get a better deal, drop into the Radio Regional (tel: 225 1115) building; the friendly journalists seem sympathetic to budget travellers and will probably be able to arrange to hire out a motorbike or a bike at better rates. I hired a regular bike for 50,000$ per day from one journalist.
Cycling around Príncipe is no easy job; the road leading north out of Santo António towards the airport and Belo Monte is particularly steep and sweaty, and the one running south is not much better. If you don't mind that though, it is possible to do a day trip cycling to visit Banana Beach, Roça Sundy (uphill all the way, unfortunately) or the beaches along the southeastern rim of the island. The Belo Monte run is beautiful, passing cocoa trees bearing, in the gravana, pods in a whole range of colours, but if it's been raining you risk coming off your bike on the rutted track.
Boat hire
Ask a guide or contact the head (responsavel) of a fishing village direct. If you just turn up, expect to pay around 50,000$ for an hour's cruising along the shore in a dug-out (be prepared to scoop water out of the bottom with a plastic bottle). Joaquim 'Gi' Varela, the head of the Praia dos Burros fishing community, is a good person to ask as he is keen to encourage tourism rather than make a quick buck. Senhor Varela lives opposite the first aid post, posto de socorro. Much closer to town, Ministro, based at Ponte Mina beach, can probably help.
You usually have to pay for the diesel in advance (around 22,000$ per litre; 25 litres is a standard filling). Consider bringing a secret supply of extra diesel in a safe container; I heard more than one report of boat motors nearly packing up at sea for lack of fuel – not a great prospect.