Getting there and away
Getting around
Visas
Rwanda requires travellers from any country who intend to use the EAC visa to apply at either a Rwandan embassy abroad or online before arriving.
Check well in advance that you have a valid passport, and that it won't expire within six months of the date you intend to leave Rwanda. Should your passport be lost or stolen, it will generally be easier to get a replacement if you travel with a photocopy of the important pages.
As of 1 January 2018, citizens of all countries can purchase a 30-day, single-entry visitor visa on arrival for US$30 at the airport or any land border with no advance application. Multiple entry and other classes of visa still have to be applied for in advance at a Rwandan mission abroad.
For its part, Rwanda requires travellers from any country who intend to use the EAC visa to apply at either a Rwandan embassy abroad or online before arriving. If your online application is successful, you'll get a confirmation number via email – bring a printed copy of this document to any port of entry, where the visa will be issued. Payment can be made either online when completing the application or in cash upon arrival. More information is available at migration.gov.rw, and all applications and payments are now made through the new one-stop government services portal at irembo.gov.rw. Foreigners with a long-term work/residency permit in Rwanda, Uganda, or Kenya are entitled to visa-free travel between the three countries.
Getting there and away
By air
The rapidly expanding national airline RwandAir now flies between Kigali and London Gatwick via Brussels three times a week, as well as regularly connecting to Mumbai, Dubai and Guangzhou. Their secondary hub is in Cotonou (Benin), from where they connect to a variety of West African capitals.
Other operators that fly directly to Kigali include Kenya Airways , Brussels Airlines, KLM, Ethiopian Airways, South African Airways, Turkish Airlines and Qatar Airways. All of these carriers operate a good network of intra- and intercontinental flights – travellers coming from Australasia will do best to aim for Johannesburg, Doha, Dubai or Nairobi, while those from Europe and the Americas are best off flying via Brussels, Istanbul or Addis Ababa.
Overland
Four countries border Rwanda: Burundi to the south, the Democratic Republic of the Congo (DRC) to the west, Uganda to the north and Tanzania to the east. Assuming peaceful conditions, frontier formalities aren't too much of a hassle – but nor are they standardised. Smaller crossings are typically open from 06.00 to 18.00, but Kagitumba and Cyanika (both to Uganda) stay open until 20.00, and larger ones like the Grande Barrière/corniche in Gisenyi (to Goma/DRC), Rusizi (to Bukavu/DRC), Rusumo (to Tanzania), and Nemba (to Burundi) stay open until 22.00. The Gatuna border post with Uganda now operates 24 hours a day.
Owing to the political crisis in Burundi and simmering tensions between the two countries, public transport hasn't been allowed to cross the border since 2016 and all trips to/from Burundi currently (as of 2018) require a change of vehicle at the border.
Despite the ongoing unrest in the DRC, it is normally safe to travel in the immediate Rwandan border area, which includes the Congolese border towns of Goma and Bukavu and their neighbouring national parks, Virunga and Kahuzi- Biega. Still, you're strongly advised to check the current situation first as this can change.
Crossing to and from Uganda is simple. Direct buses and minibus-taxis connect Kampala and Kigali, taking around 12 hours if you do the trip in one leg. The best operator along this route is probably Modern Coast, who connect Kigali to several destinations in Kenya via Kampala.
Crossing between Rwanda and Tanzania is something of a slog, due to the poor (but improving) state of roads and lack of large towns in northwest Tanzania. The Rusumo border post lies about 160km from Kigali, roughly a 3-hour trip by minibus-taxi, with the possibility of staying the night en route at the town of Ngoma, 60km from the border, or at the surprisingly pleasant accommodation on offer in Rusumo itself, on the Rwandan side of the river.
Getting around
Self-drive
Several travel agencies in Kigali rent out saloons and 4x4s, with or without drivers. Rates vary according to whether you'll be driving outside Kigali, and whether fuel is included. If you rent a self-drive vehicle, be aware that Rwanda follows the continental and American custom of driving on the right side of the road. Check the vehicle over carefully and ask to take it for a test drive. Even if you're not knowledgeable about the working of engines, a few minutes on the road should be sufficient to establish whether it has any seriously disturbing creaks, rattles or other noises.
Roads are generally good but there are still some pot-holed sections along most routes which, together with the winding terrain and the tendency for Rwandans to drive at breakneck speeds and overtake on sharp or blind corners, necessitate a more cautious approach than one might take at home.
Boat and rail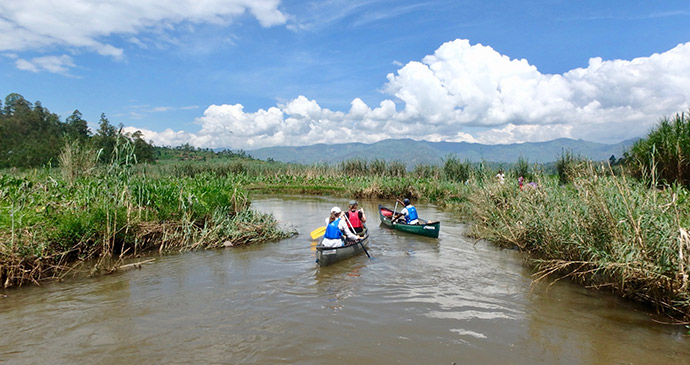 There are no rail services in Rwanda, although a rail link with Tanzania has been under discussion for some time and Rwanda one day also hopes to connect to the standard-gauge railway recently completed between Mombasa and Nairobi.
Public ferry services on Lake Kivu, operated by the COTRALAKI Cooperative, restarted in 2014 and ply the waters between Rusizi/Cyangugu, Karongi/Kibuye, and Rubavu/Gisenyi twice a week. In the DRC, there are several boats connecting Goma and Bukavu, including the Ihusi Express, a reliable, fast ferry service with two daily departures, which also stops on Idjwi Island.
It's also possible to rent local dugouts for short excursions on the lake, and motor boats are available for hire at Karongi, Rusizi and Rubavu. Small boats can be used to get around the smaller lakes, such as Burera, Ruhondo or Muhazi, by making an informal arrangement with the boat owner.
Public transport
The main mode of road transport is shared mini-/midibuses; these connect all major centres (and most minor ones) and leave from each town's dedicated bus station (gare taxi/minibus). The larger routes are for the most part all covered by private companies operating scheduled midibuses (Toyota Coasters or something similar), which hold up to 32 passengers and depart according to a fixed schedule. Heading out into the smaller towns and villages, smaller white-and green minibuses operated by the Rwanda Federation of Transport Cooperatives (RFTC) take over, which are significantly less comfortable and only depart when full. Also worth mentioning is the government-backed Ritco, which has replaced the now-defunct ONTRACOM and runs regular and reliable coach buses to major destinations throughout the country.
Two-wheeled taxis
Just about everywhere in Rwanda you'll find 'taxis' in the form of motorbikes (motos), or sometimes standard bicycles as well. They're handy for short distances – but be aware that your travel insurance may not cover you for accidents when on either of them. Agree a price beforehand, and check with a passer-by if it seems excessive.