Climate
When to visit
Highlights and itineraries
Climate
Most of Namibia is classified as an arid to semi-arid region (the line being crossed from semi-arid to arid when evaporation exceeds rainfall). Most of it has a subtropical 'desert' climate, characterised by a wide range in temperature (from day to night and from summer to winter), and by low rainfall and humidity. The northern strip follows the same pattern, but has a more moderate, less dry climate. Note that although the terms 'summer' (November to April) and 'winter' (May to October) are sometimes used, they are not as applicable as, say, in a European maritime climate.
Temperatures range widely from very hot to very cold, depending on the height of the land above sea level and the month. From April to September, in the 'dry season', it is generally cool, pleasant, clear and dry. Temperatures average around 25°C during the day, but nights are much colder. Frost is possible in the higher areas and the deserts. October and November are still within the 'dry season' but then the temperatures are higher, especially in the lower-lying and more northerly areas.
Most of Namibia's rain falls in the summer, from around December to March, and it can be heavy and prolonged in the northern regions of Ovamboland and the Zambezi Region. The further south or west you go, the drier it becomes, with many southern regions of the Kalahari and the whole of the coastal Namib Desert receiving no rainfall at all some years. In this 'rainy' season temperatures occasionally reach above 40°C, and sometimes you may find it humid in the north.
When to visit
The dry season is a great time to see Namibia's resident bird species. Pictured here: a swallow-tailed bee-eater © Tricia Hayne
Although much of Namibia can seem deserted, individual places can often be very busy, especially around Easter and from July to the end of October. Many of the lodges and restcamps in and around Etosha, Damaraland and the Namib-Naukluft area are fully booked for the peak season as early as 12–18 months ahead, so advanced booking is essential at these times – and increasingly year round.
Outside of the peak months, though, there are times when you'll find the lodges quieter and may even have some of the attractions to yourself. Avoid coming during the Namibian school holidays if possible. These are generally around 25 April–25 May, 15 August–5 September and 5 December–15 January. Then many places will be busy with local visitors, especially the less expensive restcamps and the national parks.
While there really are neither any 'bad' nor any 'ideal' times to visit Namibia, there are times when some aspects of the country are at their best. Consider your own specific requirements, as well as the weather, before you travel.
Wildlife viewing

The latter parts of the dry season, between July and late October, are certainly the best time to see big game. Then, as the small bush pools dry up and the green vegetation shrivels, the animals move closer to the springs or the waterholes and rivers.
During and after the rains, you won't see much wildlife partly because the lush vegetation hides the animals, and partly because most of them will have moved away from the waterholes (where they are most easily located) and gone deeper into the bush. However, many of the animals you do see will have young, as food is at its most plentiful then.
Birdwatching
The last few months of the year witness the arrival of the summer migrant birds from the north, anticipating the coming of the rains. Further, if the rains are good the natural pans in Etosha and Bushmanland will fill with aquatic species, including huge numbers of flamingos. This is an amazing spectacle. However, bear in mind that Namibia's ordinary feathered residents can be seen more easily during the dry season, when there is less vegetation to hide them.
Walking
Daytime temperatures can top 40°C in October and November, and heavy rainstorms are likely during the first two or three months of the year. Hence walkers should try to come between about May and September, when the temperatures are at their coolest, and the chances of rain are minimised. Note that most of the long trails in the national parks are closed between November and March, and sometimes for longer.
Highlights and suggested itineraries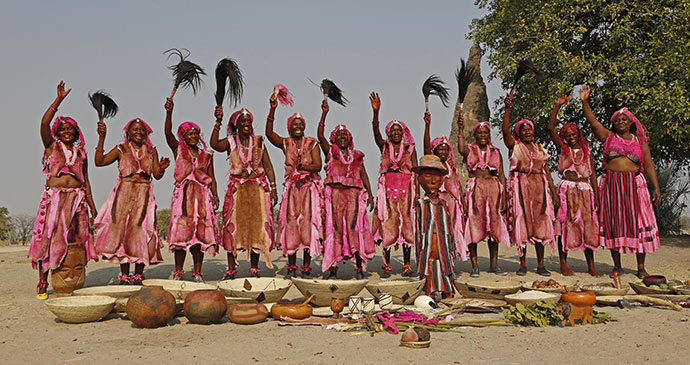 Built within the boundaries of an active homestead, Ongula Village Homestay Lodge is the first lodge in Namibia to introduce visitors to the authentic, traditional lifestyle of the Ovambo, the largest cultural group in the country © Namibia Tourism
Highlights
Namibia

'

s traditional cultures
Get to know people of a radically different cultural background in one of Namibia's more remote areas. Visit a Himba village in the Kunene Region and see how these semi-nomadic desert-dwelling people live, or spend time in a traditional Bushman village, learning in detail about their hunter-gatherer culture.
Zambezi region
This narrow stretch of land in the northeast of Namibia, still widely known as the Caprivi Strip, offers a great contrast to the rest of the country and some exciting birdlife. Watered by a generous annual rainfall, it's a lush environment, with chances to see wildlife not found elsewhere in Namibia; among others, look out for crocodile, hippo and buffalo.
Etosha National Park
One of Africa's best game reserves, Etosha National Park protects a vast shallow bowl of silvery sand more than three times the size of Greater London, along with its surrounding bush. It excels during the dry season when huge herds of animals can be seen amid some of the most startling safari scenery in Africa.
Skeleton Coast
Although it is difficult to visit the northern Skeleton Coast, accessing Namibia's coastline anywhere will give you a feel for just how wild and windy it can be. Expect barren and desolate landscapes and large colonies of Cape fur seals. The occasional remaining shipwreck serves as a reminder of the treacherous fogs and strong currents found offshore.
Twyfelfontein
The slopes of Twyfelfontein, amid the flat-topped red-granite mountains typical of Damaraland, conceal one of the continent's greatest concentrations of rock art. At first sight, it seems like any other hillside strewn with rocks, but the boulders that litter these slopes are dotted with thousands of paintings and ancient engravings, classified by UNESCO as a World Heritage Site.
Sossusvlei
The classic desert scenery around Sesriem and Sossusvlei is the stuff that postcards are made of – enormous apricot dunes with gracefully curving ridges, invariably pictured in the sharp light of dawn with a photogenic oryx or feathery acacia adjacent. Climb the dunes at sunrise to catch the best light for your photos.
Kolmanskop
This ghost town, once the principal town of the local diamond industry, was abandoned over 45 years ago and now gives a fascinating insight into the area's great diamond boom. Many of the buildings are left exactly as they were deserted, and now the surrounding dunes are gradually burying them.
Fish River Canyon
The Fish River Canyon is the largest canyon in Africa, and among the largest in the world: approaching from the north is like driving across Mars. The vast rocky landscape breaks up into a series of spectacular cliffs, formed by the Fish River as it meanders between boulders over half a kilometre below. Its size is impressive: 161km long, up to 27km wide and almost 550m at its deepest.
Suggested itineraries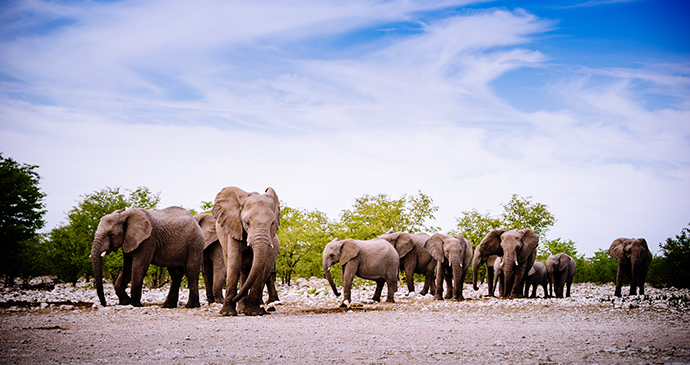 Spend a day in Etosha National Park for a wildlife safari at the famous Etosha Pan, and even spend a night in a nearby lodge © Fotographie Kuhlmann, Shutterstock
The suggested itineraries here, for 2WDs, are intended as a framework only, and the time spent at places is the minimum which is reasonable – if you have less time, then cut places out rather than quicken the pace. With more time to spare, consider taking the same routes, and exploring each area in greater detail. When planning your own itinerary, try to intersperse the longer drives between more restful days. Avoid spending each night in a new place, as shifting your base can become tiring.
Try to book hire cars and accommodation as far in advance as you can; that way you'll get the places you want, exactly when you want them. Included here are two very loose categories: 'budget' and 'indulgent'. These reflect the cost of the choices – although even our 'budget' suggestions are designed as places where a good experience is possible, at a good-value rate, rather than being simply the cheapest places to sleep. Where campsites are suggested, it's because of the experience and location offered, not simply because they offer a good way to reduce costs.
Two weeks
Southern–central Namibia
Night
1 Fly overnight to Namibia
2 In/near Windhoek
3–4 Mariental area
5–6 Fish River Canyon area
7–8 Lüderitz
9 Helmeringhausen area
10–11 Namib-Naukluft area
12–13 Namib-Naukluft area
14 Fly overnight out of Namibia
This itinerary, focused on the southern part of Namibia, offers the chance to hike in the world's second-biggest canyon, explore the deserted mining town of Kolmanskop just outside Lüderitz, see the sun rise over the world's biggest sand dunes and enjoy walking among the stunning scenery of the Namib-Naukluft area.
Highlights of Namibia
Night
1 Overnight flight to Namibia
2 In/near Windhoek
3–4 Namib-Naukluft area
5–6 Namib-Naukluft area
7–8 Swakopmund
9–10 Damaraland
11–12 Etosha
13–14 Etosha
15 En route south
16 Fly overnight out of Namibia
This kind of circular two-week trip from Windhoek, visiting the desert in the Sesriem area, the coast around Swakopmund, a glance at Damaraland and some serious game viewing in Etosha in the north, is probably the most common route for self-driving around the main highlights of Namibia. There are endless options, but the key to success is to avoid trying to 'speed up' this route. Two-and-a-half weeks around this rough route, staying in some of these areas longer, would be a real improvement; but try to squash this driving into ten days and it would seem like an endurance test.
During your trip, you can climb the stunning rusty red sand dunes at Sossusvlei, kayak with hundreds of Cape fur seals at Walvis Bay, or get the adrenalin pumping with some adventure activities in Swakopmund. Admire the ancient Bushman rock art in Damaraland, and of course, explore Namibia's famous Etosha National Park.
Three weeks
Southern–central–Etosha
Night
1 Overnight flight to Namibia
2–3 Mariental area
4–5 Fish River Canyon
6–7 Lüderitz
8 Namib-Naukluft area
9 Namib-Naukluft area
10–11 Namib-Naukluft area
12–13 Swakopmund
14–15 Damaraland
16–17 Etosha
18–19 Etosha
20 En route to Windhoek
21 Fly overnight out of Namibia
Three weeks allows you to combine the highlights of both northern and southern Namibia, as above. Okaukuejo Restcamp is a highlight of this itinerary, with one of the best floodlit waterholes in southern Africa.
More information
Expert Africa is a UK-based specialised tour operator run by the author of the Bradt guide to Namibia.
SafariBookings is a comparison website that lists Namibia safari holidays run by local and international tour operators.