Visas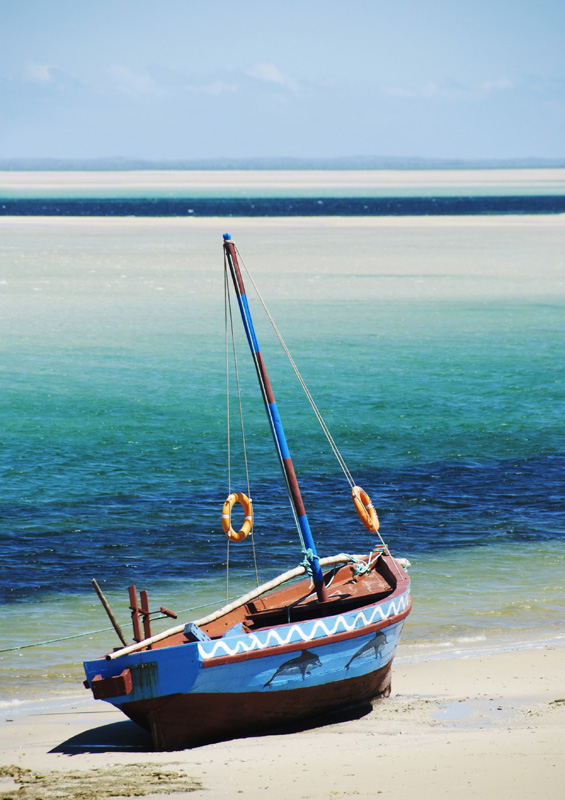 Getting there and away
Getting around
Visas
A valid passport is required to enter Mozambique. The date of expiry should be at least six months after you intend to end your travels; if it is likely to expire before that, get a new passport.
South Africans
If you are travelling on a South African passport (or one from another neighbouring country), you no longer need a visa to enter Mozambique: when you arrive at the border, you will be given a free entry permit valid for up to 30 days. However, these permits cannot be extended in Mozambique itself. If you intend on staying longer, then either you will need to get a single-entry visa valid for the required period in advance, or you must leave and re-enter Mozambique before that month expires.
(Photo: Dhows are still the main form of transportation along the coast of Mozambique © James Harrison, Shutterstock)
All other nationalities
Visas are required by everyone else and individual visitors are allotted a maximum of 90 days per year on a tourist visa. As of February 2017, it is now possible to purchase a 30-day, single-entry tourist visa upon arrival at 44 border crossings (the remaining 14 borders are the least crossed and are
expected to have the capability to issue visas upon arrival in the near future), including international airports. The cost per visa is Mt2,000 (approx US$40), but, if you lack local currency, you could be charged as much as US$80.
The visa can be extended in-country up to two times for an additional 30 days (making 90 days in total) at any of the immigration offices that are located in all provincial capitals. By contrast, purchasing a 90-day multi-entry visa in advance may require you to cross a border in and out of the country every 30 days. Although each office tend to have its own flow rate, extensions typically require at least a week for processing, so be sure to submit your passport for extensions two to three business days prior to the visa's expiration and plan on picking it up a week from submission. This can be something of a nuisance for travellers on the go, so be sure to plan accordingly.
Customs
Vigorous steps have been taken recently to eradicate corruption in the Mozambique customs service. New staff have been recruited and trained, and there is even a special authority to deal with officials who attempt to solicit bribes during the course of their duties. Those who have a legitimate complaint should contact the Internal Irregularities Unit in Maputo (% 21 308584), taking note of the fact that offering or paying a bribe is also a criminal offence.
Getting there and away
By air
The only airline with direct flights to/from Europe is TAP Air Portugal, which will involve routing through Lisbon (unless that is where you are flying from anyway). Another reasonably direct option from certain European cities, including London, is Ethiopian Airlines, routing through Addis Ababa, or Kenya Airways, routing through Nairobi.
It is more common for European and other intercontinental visitors to fly to Johannesburg (South Africa) and transfer to Mozambique from there, and Qatar Airways now flies from Doha to Maputo with only a technical stop in Johannesburg. The national carrier LAM and South African Airways operate plenty of flights daily between Johannesburg and Maputo, and the former also flies from Maputo to all provincial capitals in Mozambique. SAA also flies direct to Maputo from Cape Town and Durban, as well as directly from Johannesburg to Vilankulo, Beira, Tete, Nampula and Pemba in partnership with Airlink. The Nacala airport, currently under construction, could start receiving flights during the lifespan of this edition as well.
Provided that you have a valid passport and visa, and a return ticket, you should whizz through the entrance formalities at Mozambique's international airports with a minimum of fuss, though do note that the direct TAP flight from Lisbon is sometimes more thoroughly scrutinised owing to the growing number of Portuguese jobseekers arriving in Mozambique.
By land
Provided you arrive at the border with a visa, you should have no problem entering Mozambique overland, nor is there a serious likelihood of being asked about onward tickets, funds or vaccination certificates. About the worst you can expect at customs is a cursory search of your luggage.
If you have a car…
Things are a little more complex, although not outrageously so. You'll need a 'temporary export document' (signed by immigration authorities) from whichever country you are coming from before you can pass through the exit gate at the border post. This will need to be taken to the customs officials on the Mozambican side who'll stamp them and charge you a nominal fee, payable in meticais. Before you leave them check the expiry date of the export documents – they may not be the same as the expiry date on your visa. You will also need to buy third-party insurance, which will cost around US$15 for a car and an additional US$10 if you have a trailer as well. If you do have a trailer then you have to have a little triangular blue-and-orange sign on the front of your car and the back of your trailer. Once you have your stamped export document and insurance papers, take them to a third official who will sign off your gate pass and check your vehicle.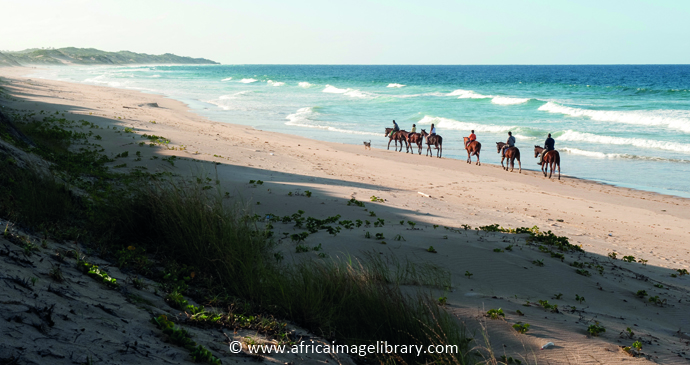 See the country from a different perspective on a horseback safari and explore the coconut groves and beaches around Tofo © Ariadne Van Zandbergen, www.africaimagelibrary.com
Getting around
By air
Given Mozambique's size, and the variable conditions of some of the roads, internal flights can be an attractive option. The provincial capitals all have their own airports and most have regular scheduled flights. Prices tend to be high, however, a situation that dates back to when the national airline, LAM, had a monopoly on internal flights. This is beginning to change, and you can often pick up (relatively) competitive flight prices on their website. Alternatively, pop into the airline office or a travel agency to make a booking. Airports tend to be somewhat chaotic, and the usual rules about not leaving baggage lying around apply.
By boat
There are regular ferries between Maputo, Catembe and Inhaca, as well as between Maxixe and Inhambane. Boats must also be used to get between Vilankulo or Inhassoro and the islands of the Bazaruto Archipelago, to Ibo Island in northern Mozambique, and to cross some of the country's main rivers and inland waterways (the Zambezi River, Ruvuma River and Lago Niassa, for instance). If travelling by sea is your thing, you may be able to find the odd trawler plying the coast between Beira and Quelimane, or the occasional supply boat to coastal villages south of Beira; in the far north near the Tanzanian border, private fishing dhows are a legitimate alternative to travelling by road.
By rail
There are only four passenger routes that would interest travellers: between Maputo and the South African border at Ressano Garcia; between Nampula and Cuamba; between Cuamba and Lichinga; and to/from Maputo and the Zimbabwean border at Chicualacuala (Vila Eduardo Mondlane). The rest of the network, though marked on the maps, is either out of action or only used for freight trains and, while you may be able to hitch a lift on one, travelling by road will be quicker and easier.
By road
The road network in Mozambique has historically suffered from underinvestment. In the days of the Portuguese, the railways were the dominant means of getting around the country, and little investment was available for the roads during the civil war. Since the end of the war there has been an increase in civil projects (often funded by foreign aid packages) aimed at improving the major roads, and this is gradually bearing fruit despite setbacks caused by flooding during the rainy season. As a general rule, roads in Mozambique fall into three main categories: tarmac, graded dirt and ungraded dirt, and (as you'd expect) are somewhat variable in quality. Details of the major roads in each province are included in the relevant chapters. However, it does need to be stressed that the combination of the weather and the road-repair programme will change things. Good maps are hard to come by in the country, so best buy one before you travel.