Climate
When to visit
Highlights and itineraries
Climate
Basically, there are two seasons: summer is hot and wet (November to April), whilst winter is warm and dry (May to October). Its proximity to the Tropic of Capricorn assures Mauritius of a subtropical climate that is typically warm and humid. Temperatures during summer range from 24°C at dawn to 30°C at noon on the coast, and during winter from about 18°C at dawn to 24°C at noon. On the central plateau it is normally about three to five degrees cooler. The western and northern regions are slightly drier and warmer than the east and the south.
Winter brings the trade winds, which are predominantly southeasterly and are at their strongest in July and August. The south and east coasts can be unpleasantly windy at this time of year, while in summer the sea breezes offer welcome relief from the humidity. The rainy season is roughly January to May, although rain is spasmodic, not a constant downpour for the entire five months. On the west coast the rainfall is about 1m or less a year, whilst the central plateau and windward slopes can have up to 5m in a year.
When to visit
Mauritius is a place to visit at any time of the year for someone from northern climes who craves tropical beauty and warmth. The one time when it is not ideal to visit is January–March, when cyclones are most likely to occur. They don't happen every year but the cyclonic rains, which can last for several days, are an annual event. Humidity is high then and it can be a depressing, unsettling time.
The high season for tourism, when holiday packages cost more, is November to early January. Hefty peak-season supplements are charged over Christmas and Easter. Flights should be less crowded outside European school holiday periods and hotels are noticeably so.
December is the time when local fruits are in abundance: it's summer and the temperature on the coast is about 30°C. The weather is cooler from June to September with the temperature at sea level being about 24°C, and it can be windy at this time. Package holiday prices are lower and hotels tend to host conference and incentive groups. September to October is perhaps one of the best times to travel as the weather is good but peak-season prices and crowds have not yet set in.
If climate is not the governing factor, choose when to visit according to your interests. For instance, the horse-racing season is from May to late November and the best deep-sea fishing is from November to May. You may like to time your visit to coincide with one or more of the island's many colourful festivals.
Highlights and itineraries
Highlights
Mauritius is small enough for you to base yourself in one place and explore the island's highlights.
Natural history
Natural history enthusiasts and hikers should head to the Black River Gorges National Park. There are hiking trails of varying difficulty, where glimpses of the rare pink pigeon and Mauritius kestrel are possible. Also worth a visit is Ile aux Aigrettes, a coral island off the south coast, which the Mauritian Wildlife Foundation is working hard to restore to its natural state.
Shopping
A visit to one of the island's lively markets is fascinating – Port Louis's daily market is by far the largest but Mahébourg's Monday market also has plenty of variety. The hustle and bustle amidst the colourful displays of fruit, vegetables, spices and souvenirs represents an unforgettable snapshot of everyday life in the island's towns. For a shopping experience of a different kind, visit one of the upmarket shopping centres where tourists are tempted at every turn by diamonds, clothing and model ships. These include Caudan Waterfront in Port Louis and Ruisseau Creole in the island's west. You may as well make the most of Mauritius being a duty-free island. In recent years a series of new, large, modern shopping malls has sprung up across the island, such as Les Halles in Phoenix, Bagatelle in Moka and Cascavelle in Flic en Flac. Thanks to the unstable economic climate, they are struggling to fill the shops in some of these malls and it remains to be seen how they will fare in the future.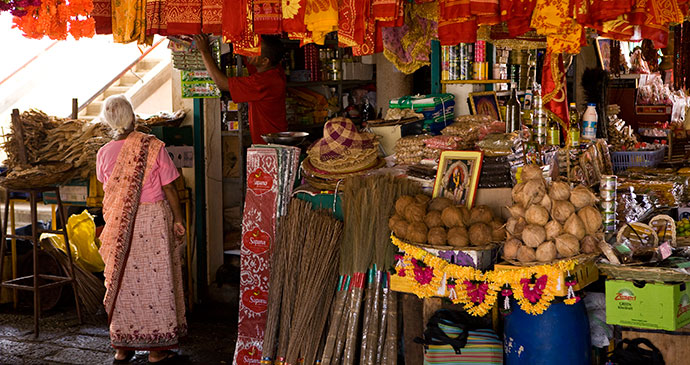 A visit to one of the island's lively markets is fascinating © Mauritius Tourism Promotion Authority
Heritage
One of the island's most impressive attractions is L'Aventure du Sucre (Sugar World), a former sugar factory which has been transformed into a well-organised, modern museum telling the story of the industry on which the island was built. Its display on the island's history is one of the best in Mauritius. Equally fascinating are guided tours of the Bois Chéri Tea Factory, which are followed by a tasting. The tour can also be done as part of La Route du Thé (The Tea Route), which takes in three sites linked to the Bois Chéri Tea Estate.
Mauritius is home to two UNESCO World Heritage Sites: Aapravasi Ghat, the immigration depot built in 1849 to receive indentured labourers in Port Louis, and Le Morne, the distinctive mountain in the southwest of the island that is regarded as a symbol of resistance to slavery.
Culture
Mauritius's 'melting pot' of ethnicities provides a wealth of opportunities to experience local culture. Most organised tours will include a stop at Grand Bassin, where visitors can learn about this sacred Hindu lake and watch the worshippers who flock to its shores. The Tamil festivals are colourful and fascinating – if you have a chance to watch fire walking or the Thaipoosam Cavadee pilgrimage, don't miss it.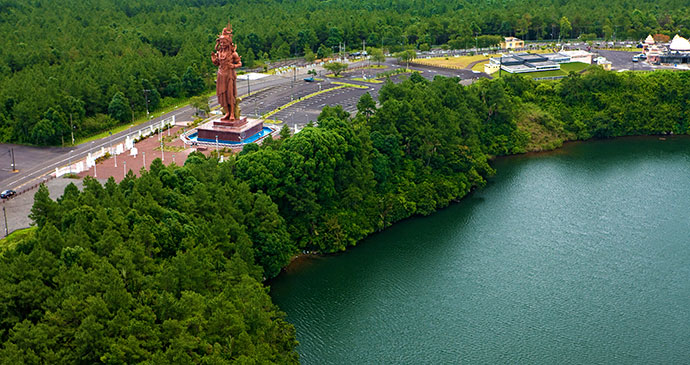 The Hindu sacred lake of Grand Bassin is a must-see on the island © Mauritius Tourism Promotion Authority
Beaches
I couldn't write about the highlights of Mauritius without mentioning the beaches – and, yes they really are as good as they look in the holiday brochures. Belle Mare, Trou aux Biches and Flic en Flac are considered by locals to be among the island's finest.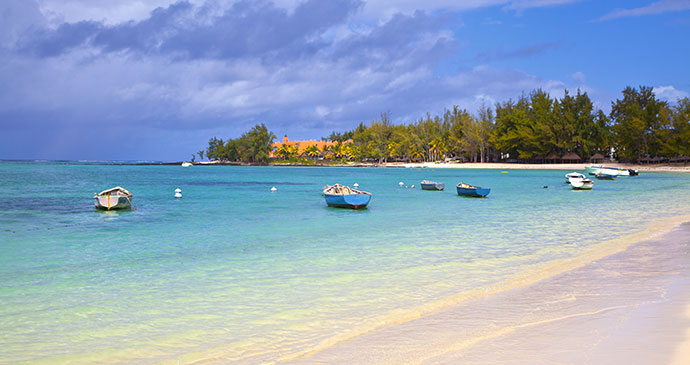 Belle Mare is said to be one of the best beaches in Mauritius © Robert Mandel, Shutterstock
Beyond the beaches all manner of watersports are on offer, from kayaking to kitesurfing. Non-motorised watersports may well be included in your accommodation package. Under the waves there are colourful coral reefs and a wealth of diving and snorkelling sites. For those who wish to explore the underwater world without getting wet, there are submersible vessels (classic submarines and ingenious underwater scooters) – a great option for children and non-divers.
Sailing, deep-sea fishing and dolphin-watching cruises are all popular with visitors.
Suggested itineraries
Most people who visit Mauritius are seeking relaxation rather than adventure. However, there is plenty to see and around two weeks will allow you enough time to wind down and relax, as well as to explore some of the elements that make Mauritius distinctive. Mauritius is small enough that you can base yourself in one place and explore by taking day trips. For a memorable contrast, consider adding a few days in Rodrigues. If you want to view and compare speficic itineraries, please see the Mauritius beach holidays on SafariBookings. This comparison website lists tours offered by both local and international tour operators.