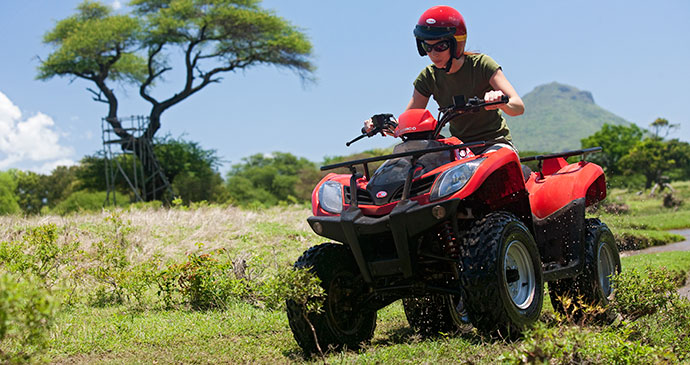 Quad biking is a popular way to explore the islands © Mauritius Tourism Promotion Authority
Visas
Getting there and away
Getting around
Visas
To enter Mauritius, you will need a passport valid for the full duration of your stay, proof of a return or onward ticket and the address of confirmed accommodation on the island. Entry requirements change, so please check the MTPA website or the Passport and Immigration Office website.
Getting there and away
By air
A package including flights and hotel accommodation is one of the most cost-efficient ways of visiting Mauritius as tour operators are able to negotiate special fares with airlines and hotels. Many offer visits to Mauritius in combination with another destination; particularly popular is a stay in Mauritius after a safari in Africa. Going on a package holiday need not restrict your freedom to explore the island.
By sea
Cruise liners occasionally call at Mauritius, either on round-the-world voyages or on cruises from southern and eastern Africa. A Costa Croisières ship is based in Port Louis from December to March and operates cruises in the region, taking in Réunion, Madagascar, the Seychelles and east Africa.
Getting around
Tour operators
If you are happy to forego your independence for a while, the easiest way to get around and see the sights of Mauritius is by taking one of the conducted tours run by a tour operator. They provide an instant introduction to the island, enabling the visitor to discover places that they can return to later and explore independently. Inbound tour operators (ground handlers) meet arrivals at the airport on behalf of the hotels and overseas tour operators. They provide leaflets about their services to incoming guests and many have desks at hotels.
The larger tour operators can organise almost anything, including car hire, private driver/guide and all manner of activities and excursions. They can also provide guides fluent in a range of languages. Group excursions last either a half or full day and most include lunch and entrance fees to the attractions visited.
Driving
There are around 2,000km of good, tarred roads throughout Mauritius. A well-maintained motorway crosses the island diagonally from the airport in the southeast corner, travelling through Port Louis and north to Grand Baie. Little-used country roads are not in such good condition.
Driving is on the left. Although the standard of driving is generally fairly good (higher than in neighbouring Réunion), drivers are not courteous. Do not expect other drivers to give way or to stop at pedestrian crossings, or to wait for a safe moment to overtake. Outside the towns, there are stretches of open road without traffic, which make driving pleasant. However, roads are not well lit at night so watch out for pedestrians and stray dogs. Take care to observe the speed limit of 80km/h on the motorway and 50km/h in built-up areas; police operate on-the-spot fines. As of December 2008, it is compulsory for cars registered in Mauritius to be fitted with rear seatbelts and the driver is held responsible if they are not worn.
Taxis
One thing Mauritius is not short of is taxi drivers. Wherever you go, taxi drivers will shout out to you and do their best to persuade you that you need their services. Although most taxis now sport nifty modern meters, they are rarely used. It is as well to negotiate a fare before you start your journey but be prepared to bargain.
Buses
Mauritius is blessed with a decent bus service, a boon to the independent traveller. Since so many people live outside the towns where they work, they depend on the bus service for transportation and their patronage keeps it flourishing. Bus timetables are available on the National Transport Authority website.