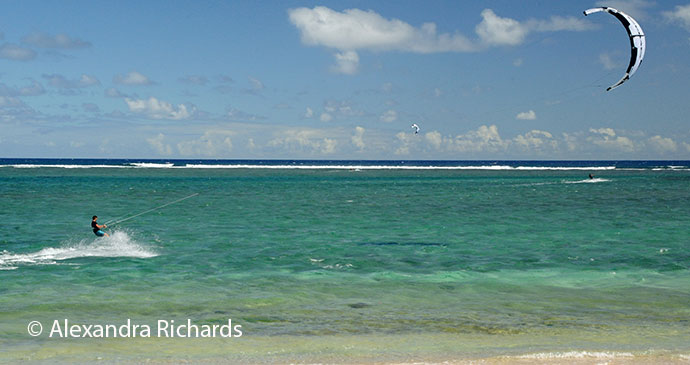 Kitesurfing off Rodrigues © Alexandra Richards
Highlights
A visit to Rodrigues is about simplicity, nature and getting back to basics, and any stay here is inevitably enhanced by encounters with the supremely friendly and happy local residents. Hiking is an absolute pleasure thanks to the lack of traffic, abundance of tracks and glorious views of the ocean. A good option is a guided hike along Sentier Pasner with a villager who has been trained by the Mauritian Wildlife Foundation and can tell you about the local flora and fauna. I would also recommend a walk along the east coast between Graviers and St François, stopping off at beautiful, isolated beaches such as Trou d'Argent and Anse Bouteille.
The vast, pristine lagoon is one of Rodrigues's greatest assets and offers excellent diving and snorkelling. You can also explore the lagoon in a transparent kayak. The business is run by a co-operative of fishermen and women as part of a project to provide them with an alternative source of income and reduce the impact of fishing on the marine environment.
Ile aux Cocos, a sand islet and nature reserve off the west coast, is stunning. It has been carefully protected, is an important nesting site for seabirds, and has staggeringly beautiful beaches.
Don't miss the market in Port Mathurin (Wednesday and Saturday). The fruit, vegetables, preserves and honey would win prizes at any British agricultural show, and the market is a great place to pick up locally made handicrafts, such as the ubiquitous bags made from pandanus leaves.
The François Leguat Giant Tortoise and Cave Reserve is worth a visit and gives an insight into what the island would have looked like before humans arrived, when Rodrigues was the domain of giant tortoises and flightless solitaire birds. There are caves to explore here too, as well as at Caverne Patate.