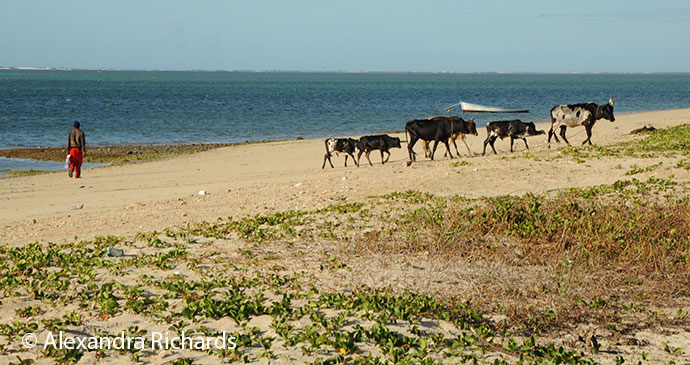 Cow herder on the beach © Alexandra Richards
Visas
Entry requirements are as for Mauritius. Only Britain and France have honorary consulates in Rodrigues. For other countries, the relevant high commission, embassy or consulate in Mauritius has responsibility for Rodrigues.
Getting there and away
By air
Air Mauritius flies regularly between Mauritius and Rodrigues, with at least four flights per day in peak season and two per day in low season. Demand for flights from Mauritius is high and reservations need to be made well in advance, and reconfirmed. The return airfare from Mauritius varies significantly depending on time of year and availability but it is generally expensive for non citizens. However, it is possible to include Rodrigues on an Air Mauritius ticket from Europe to Mauritius at a reduced add-on rate, if it is bought prior to flying to Mauritius. Alternatively, tourists can soft en the blow by buying the air ticket from a travel agent in Mauritius (instead of from Air Mauritius or overseas), as part of a package that includes accommodation.
By sea
The sea crossing to Rodrigues from Mauritius takes around 36 hours but only 24 hours on the way back. It can be rough, particularly on the way to Rodrigues. The Mauritius Trochetia is a mixed cargo and passenger ship, and takes up to 108 passengers in cabins. It is worth knowing that much of the cargo is livestock, usually cattle and sheep being exported from Rodrigues to Mauritius. It makes two journeys per month between Mauritius and Rodrigues.
Getting around
Over the years the island's roads have improved enormously and there are now sealed roads to most corners of the island, with dirt tracks beyond those. Many more vehicles have been imported, although there are still relatively few cars on the island. Only a small percentage of the population owns a car but the number of scooters has increased noticeably in recent years. Regulations for drivers are as for Mauritius, except for the speed limit, which is 50km/h.
There is just a handful of taxis on the island and they do not drive around looking for clients. Your best chance of finding one is at the bus station in Port Mathurin. Many of them are happy to be hired for the day to do a tour of the island.