Author's take
Philip Briggs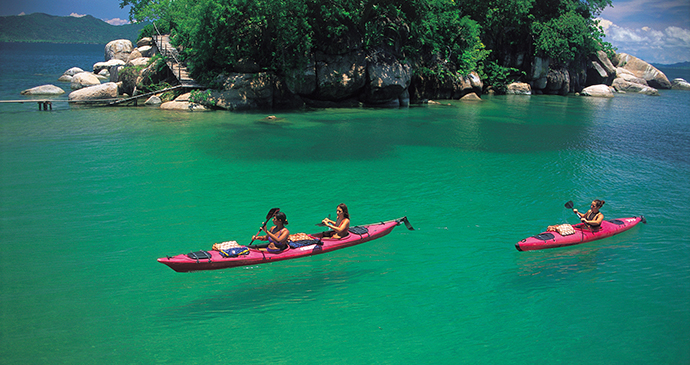 Tropical Mumbo Island in the middle of Lake Malawi is the chosen destination for many kayakers © Kayak Africa
'The Land of the Lake', 'The Warm Heart of Africa', 'Africa for Beginners'… Malawi certainly attracts its share of snappy catchphrases, and these three sum up much of what makes this small African country so well liked by all who visit it.
Few countries are so dominated by a single geographical feature as the 'Land of the Lake'. Lake Malawi follows the dramatic contours of the Great Rift Valley for a distance of 585km; it is up to 100km wide in parts and covers more than 15% of Malawi's surface area. Enclosed by sheer mountains and edged by seemingly endless palm-fringed sandy beaches, Lake Malawi is the most beautiful of Africa's great lakes and the indisputable focal point of Malawi's tourist industry.
There is much truth in the phrase 'The Warm Heart of Africa'. Not only do the climate and lush vegetation of the lakeshore conform effortlessly to every stereotypical image of tropical Africa, but the people of Malawi exude a warmth and friendliness that make most visitors feel instantly at home. Malawi may well be the most laid-back nation on earth. And 'Africa for Beginners'? Well, certainly, Malawi would lie near the top of any list of African countries to recommend to a nervous novice traveller. Although crimes do occur, Malawi remains as safe as anywhere on the continent, and it is one of a handful of African countries where English is widely spoken. The country's small size, relatively well-maintained roads and unusually nippy public transport combine to spare visitors the arduous all-day bus trips that are part and parcel of travel elsewhere on the continent. Malawi is remarkably compact, relatively cheap and hassle-free – with one qualification: the high incidence of malaria on the lakeshore.
Tourism in Malawi has developed along rather unusual lines. The country lacks the vast game reserves of East Africa and the world-class tourist facilities of southern Africa; as a result, it sees little in the way of fly-in tourism. Instead, Lake Malawi has become the ultimate venue for backpackers crossing between East and southern Africa. It also relies on being included in the itineraries of tourists visiting neighbouring countries, and has suffered in recent years as political uncertainty and chronic shortages domestically have led tourists to travel around, rather than through, Malawi. Thankfully, these situations are very much on the upswing and tourist numbers have rebounded in turn.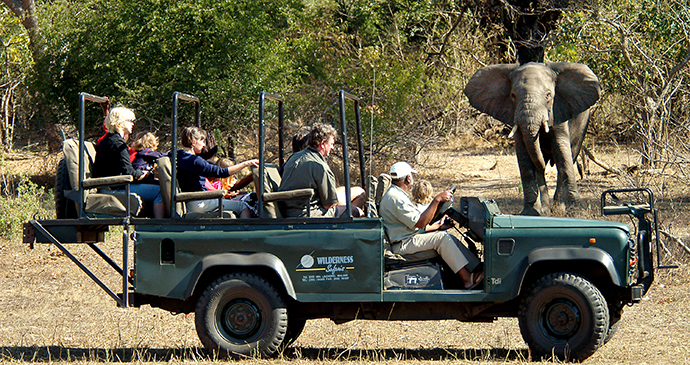 Liwonde National Park is the country's top destination for big game © Dana Allen, Central African Wilderness Safaris
Within Malawi, tourist patterns are oddly schizophrenic. Travellers gather in their hundreds at lakeshore retreats like Cape Maclear and Nkhata Bay, yet away from the lake there are many attractive and accessible destinations which regularly go weeks on end without seeing a non-resident visitor. There is more to Malawi than a lake, and we hope to draw attention to several exciting destinations that are often overlooked by visitors.
Malawi boasts a wealth of forest and mountain reserves, ranging from the relatively well-known Mulanje and Zomba plateaux to the little-visited but highly accessible mountains around Dedza, Ntchisi and Mzimba. Malawi's wildlife reserves may not compare to the very best in Africa, but several – Nyika, Vwaza, Nkhotakota, Majete and Liwonde – are easy and cheap to visit, and they have an untrammelled and unpretentious appeal, which, combined with the opportunity to watch big game on foot, should make them popular fixtures on the overland travel circuit. Add to this such currently obscure gems as Lake Chilwa and the Elephant Marsh and you realise it is one of the anomalies of African travel patterns that a country that attracts such consistently heavy traveller traffic has so much unrealised travel potential.
Perhaps the greatest of Malawi's attractions is a low-key charm that most visitors find thoroughly addictive. Many travellers fly into Africa barely aware that Malawi exists; by the time they return home a high proportion have come to regard it as their favourite African country. Whether you're content to relax at the lake or prefer to actively explore little-visited mountains, forests and game reserves, it is difficult to think of a more agreeable place for easy, unstructured travel than Malawi.
Updater's story
Helena Smith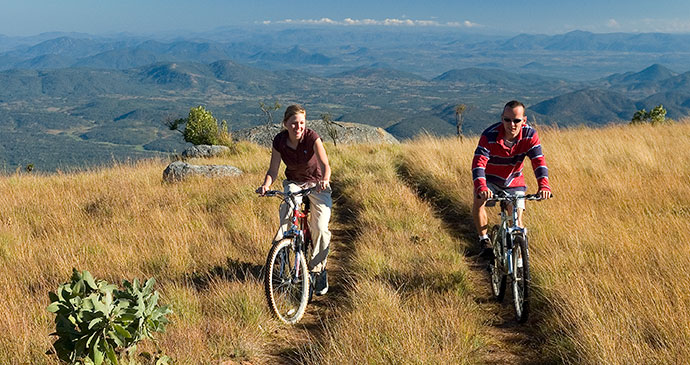 The undulating Nyika Plateau affords visitors the freedom to explore a vast network of dirt roads and footpaths © Malawi Tourism, www.malawitourism.com
I pitched Bradt about writing a guide to the English Lakes and instead was offered a trip to Malawi, which I had left 34 years before as a chronically grumpy teenager, furious at having to depart after two idyllic years living under Zomba Plateau and among a gaggle of friends at weekly boarding school in Blantyre. I returned to Malawi for Bradt in 2018 in a better mood, excited to see how my memories and the reality of the country would intersect.
Malawi lived up to every dream, from red dirt roads to the startling open spaces of the Nyika Plateau, and from Lilongwe parties to the sight of a hundred elephants ambling slowly across Vwaza Marsh. Aside from a resurgent traveller scene, sweet sleepy Zomba and the languid lake have changed very little. Since my family lived in Malawi though, the country has many more people, fewer trees (deforestation is a major issue), a lively free press and a population ready to debate politics whenever the chance arises: a major development from the oppressive Hastings Banda years. One encounter encapsulated for me the human warmth that Malawi is famous for. I went on a sentimental journey along Mulunguzi Road in Zomba to find our old house, now inhabited by a pastor and his wife. They welcomed me – a stranger arriving unannounced and overcome – with literally open arms, serving me drinks, giving me a notepad to write up my trip and wrapping me in beautiful chitenje fabric as a gift. Thank you – zikomo kwambiri – to them and to all the other kind people I met along the way. It's good to be home.