Author's take
After a decade of war and instability, Ivory Coast has well and truly re-opened to the world. The progress it has made since hostilities ended in 2011 is a heartwarming reminder of humanity's capacity to rebuild and rejuvenate. Truth be told, Ivory Coast is not the easiest African nation to explore, but those who persevere with the limited – yet rapidly improving – infrastructure will be richly rewarded.
If Ivorian music is the envy of Africa, its traditional art and craft scene is the envy of the world.
The country's strong cultural and political ties to France mean that Ivorians are at once fascinated by the West and fiercely proud of their own indigenous customs, creeds and artistic modes. Such hybridity is a delight to experience. One day an Ivorian woman may wear Ralph Lauren sunglasses and a Pierre Cardin tunic, the next she will put on a flowing Baoulé gown and headscarf. Even the lowliest maquis (informal, open-air eateries) serve a scrumptious fusion of French haute cuisine and uniquely West African herbs, spices and vegetables. While most Ivorians subscribe to one of the major world religions imported from Europe and the Middle East, at the same time they hold firm animist beliefs, consulting fêticheurs (shamen) and trusting in primordial medicines, rituals and curses. One of the intriguing aspects of a visit to Ivory Coast is seeing various pagan symbols – from goat's skulls to brushes that deter malevolent spirits – in villages and markets across the land. The more daring traveller can even watch a live demonstration of fetishistic skills. Perhaps only the English love football as much as the Ivorians, who regard players such as Didier Drogba and Yaya Touré as demi-gods. But go to any rural community and you'll also see little girls playing pre-European skipping games and little boys absorbed in atté, an ancient version of marbles played with nuts. At weekends Abidjan's nightspots boom with American hip-hop, free-form French jazz, Latin American soca and revolutionary local styles from Coupé-Decalé to zouglou. And the nation's most famous musical son, Alpha Blondy, has found global success by harnessing Western pop and Caribbean reggae to an Ivorian political consciousness, singing his hits in English, French, Dyula and Baoulé.
If Ivorian music is the envy of Africa, its traditional art and craft scene is the envy of the world. Around the northerly cities of Korhogo and Bouaké, jewellers, blacksmiths, potters, weavers and wood-carvers use ancient techniques to create artefacts that are regularly exhibited in the metropolitan galleries of Europe and North America.
Ivory Coast's nature is as alluring as its culture, whether you want to sunbathe on the cream-hued beaches of Assinie, trek through the crimson savannahs of the north or scale the sublime Mount Tonkoui for panoramic views of Liberia and Guinea. In the Taï, Banco, Azagny and Ehotilé Islands national parks, it's possible to glimpse elephants, leopards and lions (if you're very fortunate), as well as chimpanzees, antelopes and 500 bird species.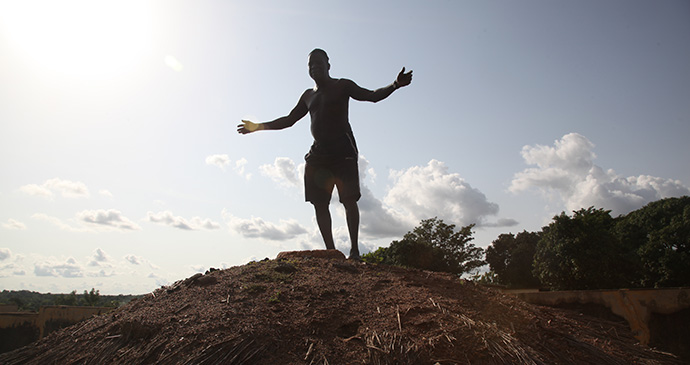 © Alex Sebley
While some of the above attractions can be found elsewhere in Africa, Ivory Coast has its fair share of quirky draws that nowhere else can quite replicate, from the crocodile-feeding rituals of Yamoussoukro to that same city's world recordbreaking Roman Catholic basilica. Travellers daunted by African metropolises such as Lagos and Nairobi will be pleasantly surprised by the unusually green, tastefully designed and sometimes parochial feel of cities such as Abidjan.
Ivory Coast's return to the tourist circuit aft er a long absence has brought certain advantages. Rarely will you encounter other foreign travellers or the kinds of overdevelopment that have ruined other tropical places of outstanding natural beauty and cultural appeal. Many parts of the west and south are yet to be discovered, in a touristic sense at least. For these reasons and more, I think the best time to go is right now.
Author's story
My interest in Ivory Coast began by accident. Knowing nothing about the country, I was invited to teach at a university there, arrived to discover that I didn't have a lot to do and so got myself commissioned to travel around writing about my experiences for some of the publications mentioned above. Since about 2000, the Western media has only bothered to mention Ivory Coast when it descends into war, so it was no surprise that my friends and family members were worried about my going there. However, I'm pleased to report that ordinary Ivorians were immensely kind, tolerant and helpful. This was equally true of the most recent trip I made with the photographer Alexander Sebley in summer 2015. Indeed to this day, I've witnessed far more violence, petty crime, prejudice, bullying and intimidation in the Global North than in Ivory Coast or indeed any other part of the Global South. All my writing – this book included – aims to present a balanced and nuanced picture of a given place, celebrating the good things as well as explaining – never excusing – how the bad things came to be. In doing so I've tried to avoid the lazy stereotypes and generalisations that can sometimes be found in writing about Africa.