Visas
Getting there and away
Getting around
Visas
Check well in advance that your passport hasn't expired and will not do so for a while, since you may be refused entry on a passport that's due to expire within six months of your intended departure date. Visitors of practically all nationalities require a visa, which must be applied for in advance at the Ghanaian diplomatic mission (embassy or high commission) in your country of residence, where one exists. This is often a complicated and costly process, not least because many such missions are notoriously unhelpful and unresponsive (the Ghanaian embassy in the USA has a particularly bad reputation for mislaying passports, not answering phone calls, etc), so it is advisable to set things in motion as far in advance as possible. People travelling overland to Ghana should be aware that it is no longer possible to get a Ghanaian visa in neighbouring countries unless you are a resident of that country (for instance, the embassy in Ouagadougou, Burkina Faso, will only process visas for residents of Burkina Faso).
Most Ghanaian embassies require applicants to fill in the application form in quadruplicate and send/hand it in accompanied by their passport, a copy of a paid-up air ticket, a letter of invitation from somebody in Ghana together with a copy of their passport, four identical passport-sized photos, and a fee of around US$50–100, depending on whether you want a single-entry visa (valid for one stay of up to 60 days from the date of entry) or a multiple-entry visa. A handful of Ghanaian embassies have begun using an online application form in lieu of the quadruplicate forms mentioned above. If all goes well, visas typically take three days to issue if you hand in and collect the application personally, or around ten days by post, but there have been instances of people waiting longer than a month. As with many developing countries, journalists are likely to face a considerably longer wait.
Should you want to stay in Ghana for longer than 60 days, you will have to apply for a visa extension once you are in the country (normally a straightforward process) and to pay an additional fee for every extra 30 days, regardless of whether you have paid for a single- or multiple-entry visa. It's worth knowing that a visa extension in Accra might take two weeks to process, whereas it shouldn't take more than 48 hours at any other regional capital – although a considerably more attractive option might be to buy a multiple-entry visa and then to cross into one of the neighbouring countries and get an extra 60 days on your return.
Getting there and away
By air
Airlines with scheduled flights to Accra include British Airways, Brussels Airlines, Delta Airlines, Egypt Air, Emirates, Ethiopia Airways, Iberia, KLM, Kenya Airways, Lufthansa, Royal Air Maroc, RwandAir, South African Airways, TAP Portugal and Turkish Airlines.
Flights from the USA and Canada tend to be expensive, so North Americans with more time than money may find it cheaper to fly to London, or elsewhere in Europe, and organise a ticket to Africa from there. As with most destinations, round-trip tickets to Ghana are typically a much better deal, so we recommend going this way if possible, rather than buying a one-way ticket and organising your return once you are there. Additionally, you may hit serious problems with airport immigration officials if you can't show them a return ticket on arrival.
Overland from Europe
There are two overland routes between Europe and Ghana. Both start in Morocco and involve crossing the Sahara, one via Algeria and the other via Mauritania, then continuing through Mali and Burkina Faso. The Algeria option has been impassable for some years now, and these days Mali is also impossible to enter from the north, making the Mauritania route the only viable Sahara crossing in West Africa at the time of writing. Still, the situation with either route is highly changeable and you should seek current advice. For UK-based readers, the best way to gauge the situation is to contact the many overland truck companies that advertise in magazines such as TNT and Time Out. Unless you have a reliable 4×4, joining an overland truck trip is almost certainly the best way of doing this difficult route, especially if you have thoughts of continuing through the Democratic Republic of Congo to East Africa.
Getting around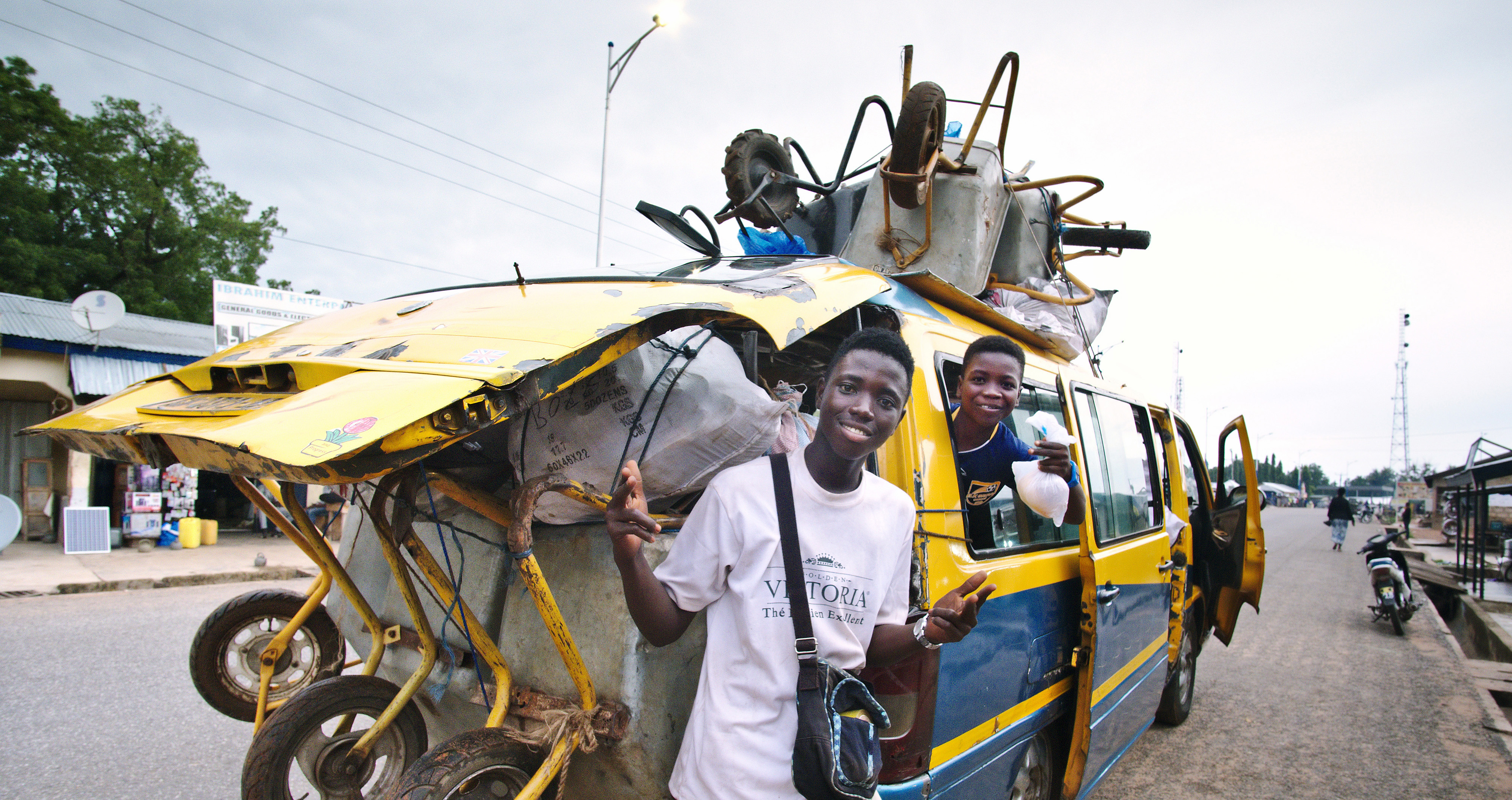 Trotros are a common transport option in Ghana © Nancy Chuang, @nancyc_huang
Car rental and driving
Formal car rental options in Ghana are more or less restricted to Avis, Europcar and a number of private tour operators in Accra. In most cases, they will only rent a car with a local driver, whose expenses should be covered in the asking rate. An affordable alternative to renting a vehicle formally is to charter a taxi driver for one or more days – which, if you choose the right driver, means you also have a guide, interpreter and evening companion for the bar. The rate for this sort of service is highly negotiable, and it will depend on the distance you want to travel, the number of days, and whether fuel and the driver's meals and room are included, but at worst you should be looking at around US$30 daily, exclusive of extras such as fuel – and a lot less in rural areas or the north of the country. If you want to rent a taxi as a private charter on a one-off basis, bank on a fee of around US$7–10 per hour inclusive of fuel and unlimited kilometres.
So far as driving practicalities go, filling stations are plentiful, fuel is reasonably cheap by international standards, and shortages are uncommon, though certainly not unknown. There are tolls on most major routes, often at bridges, charging nominal fees. Official road signs exist, usually at junctions, and have white text on a green background. Otherwise, there is little indication of distances or route confirmation on the roads.
By public transport
Major roads through Ghana are covered by a variety of public transport, divisible into five broad categories, in descending order of comfort: air-conditioned coaches, air-conditioned vans (known variously as Fords, Stanbics or Yutons), Metro Mass buses, trotros (also sometimes called lorries) and shared taxis. In small towns and villages, all public transport generally arrives at and departs from one central terminus (usually referred to as the 'station', or 'lorry station'). Most larger towns have several different stations, sometimes serving different types of transport or individual operators, other times a set of destinations in one direction. Most road transport doesn't operate to a fixed schedule. Instead, vehicles simply wait at their designated station, and leave as soon as they are full. Occasionally while halfway through a trip, the driver will pull over, all passengers will disembark, then clamber aboard the next bus coming by, for reasons unclear for those not versed in the local language. This can all seem rather chaotic to first-time Africa visitors used to more formal train and bus timetables, especially where departure points are decentralised, but once you adapt, you'll find that getting around Ghana's roads is very cheap and straightforward, though the standard of driving leaves a great deal to be desired on the safety front.
Fares are generally very cheap. The priciest air-conditioned coaches from Accra to Kumasi, for instance, cost US$13 one-way, while those from Accra to Tamale (almost the full length of the country) cost around US$20, and Metro Mass buses, trotros and other light vehicles are significantly cheaper. Some buses and trotros charge an additional (and often negotiable) fee for large luggage, such as a backpack. In most cases, the fee is legitimate, but travellers are sometimes overcharged, and may occasionally be asked to pay a luggage fee where a local wouldn't. We are more inclined to accept the legitimacy of a fee we are asked for upfront than one first mentioned at the end of the trip, but frankly, we also often refused to pay even upfront.