Eating and drinking
Accommodation
Eating and drinking
Food
Local dishes generally comprise a starchy staple and some sort of soup or stew, often liberally flavoured with a hot, red powdered-pepper seasoning. Among the great many staples you're likely to encounter, the most popular are fufu, kenkey, banku, akple, tuo zafi (TZ), omo tuo (rice balls), boiled rice, and fried yam or plantain. Particularly popular in the south, fufu is made of cassava, plantain or yam, mashed until the starch breaks down and it becomes a gooey ball, then cooked with no water to form an even gooier one. It is served submerged in a soup, typically palm nut, groundnut (peanut), or a chicken-and-tomato-based 'light soup', and is not supposed to be chewed, but rather mashed against the palate with your tongue and swallowed that way, as otherwise you could chew on it for ages! Similar to each other in taste and sticky texture are banku and akple, both made of fermented maize and cassava, and often eaten with okro stew for double helpings of that gelatinous feel! Akple is particular to the Volta Region, while banku is found throughout Ghana. Kenkey is especially common among the Fante and Ga (indeed, they make two separate varieties of it) and also made of fermented maize, but is much firmer than banku or akple, as it's boiled in a removable wrapping of plantain leaves or corn husks before being served with a spicy tomato sauce or similar. Largely restricted to the north, tuo zafi is a millet- or maize-based porridge. Fried yam, often sold at markets, is not dissimilar in taste and texture to potato chips – though, when bought on the street, it often has a lingering, petroleum-like taste, presumably a result of using the same oil for too long – and is great eaten with spicy tomato relish, or soft green palava sauce made from spinach-like cocoyam leaves.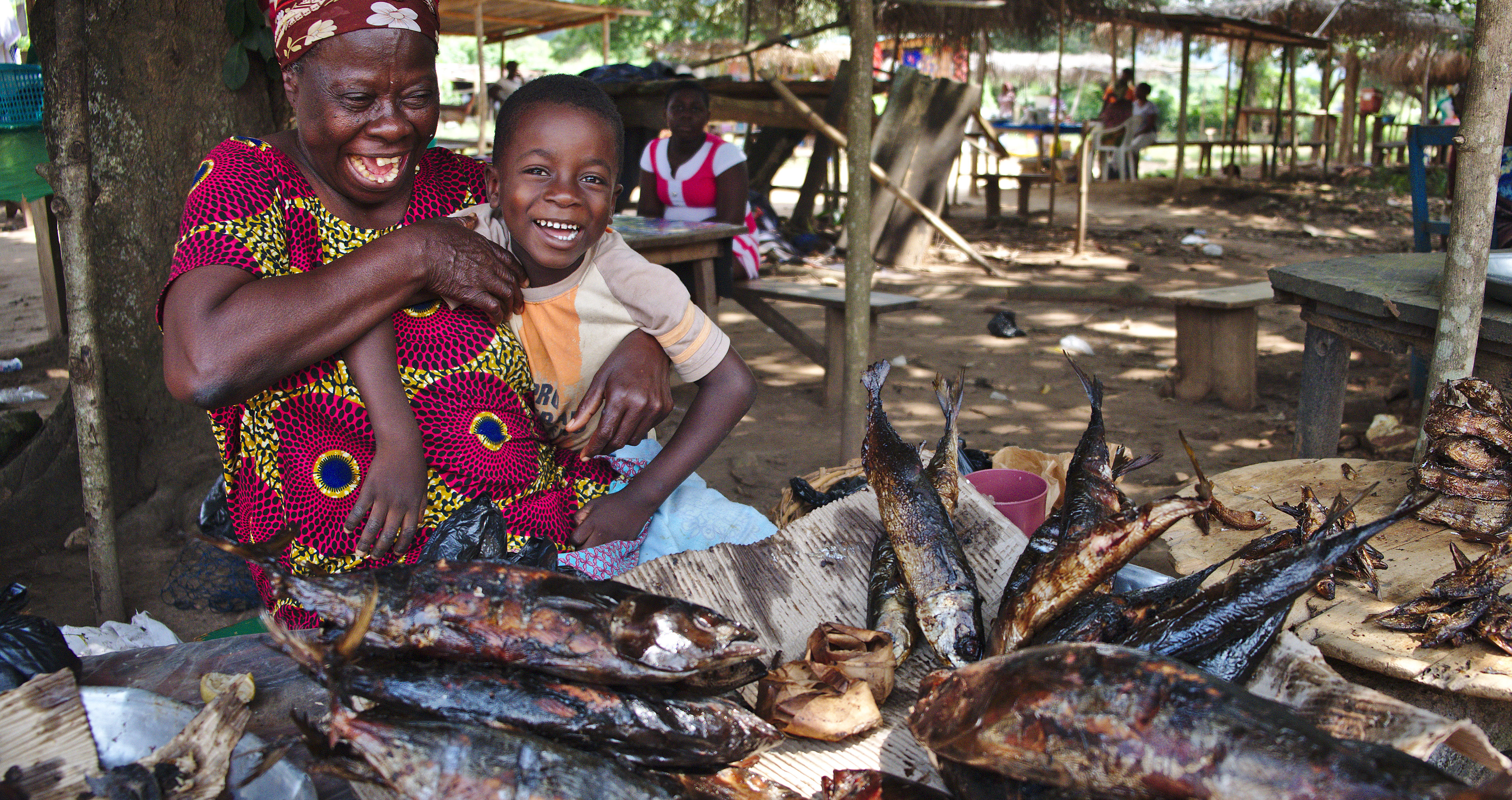 A dried-fish vendor and her grandson in Peki-Avetile market, Volta region © Nancy Chuang, @nancyc_huang
Other dishes worth trying include red-red, a delicious stew of black-eyed peas commonly eaten along the coast that's typically cooked with red palm oil and served over fried plantains. Red-red is potentially a good vegetarian option as well, as it's often served with an accompanying piece of chicken or fish, but neither are integral parts of the dish. Other plantain-based favourites include kalawole (pronounced 'keliweli'), which consists of soft, deep-fried cubes of plantain liberally seasoned with ginger, pepper and salt; and titale, which is very similar to kalawole, but mashed with flour and deep fried as fritters. Most travellers find Ghanaian staples to be an acquired taste, but stick around long enough and you might just find yourself looking up your local Ghanaian restaurant every now and then when you get back home.
Local food can be eaten in small restaurants known as 'chop bars', where you will generally be served a plate of fufu or kenkey or plain rice along with a portion of meat or vegetable stew, but perhaps the most characteristic of all chop-bar dishes is jollof rice – a savoury rice dish that shares a common origin with Senegal's thiéboudiène, in which the rice is cooked in a tomato and vegetable stew rather than water, and often paired with some kind of meat or fish. Another easily found and perennially satisfying dish is waakye, which is basically the Ghanaian take on rice and beans, usually made with black-eyed peas. A more interesting way of eating local food, and dirt cheap, is on the street. Most towns have at least one place where vendors sell a huge variety of dishes from informal stalls, often near the lorry station or the market. One advantage of eating on the street is you can try a bit of this or that, rather than be confronted with one specific dish. In addition to the usual staples, street vendors often sell grilled poultry (chicken or, in the north, guineafowl), spicy beef or goat kebabs, delicious sweet fried plantain with pepper seasoning, smoked fish, hard-boiled eggs stuffed with chilli and tomato relish, and deep-fried doughnut-like balls called bofrot. Sugar kenkey is sold in smaller bundles than savoury kenkey, and is sort of like semolina/tapioca, but more solid and eaten with super-hot pepper sauce. If you're craving dairy products, wagashi is a farmer's cheese made by the Fulani that can be eaten raw, but is most often available fried on the roadside. When it comes to breakfast, you'll pay a small fortune for an egg, bread and tea in your hotel, so head rather for one of the tea stalls that are to be found in most markets and lorry stations.
Most towns of substance have at least one restaurant serving exotic dishes, most often straight Western chicken or steak with chips or rice. There are a large number of Chinese restaurants in Ghana, and many of the more Westernised places and superior chop houses serve Chinese-style fried rice and spring rolls. Outside Accra, a meal in a proper restaurant generally costs around US$5–10 per head excluding drinks, so it is a lot more expensive than eating on the street or in chop bars, which will generally work out at anywhere in the US$2–5 range, depending on what you order and which part of the country you're in. If you are not carrying a lot of cash on you, remember to check the small print of the menu before you order, since many restaurants quote prices exclusive of VAT and service charge – so that you actually pay around 20% more than the stated price. For infomation on tipping etiquette, see Tips on Tipping.
Vegetarians used to have a hard time of it in Ghana, and vegans might still struggle to establish whether any given restaurant dish is totally untainted by animal products, but these days most restaurants that regularly cater to travellers offer a few vegetarian options, and you are also pretty safe with staples like red-red or jollof rice. One vegetarian reader notes: 'My biggest piece of advice for vegetarians is come prepared with protein bars and nutritious spreads like Marmite, so you get plenty of iron and B vitamins, and multivitamins.
Staff at Operation Hand in Hand – a loving shelter in Nkoranza for children with mental disabilities – pound the starchy maize-based staple tuo zaafi for dinner © Nancy Chuang @nancyc_huang
Drinks
Most visitors to Ghana drink a lot more than they would at home, thanks to the hot sticky climate, and since tap water is not recommended, you will probably find yourself going through several bought litres of water daily. This can be purchased in several forms. Conservative travellers will probably prefer to stick with 1.5-litre bottled mineral water, which is known locally as Voltic (after a well-known brand), and is widely available, inexpensive by international standards, and can usually be bought chilled on request. A far cheaper option, which most travellers drink without any problem, are the factory-sealed 500ml sachets known as 'pure water'. These labelled sachets contain genuine purified water (often with a strong chemical taste to prove it), are usually chilled, and cost the equivalent of US$0.05 (or if you are based somewhere for a while, you can buy a pack of 30, containing a total of 15 litres, for US$1). Elsewhere, mainly in small villages, 'ice water' is sold in unmarked plastic bags and comes from an undetermined source, so is perhaps best avoided. For a change of flavour, you can spice up the water with a sachet of Tang, a powdered orange or mango drink with added vitamins. Bottled pure orange and pineapple juice from Accra is also widely available at bars and restaurants catering to tourists. Also worth trying are the surprisingly good, sweetened Kalyppo fruit juices that come in 250ml packs. A cheap, refreshing and highly nutritious drink is fresh coconut juice. You'll often see street vendors selling piles of coconuts, particularly along the coast – just ask them to chop one open and you can slurp down the liquid.
The most widespread alcoholic drink is lager, which is brewed locally, generally pretty good (though occasionally flat) and drunk most cheaply at local bars, usually called 'spots'. A standard 750ml bottle costs anything from US$1 to US$3, depending on where you drink, but be aware that the smaller 375ml bottles are often relatively overpriced, especially at tourist hotels that don't stock large beers. Several brands are available, most commonly Club and Star, both with an alcohol level of around 5%. Also widely available are litre boxes of very cheap Don Garcia red and white wines, but imported bottled wine is also increasingly easy to locate, starting at around US$5 per bottle in garages and supermarkets. Draught beer (sometimes referred to as 'bubra') is typically only available at upmarket bars or hotels.
Accommodation
By international standards, accommodation in Ghana tends to be of poor quality and rather overpriced. True, there are a handful of Ghanaian hotels – in Accra, Kumasi, Takoradi and a few of the major coastal resorts – that genuinely conform to international four- or five-star standards, but these tend to be exceptionally expensive, since their main clientele comprises government, NGO, business and other travellers who are not footing their own bills. The country also boasts a scattering of genuinely characterful and attractive budget to mid-range beach resorts and urban bed and breakfasts, many of them owner managed. But the overwhelming majority of accommodation options in Ghana consist of unremarkable town or beach hotels geared primarily to the local market, and characterised by some or all of the following flaws: indifferent staff, aesthetically challenged décor, ugly furniture, low standards of cleanliness, an erratic power or water supply, and slack maintenance (often manifested by broken fittings, leaky plumbing, noisy air conditioning, or advertised facilities that don't work).
Unless they rent a car, most travellers will find that accommodation is proportionally the biggest drain on the budget. For the most budget-conscious, rooms typically start at around US$9–12, and come with fans, electricity and shared washing facilities, though cheaper dorms are available in some places. In most towns, US$14–16 will get you a self-contained room with a fan, while for upwards of US$20 you can expect to find a room with air conditioning, television, running hot water and a fridge. Note that in Ghana, rooms with en-suite toilet and bath are ubiquitously referred to as 'self-contained'
There are relatively few opportunities for camping in Ghana and, accommodation being as cheap as it is, for most people the hassle of carrying a tent and other camping equipment will outweigh the advantages. The major exception is if you expect to spend a lot of time visiting remote wildlife reserves and national parks, many of which are only realistically accessible to people with camping equipment. In addition, many backpacker-orientated resorts along the coast also allow camping.