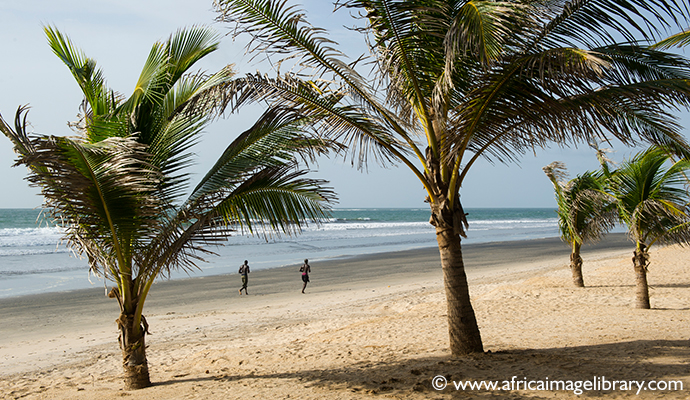 Palm trees line Kololi's beaches © Ariadne Van Zandbergen, Africa Image Library

Lined with a cosmopolitan selection of bars and eateries, the central Senegambia Strip through Kololi is the heart of the country's dining-out scene.
There's nowhere else in West Africa quite like Kololi. Situated on the Atlantic coastline 15km west of Banjul, this once unremarkable small Gambian village, having first been exposed to tourism in the 1970s, today forms the hub of the country's booming package resort industry. Here, within an area of about 2km², you'll find a couple-of-dozen hotels, including such venerable landmarks as the Kairaba and Senegambia, along with a cosmopolitan and seemingly inexhaustible selection of restaurants and bars, and other tourist facilities such as nightclubs, supermarkets, banks and craft markets.
The main touristic focal point in Kololi is the tight cluster of hotels and restaurants that runs west from Senegambia Junction (on Bertil Harding Highway) to the Senegambia Hotel and Kololi Beach Club. This area is most often referred to simply as 'Senegambia', or 'The Strip', and almost every visitor to The Gambia ends up here at some point, for a meal, or a drink, or a night out. Other important tourist centres are Seaview Boulevard, a few hundred metres north of Senegambia Junction, and a more dispersed group of hotels dotted around Bijilo to the south. The main attraction of this area is emphatically the beach, followed by the busy and wonderfully varied restaurant scene. However, it also boasts one genuinely worthwhile attraction for wildlife enthusiasts in the form of Bijilo Forest Reserve, a patch of bird- and monkey-rich coastal woodland running along the beach between Kololi and Bijilo.