Eating and drinking
Accommodation
Eating and drinking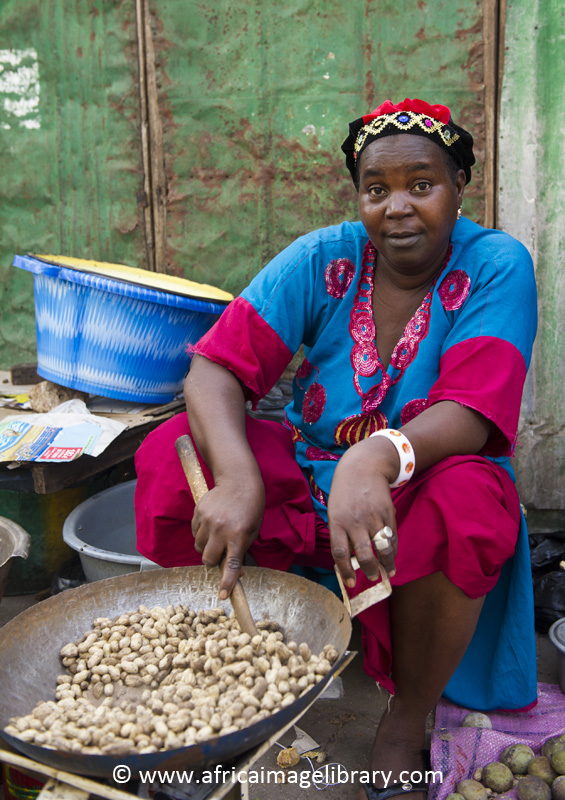 Greater Banjul must host at least 100 restaurants catering mainly to tourists, and most international cuisines are represented in resort areas such as Kololi, Kotu and Bakau. Standards are high and prices relatively low. The options upriver are generally limited to hotel restaurants and a few local eateries serving a limited and fairly predictable selection of local dishes. Everywhere in the country, except perhaps the main tourist resorts, a varied selection of street food is sold at kiosks, usually close to the market. Often this consists of sandwiches, made either with airy light French baguettes or with the heavier Gambian tapalapa, and filled with mayonnaise, margarine, chocolate spread or a spicy paste made with black-eyed beans. Evening is when afra bars, which sell a variety of grilled meat including chicken and beef, come into their own. Throughout the day seasonal fresh fruit, roasted peanuts and cashew nuts, Madeira cake and coconut pieces are readily available to snack on.
Many restaurants have Gambian dishes on their menus, although some may require notice for their preparation. This usually comprises rice or millet served with a spicy fish, meat or chicken stew, which comes in a few main types: domoda (groundnut sauce), yassa (stewed or marinated in onion and lemon), and palasas (a spinach sauce thickened with peanut butter). Another popular choice, known elsewhere in West Africa as jollof rice, benachin (literally 'one pot') is a spicy risotto-like Wolof dish made with fish, chicken or beef. Also popular is superkanja, a tasty okra soup whose name derives from the Portuguese supa (soup) and Mandinka kanja (okra). Worth trying too are shrimps fried with garlic in the Gambian style, and Lebanese-style shawarmas, comprising thin slices of lamb (or other meats) with salad and hummus in pitta bread.
The usual range of international soft drinks is sold cheaply all over The Gambia, as is the award-winning local lager beer JulBrew. Most restaurants and bars on the coast serve a selection of imported wines and spirits, though this is less common upriver. Despite The Gambia being predominantly Islamic, the vast majority of restaurants serve alcohol, but there are exceptions, particularly in Basse Santa Su. Wanjo is a sweet but refreshing drink made from hibiscus flowers, and ginger and baobab juice are also sometimes available at bars and restaurants. All around the country, you may see men preparing a green tea called attaya, which is full of caffeine, and has a strong bitter taste that becomes more refreshing on the third brew (locals tend to drink it with copious amounts of sugar). The preparation of attaya takes about an hour and is almost a social ceremony, as the men sit around and chat while the pot is brewing.
(Photo: A food seller at the Albert Market in Banjul © Ariadne Van Zandbergen, Africa Image Library)
Accommodation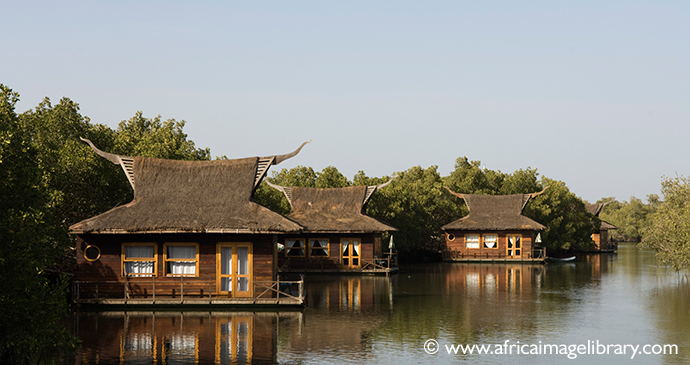 Mandina Lodges – floating accommodation on the River Gambia © Ariadne Van Zandbergen, Africa Image Library
The coastal resorts of Greater Banjul are dense with accommodation that caters mainly to tourists but ranges in quality from world-class package or boutique hotels, such as the Coral Beach or Ngala Lodge, to scruffy small lodges aimed mainly at backpackers, volunteers and others on a tight budget. Accommodation on the coast north of the River Gambia or south of Tanji tends to consist of modest but pleasant eco-lodges and more basic beach camps catering to those on a low to medium budget, while accommodation upriver is almost all very basic and rundown, the one notable exception being the Chimp Rehabilitation Project Camp in the River Gambia National Park.