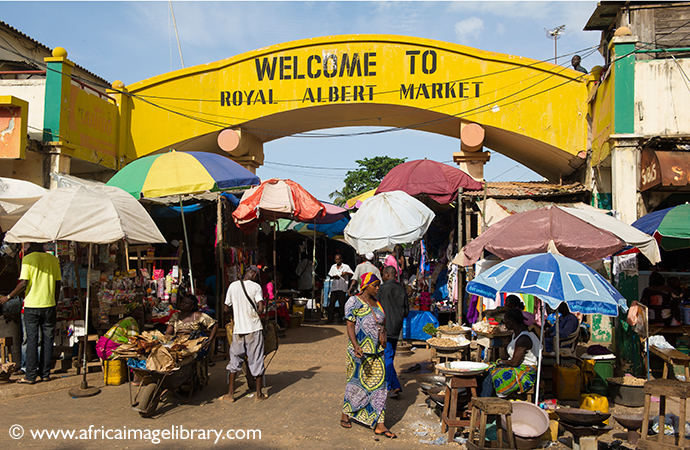 The focal point of Banjul, Albert Market sells everything from fruit and veg to beads, fabrics and prints © Ariadne Van Zandbergen, Africa Image Library
The sleepy side roads of Gambia's small, but characterful island-bound capital converge on bustling Albert Market and the dusty old National Museum.
Banjul is the least populous capital city on the African mainland, and probably the most compact, with some 35,000 inhabitants confined to an area of around 3km². Occupying the easternmost quarter of a small island that protrudes hooklike into the southern mouth of the River Gambia, Banjul is lapped by open salt water on three sides, while its southwestern shore is dislocated from the mainland by the maze of mangrove-lined creeks that comprise the Tanbi Wetland Reserve. A solitary road, the Banjul–Serekunda Highway, links the capital to the rest of the country, crossing from the island to the mainland at Denton Bridge some 3km west of the city centre.
In its favour, the low-key Gambian capital possesses considerable character. Architecturally, Banjul is a real hodgepodge of old colonial properties, shantytowns and modern office buildings, none more than a few storeys high. And while the overall atmosphere is quite subdued and laidback, certain areas can be very hectic, particularly the stretch of Liberation Avenue that follows the eastern waterfront from Albert Market south to the terminus for the Barra Ferry.
Culturally, Banjul is a melting pot of West African and other cultures. As you walk the streets, you'll see tall blue-robed Mauritanians, Berbers in white flowing burnouses, Gambian businessmen in bright tie-dye shirts, and local women adorned in a dazzling array of traditional colours. Many shops are owned by Lebanese expats, who, with their dark glasses, often dress and look like members of the Mafia. There are rastas in brightly coloured woollen hats and T-shirts, and office workers dressed in suits and ties or Western-style skirts and blouses. It is amazing, but typical of The Gambia, that so many different races and cultures live alongside each other.