Getting there and away
Getting around
Visas
Needless to say, you must ensure you have a valid passport, and one that is not due to expire for at least six months. An International Certificate of Vaccination against yellow fever is also necessary for entry into Gabon and is the first thing to be checked upon arrival.
Visas are required for all travellers. If flying into Gabon, you will either need to apply for a visa at a Gabonese embassy before departure or take advantage of the e-visa system (only available for travellers arriving by air to Libreville): both one-to-three-month single-entry (€70 plus €15 processing) and six-month multiple-entry (€185 plus €15 processing) visas can now be applied for online. After filling out the form and uploading the required documentation (passport and colour photo), you will receive an application receipt (reçu d'inscription) which, assuming your paperwork is in order, should be followed by a travel authorisation (autorisation d'entrée) within 72 hours. Print this and bring it to the airport, where you will receive the visa sticker and pay in euros (cash only) on arrival.
Note that we've had reports of the system producing a variety of errors leading to rejected applications; make sure that your document uploads meet the specifications exactly and leave yourself time to get the visa at an embassy if necessary.
Though all have their own unique set of hoops to jump through, most Gabonese embassies in Europe require would-be travellers to come armed with at least a couple of passport-sized photos, photocopies of your airline ticket, proof of health insurance and confirmation of your accommodation, such as a hotel booking covering at least the first night(s) of a trip. An absolute minimum of five working days should be allowed for a visa application to be processed, but this varies between embassies. Applicants for a business visa will need a formal invitation letter from their company plus the above-mentioned documentation.
If you're in the area, it is usually easier and cheaper to obtain a visa from a Gabonese embassy in one of its neighbouring countries; Gabonese embassies or consulates can be found in Yaoundé (Cameroon), Brazzaville (Republic of the Congo), Malabo and Bata (Equatorial Guinea) and São Tomé (São Tomé and Príncipe). Visas were not available at land borders as of 2019, and Gabonese immigration at such borders was demanding a valid hotel reservation in order to enter (and phoning the hotel to check!). Rather perplexingly, the booking can be made with a hotel in Libreville and dated for when you expect to reach the capital.
Once in Gabon, visa extensions (usually up to three months) can be arranged at the Direction Générale de la Documentation et de l'Immigration (Directorate General of Documentation and Immigration; DGDI; often known by its former acronym CEDOC – after Centre de la documentation; Zone Industrielle d'Oloumi, Libreville), but in the first instance it might be advisable to talk to a travel agent.
Please note that after the UK leaves the European Union, documentation requirements for UK citizens may change. Check before travelling.
Getting there and away
By air
For all intents and purposes, Gabon has only one international airport, Léon Mba International Airport in Libreville. Port-Gentil's airport can technically handle international flights, but at the time of writing this was limited to a twice-weekly connection to Pointe-Noire in the Republic of the Congo with Equaflight. There are also international connections between Franceville and Brazzaville, also in the Republic of the Congo, on a similar schedule with Afrijet.
To fly direct to Libreville from Europe, your options are basically Air France from Paris, or Turkish Airlines from Istanbul. The direct flight time from Paris is about 7 hours. Other easy connections include flying with Ethiopian Airlines via Addis Ababa, Royal Air Maroc via Casablanca, or Rwandair via Kigali. Flights are not known for being especially cheap, but it's often possible to fly from Europe for under €700 return, depending on the city of departure.
There are no direct connections from North America, so you'll have to transfer in via one of the above-mentioned cities.
There are regular flights to Libreville from other African countries, including Benin, Cameroon, Congo (Republic and Democratic Republic), Ivory Coast, Equatorial Guinea, Ethiopia, Kenya, Nigeria, Rwanda, Togo, and São Tomé and Príncipe.
There are plans to replace Léon Mba International with a new airport near Nkok, about 30km east of central Libreville along the N1. The idea seemed to get a new lease of life in 2018, when GSEZ Airports (a subsidiary of Olam Gabon, the largest private sector employer in the country) was awarded a 50-year construction and management contract for the new airport, which will have capacity for five million passengers annually. Various opening dates have been proposed, but it seems unlikely it will be ready before 2022 at the earliest. For updates, see here.
By land
If you plan to enter Gabon overland you'll firstly need to acquire a visa in either a neighbouring country or your home country as, at the time of writing, visas weren't available at land borders. The most popular route for overlanders involves entering Gabon from the north and crossing the Ntem River, which forms a natural border with Cameroon. There are two crossings in the northwest corner of Woleu-Ntem province, with the most popular being at the north end of the N2 between Eboro (Gabon) and Abang-Minko (Cameroon). Alternatively, there is a lesser-used but still reasonably busy crossing between Meyo-Kye (Gabon) and Kye-Ossi (Cameroon). Both crossings are 25–30km away from Bitam, which is reachable on surfaced roads. Your passport, visa and hotel booking will be examined at the border checkpoint, but you must formalise your stay with a passport stamp from immigration in Bitam. (If you're leaving Gabon via this route, don't forget to get your exit stamp from the same immigration office.) Border formalities in Cameroon are carried out in Ambam. There is also a remote and little-used crossing 20km north of Minvoul between Nsak (Gabon) and Aboulou (Cameroon).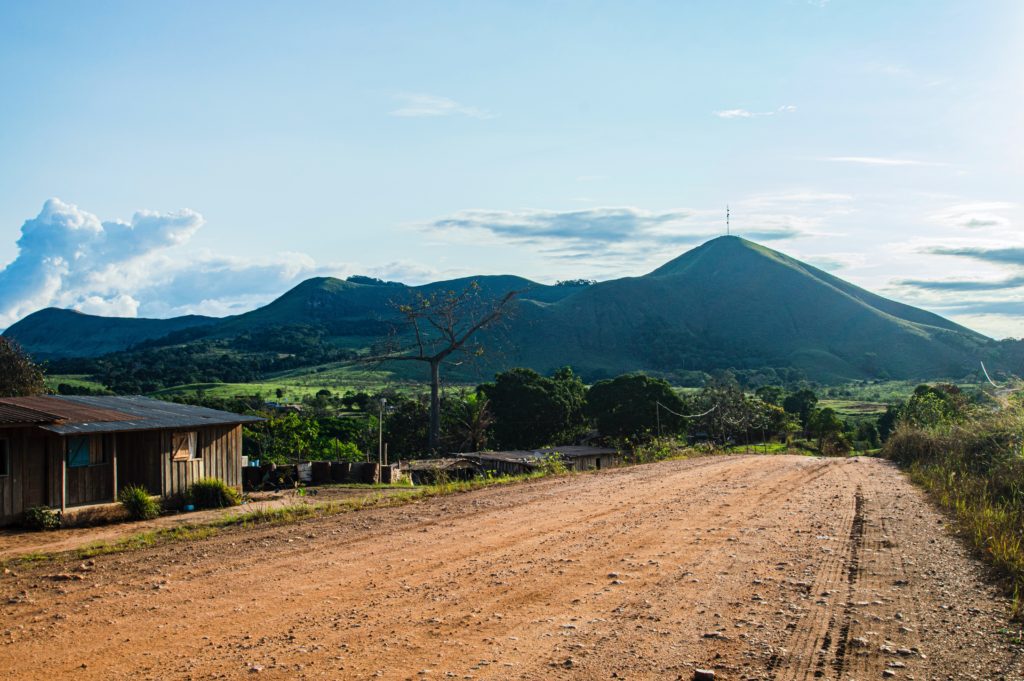 Arriving from Republic of the Congo, there are a few options. The most popular route starts from the south in Dolisie (Congo) and heads north for 230 (mostly unsurfaced) kilometres before crossing into Gabon over the Ngounié River, where the two countries both have checkpoints. It's a further 50km from here to reach the immigration office and the resumption of tarmac road at Ndendé. There's also a remote crossing near Moulengui Binza to the south of Tchibanga, but we've had no reports as to its condition; immigration formalities for this route are conducted in Tchibanga. Remoter still, there's a crossing near Gabon's southernmost point at Ndindi (with formalities conducted in Mayumba).
To the east, near Franceville, there's a new tarmac road from Congo into Gabon. Opened in 2014, it's still not marked on most maps, but it begins at Congo's N2 trunk road at Obouya, near Oyo, and continues some 200km through Congo's Cuvette Department, entering Gabon around 30km east of Léconi. There's another remote crossing south of Franceville, between Mbinda (Congo) and Lekoko (Gabon), from where it's possible to connect to the Chemin de fer Congo-Océan (Congo-Ocean Railway) that connects Mbinda to Pointe-Noire and Brazzaville. It was supposedly running about once a week at the time of writing; be prepared for a rough ride. Immigration formalities are conducted in Bakoumba if using this route.
To the north, in Ogooué-Ivindo, the roads entering Gabon at Ékata or Mazingo (both near Mékambo) are in deplorable shape, with the Mazingo route reportedly completely impassable. Thus, this is not a practical route across the border unless you've got your own 4×4 and some considerable skills. (See this trip report if you think we're being overdramatic) If you do attempt this route, immigration formalities are done in Mékambo.
Entering Gabon from Equatorial Guinea, there's a surfaced road from Ebebiyín to Bitam (25km) and a laterite route between Mongomo and Oyem (40km). There's public transport on both routes, but while foreigners may be able to exit Equatorial Guinea into Gabon at these crossings, they were not allowed to do the reverse at the
time of writing. The same goes for the river border between Cogo (Equatorial Guinea) and Cocobeach (Gabon). For updates on this, check here.
By sea
There are a few boats that regularly take passengers between Port Môle in Libreville and other regional ports. Société Hawa runs large passenger boats to Douala (Cameroon), Calabar (Nigeria), Cotonou (Benin) and Lomé (Togo). Schedules change, so call or visit their bureau at Port Môle for upcoming departures.
Otherwise, freight boats bound for Libreville will sometimes take paying passengers. These usually leave from Bata (Equatorial Guinea), Abidjan (Ivory Coast), São Tomé and, most frequently of all, Douala (Cameroon). Crossings are irregular and you would need to make enquiries at the boats docked at the ports and negotiate with the captain. Prepare for a rough ride and take more food and drink than you think you will need.
Your only other option for getting to Gabon by water is with a pirogue (5,000CFA) from Cogo in Equatorial Guinea, which sits 15km up the Muni River from Cocobeach in Gabon.
Getting around
Getting from place to place in Gabon can be difficult, time-consuming and expensive; more often than not, it's all three. Despite this, it can also be a fantastic way to see the country and meet its people.
By air
Flight schedules change frequently and with little notice and airlines should be contacted directly for the most up-to-date information. They usually have offices in town as well as in the airports. Flying around Gabon isn't cheap. Depending on the distance and the airline, a one-way trip can cost 70,000–150,000CFA and a return flight will be double that.
At the time of writing, there were three airline companies serving the interior, of which Afrijet is by far the most reliable.
If you have the funds, hiring your own light aircraft will give you even greater flexibility. It's expensive, but the views are amazing – that is, unless weather conditions force the pilot to fly above the clouds. Seeing the rainforest from 10 to 100m above is much more than a means of getting to your destination, it is an attraction in itself. Make enquiries with Afrijet or a tour operator.
By rail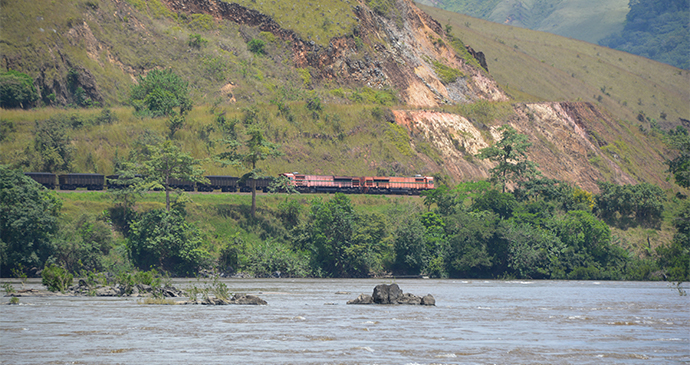 Gabon's only railway, the Transgabonais (Trans-Gabon Railway), bisects the country east–west, running from Libreville through over 20 stations to its terminus, Franceville. It plays a crucial role in the country's economy and in linking the capital to rural areas. The railroad is administered by the Société d'Exploitation du Transgabonais (SETRAG).
SETRAG runs two types of train. The Train Omnibus l'Equateur links all 21 stations between Libreville and Franceville; the Train Express Trans-Ogooué stops only in Ndjolé, Lopé, Booué, Ivindo, Lastoursville and Moanda. The cheaper (and slower) Omnibus leaves Libreville on Tuesdays, Thursdays and Sundays, and the faster (and more expensive) Express departs on Mondays, Wednesdays and Fridays. According to the timetable, all trains depart at 18.50 and the fast train gets you to Franceville in 12½ hours, while the Omnibus needs 1 hour more. In reality, delays are chronic and a delayed departure followed by a 14–16-hour journey time on either train is more likely.
The Omnibus has a second and a first class, while the Express train has three classes of accommodation: VIP, first and second class. The Express train has been using comfortable new German-built rolling stock since 2017, while cars on the Omnibus are somewhat older.
Assuming it does eventually start running, it would be well worth taking the tourist Train Forest Express during the day. Almost as soon as it pulls out of Owendo you'll be rolling through the forest of the foothills of the Crystal Mountains. The rainforest is so dense in parts that it's not difficult to see why it took 14 years to build the railway. It's even less difficult to understand why it took Count Pierre Savorgnan de Brazza three years to cut a path across the country with his panga a century earlier. Just past Ndjolé the tracks lead over the Ogooué River, which they then follow the course of for hours.
By road
Despite remaining challenges, Gabon's infrastructure sector has seen large improvements since President Ali Bongo took over. When he came to power, only 10% of Gabon's 9,000km of roads were tarred and only 20% of the untarred roads were considered 'good'. Although the government missed their stated objective of tarring 3,600km of road by 2016, Ali Bongo's ten-year administration has seen more roads surfaced than the entirety of his father's 41-year tenure.
Major renovation of the road between Libreville and Ntoum, currently a main bottleneck for all incoming and outgoing traffic, was underway at the time this guide went to print, and the first stage of the road between Libreville and Port- Gentil (between Port-Gentil and Omboué) will be officially inaugurated at the end of 2019.
No matter how you get around on Gabon's roads, checkpoints and roadblocks are a fact of life here and will inevitably slow you down. It's not uncommon for officials to try and catch you on a mistake (or simply invent one) in order to attempt to solicit a bribe, so make sure your paperwork is in order and always carry your passport. To avoid unnecessary hassle, also carry your international immunisation record (yellow booklet).
Minibuses and clandos
Apart from the railway and some larger Sogatra buses around Libreville and Franceville, Gabon has no public (ie: government-administered) transport. It does, however, have upwards of 9,000km of road, and plenty of people coming and going around the country despite the often-difficult conditions. During the rainy season, travel on certain roads is challenging, but the absence of surfaced roads does not mean an absence of transport. Broadly speaking, minibuses are the backbone of the Gabonese transport system, and some combination of minibuses or clandos reach all but the remotest corners of the country.
Clandos (also sometimes referred to as taxis-brousses – bush taxis) are the – usually unregistered – cars and pick-ups that ferry people and their packages between towns, beeping for passengers as they pass through villages. They are easily recognisable as always being in poor condition and crowded. They offer the cheapest form of transport, and a little money will take you quite far. Minibuses and clandos are found at the gare routière (bus station) for any given town. They generally only depart when full, though there are thankfully now some minibus companies offering fixed departures, too. Choose a seat behind the driver, near the window, and on the side with the most shade.
Taxis
Taxis are the lifeblood of the transport system within towns. They differ in colour depending on where you are – red and white for Libreville, blue and white for Port-Gentil and so on – but they almost always look as if they are falling apart. Une course is when you hire an empty taxi and the driver takes you directly to your destination. Each town has a set of recognised points beyond which the fare increases, but they will often start at around 1,000CFA for une course. For example, going from the city centre to the airport or Owendo in Libreville, or to Cap Lopez from Port-Gentil, will cost you 2,000CFA. All fares double after 21.00.
By boat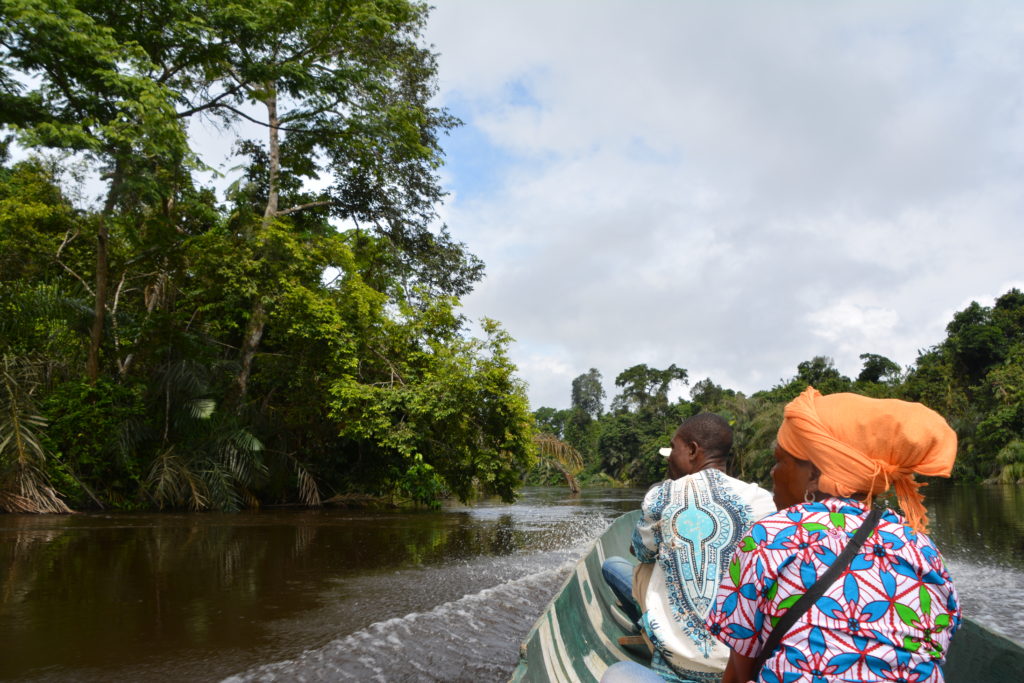 Pirogues, or dugout canoes, are the traditional method of transport wherever there is water. Increasingly, pirogues are now motorised. A man who directs a pirogue is called a piroguier, or a pagayeur, after the pagaye or pole used in traditional pirogues. Ferries run between Libreville and Port-Gentil and between Port-Gentil and Lambaréné.