Fish lovers will be in heaven on Cape Verde. The grilled lobster is superb, as are the fresh tuna, octopus and a multitude of other delicacies. The only disappointment sometimes is that no-one seems to have invented any exciting sauces or variations to liven up these freshly caught delights. Vegetarians may find only omelette on the menu but can always ask for a plate of rice and beans.
Fish lovers will be in heaven on Cape Verde.
A Cape Verdean speciality is cachupa, a delicious, hearty dish that comes in two varieties: poor-man's cachupa (boiled maize, beans, herbs, cassava, sweet potato) and rich-man's cachupa (the same but with chicken and other meat). Cachupa takes a long time to prepare: some restaurants put a sign in their windows to indicate when they will next be serving it. Cachupa grelhada is perhaps the most palatable – everything available all fried up together, often for breakfast and recommended, especially when served with a fried egg on top.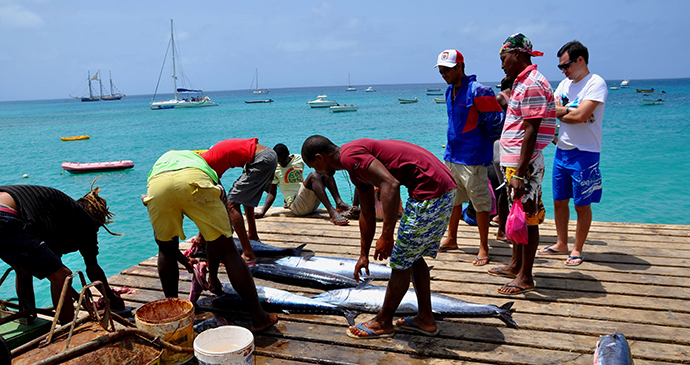 An oddity of Cape Verdean restaurants is the apparent default setting of serving your chosen dish with rice and potatoes of some variety (chipped, boiled). For many, this is too much stodge, but you may have to be insistent to avoid it happening!
Another minor frustration can be the opening times. The situation has improved markedly, but there is still a fairly laid-back attitude to opening times, one which you may choose to adopt. Experience shows that some establishments do not publicise their opening times, or will not stick to them! On Sal and Boavista, this is less of a problem.
Local specialities are the jams (doce) and semi-dried fruits. These are often served as desserts along with fresh goat's cheese, making a delicious end to the meal.
Most towns will have local eateries where huge platefuls of rice, chips, beans and fish, or of cachupa, are served up at lunchtimes for 300–600$, but these places may not be open all day. Look out for restaurants offering pratos do dia, often at lunchtime. These 'dishes of the day' give you a chance to fill up very cheaply, usually for around 400$ or less. Restaurant prices are defined in the rest of this book by the average cost of a main meat or fish dish.
In most places, these go for between 600$ and 1,200$. Lobster tends to be 1,800$ on some islands, but costs much more on Sal and Boavista. Tea is typically 100$ per cup; coffee the same, however, getting a decent tea or coffee can at times be difficult. Asking for tea can quite often bring an infusion of camomile or blackberry, so bringing a few of your favourite teabags from home is not a bad idea, if it's important to you. Cha pretais black tea. The best coffee seems to be available from the larger airport cafés and ferry terminals, or from various Italian establishments on Sal and Boavista.
Food on the streets is fine, if unexciting. A good tip to finding it is to look near to the town's market, if it has one. Th ere are many women with trays of sweets, monkey nuts, sugared peanuts and popcorn and tiny impromptu barbecues are also set up. Sometimes they will have little pastéis (fish pastries). The confectionery is very sugary, and flavours are mainly coconut, peanut and papaya. Here and there ladies fry moreia – moray eel. Nice, but greasy – just spit the bones out; the dogs will get them.
Cheap picnic lunches can be bought from supermarkets, markets and from bakeries. These exist in every town but they can be hard to track down, due to a dearth of signage. Ask for the minimercado if you get stuck and don't be too choosy: often they are more mini than mercado.
Outside the big towns, try to call in at your chosen restaurant about 2 hours in advance to order your meal or you may well be restricted to the dish of the day.
Many remote villages have no eating places, but somewhere there will be a shop – often hard to distinguish from an ordinary house. There you can buy biscuits and drinks.
Bottled water is widely available and in ordinary shops is cheap (80$ for a 1.5-litre bottle, less in supermarkets); prices are inflated at hotels (up to 180$). Some of the wine made on Fogo island is distinctive and very quaffable and can be found for sale around the archipelago. Other wines tend to be imported from Portugal or Italy. There are three principal beers. Strela is a domestic brand, brewed in Praia, and has a sub-brand, Strela Ego, which is a high-strength lager (8%). The two brands imported from Portugal are the maltier Superbock and the less-common Sagres. Costs are typically 100$ for local and Portuguese beer and 250$ for other imported brands. On Sal many more familiar brands of imported drink are available, but are usually quite expensive.
The drink that Cape Verdeans literally live and die for is grogue. It is locally produced and abundantly available – in any dwelling carrying a sign above its door prohibiting children under 18 from entering.
On quieter islands such as Maio and São Nicolau, food shops and restaurants may open erratically and only for short periods. To avoid hours of hunger, always have provisions with you.