Climate
When to visit
Highlights and itineraries
Climate
West Africa does not really have weather, in the sense of the daily changes experienced in temperate regions. It has climate instead, created by enormous air masses shifted by global forces across the region as a whole. Burkina sits across three climatic zones, which experience a decline in rainfall and shorter wet season as one moves from south to north. The Sudano-Guinean zone covers the southwestern bulge of the country that extends towards Côte d'Ivoire. This is the wettest part of the country, where the rainy season runs for a full six months from May to October, with maximum rainfall of up to 1,300mm a year. The Sudano-Sahelian zone is the largest climatic region, covering half of Burkina's surface area, and generally receives between 600 and 1,000mm of rain each year. Here the rains tend to finish slightly earlier, in September. The Sahelian zone, situated in the northernmost quarter of the country, is the driest region of all, seeing as little as 150mm of rain each year. Although the arid semi-desert of the Sahel currently covers 25% of the country, it is reckoned to be encroaching by 5–10cm each year, as overexploitation of the land and the destruction of plant cover, coupled with worrying trends in overall global warming, hasten the onset of desertification.
Generally speaking, landlocked Burkina escapes the debilitating humidity of its coastal neighbours, although daily temperatures tend to be slightly higher, averaging around 35°C. During the cooler periods, the temperature can drop sharply at night, down to as low as 5°C in the Sahel. In general, count on temperatures rarely falling below 30°C. In the dry season, the major metereological feature, apart from the unrelenting heat (which can hit 45°C), is the Harmattan wind, which blows from the northeast, bringing with it the sand of the Sahara. This peaks in February and early March, with the sun becoming completely obscured on some days.
Despite uniformly high temperatures, there are a number of seasonal variations, although these vary slightly between the three climatic zones.
When to visit
Received wisdom is that you can only visit Burkina between October and February, and most recommend November and December as the best months of all. While the weather is at its most palatable then, there is no need to restrict oneself to such a small window. Whatever the season, Burkina has something to offer.
Any chance to tie in a trip with one of Burkina's numerous large-scale international festivals – the biennial pan-African cinema festival Fespaco, held every odd-numbered year in February, the arts and crafts extravaganza SIAO, held every even-numbered year in October, or Bobo-Dioulasso's culture week, held in March every even-numbered year – is worth taking.
Highlights and itineraries
Highlights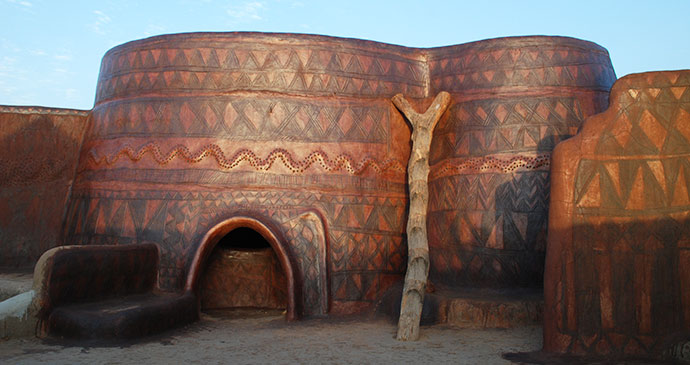 Tiebele is home to some spectacular mud houses © Katrina Manson/James Knight
Thrilling cultural celebrations
Dramatic mask festivals in Dedougou, Hounde, Pouni and Boromo; heart-pounding Fulani horse-dancing in Barani; Fespaco, the pan-African film festival; and SIAO, the arts and crafts festival.
The romance of the Sahel
Head to Sahel for desert markets, camel safaris and secret dune encampments.
Some of West Africa's best wildlife
Nose-to-trunk with elephants in Nazinga, lion-tracking in W National Park, sunsets with hippos in Lake Tengrela and close encounters with Bazoule's crocodiles.
Action adventure along the Gobnangou escarpment
Hiking, climbing and exploring caves in the Gobnangou escarpment.
Magic and mysticism in Lobi country
Animist rites are still performed in villages where traditional beliefs are as strong as the home-brewed millet beer.
Architecture
Stunning mud houses at Tiebele and Tangossoko.
Hiking trails
Through the peaks of Sindou, abandoned cliffside houses and troglodyte houses of Senoufou country.
Excellent cuisine and night-time highlife
In Ouagadougou and Bobo-Dioulasso.
Stunning artisanship
Bronze forges, woodcarving, leatherwork, maskmaking, fine jewellery, expert cloth-weaving and sculpture gardens.
Suggested itineraries
There are three key areas of Burkina – the southwest, around Banfora and Bobo-Dioulasso; the far southeast, around Pama and south of Diapaga; and the Sahel in the north. If you have only seven–ten days it is worth choosing one region and sacrificing the others, depending on what sounds more appealing. There is too much travelling to visit them all, especially on public transport, and not enoughtime to settle.