Getting there and away
Getting around
Visas
For most people, three documents are required to enter Benin:
a passport with at least six months' validity left on it
a valid visa
a yellow-fever certificate
Standard tourist visas for Benin are easy to obtain for most Western nationalities although exact requirements vary from embassy to embassy. Visa rules and regulations seem to be in a state of flux at the moment and it's important to check the information below with embassies and online in case it has changed. At the time of research visas were not available on arrival, and it was necessary to get a visa in advance either online or through the nearest Beninese embassy or consulate in your home country.
E-visas
At the time of writing Benin had just introduced e-visas. There were a few teething troubles when the service was first introduced in January 2018, but by the middle of 2018 the system seemed to be working well. An e-visa is by far the easiest way of obtaining a visa, as you can do it all from the comfort of your home with none of the hassle and time wasting of visiting or posting a visa to your nearest embassy. E-visas are valid for 30 or 90 days and are available as single- or multipleentry visas. Current costs are:
30 days single entry: €50
30 days multiple entry: €75
90 days multiple entry: €100
E-visa applications should be made through evisa.gouv.bj, and applications take 48 hours to process. You need to bring a printout of the visa with you to Benin. If, however, you still want to obtain a visa the old-fashioned way, then you will need to send or take your passport, a passport photo and a completed application form (available at the embassy) to your nearest embassy or consulate. Visa costs are normally the same as for the e-visa. Depending on the embassy or consulate, it might be possible to get the visa issued while you wait. In other cases, though, the embassy or consulate might just direct you to the e-visa website, so it's wise to contact them in advance to check that they will issue you a visa (rather than direct you to the e-visa system)
Getting there and away
Overland
Those on an extended African overland adventure will arrive by land, through Togo, Burkina Faso, Niger or Nigeria, with the Togo route being the most commonly used. Togo and Nigeria both have multiple border-crossing points with Benin, virtually all of which can be used by tourists, though the most traffic is along the coastal routes which link Cotonou with Lagos and Lomé (all of which are open 24 hours).
By air
Air travel is a more likely option for those either arriving in Benin on business or holidaying exclusively in Benin and its neighbouring countries. Cotonou is the only airport in the country for international flights. A growing number of airlines are serving Cotonou, but even so the city is not a big name in the airline world.
Getting around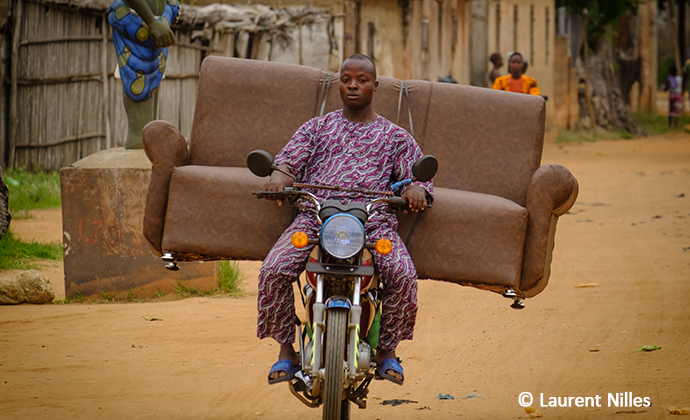 Not only is Benin a small and narrow country in which almost all places of interest are a short and direct journey from each other, but also, compared with those of many African nations, its road system is also relatively good. All main roads are surfaced, and though there are pot-holes they're not generally as large and common as in many a neighbouring country.
Car hire
International agencies such as Hertz have offices in Cotonou, but car hire is generally very expensive; if you want to hire a vehicle that you drive yourself, you'll need to use them. Otherwise local rental agencies and tour companies provide vehicles complete with driver, the cost of whose food and accommodation is generally (but not always) included in the price.
Taxis
Taxis in Benin are the most common form of public transport and they run to almost every town and village in the country. Between five and seven passengers are expected to squeeze, sardine-like, into the car alongside the driver who covers a set route. Seat prices are often (but not always – it all depends on supply and demand) higher than in a bus but in real terms are still cheap.
Buses
For longer journeys a bus is almost always preferable to a share taxi. Buses generally leave (roughly) on time and maintain a one-person, one-seat policy, which makes them far more comfortable than share taxis which like to try and squeeze around 8½ people on to each seat! Many of the better companies have airconditioned buses. Try and make bookings the day before, though if you can't, don't worry too much as there are normally seats going spare. The two best-regarded bus companies are ATT and Confort Lines.
Zemidjans
The normal way of getting around a town is on the back of one of the legions of zemidjans that buzz like flies around every town and village in the country. A zemidjan (or zemi as it's normally referred to both in this book and in day-to-day speech) is a small motorbike on which the passenger sits precariously just behind the driver. If you have much luggage then they are near enough impossible to use – not that that will stop the driver from trying and, with or without luggage, they are for many tourists one of the worst aspects of Benin.