Author's take
How can you fail to fall in love with a city that erects a statue to a lullaby? Although the Internationale was composed in Lille, the song the townsfolk took to their hearts was Le P'tit Quinquin, a sentimental patois melodrama of a poor lacemaker and her weeping baby. The statue, ravaged by a million scrambled cuddles and kisses, is a working-class Madonna and Child to melt the hardest of hearts. The town clocks still chime the tune each day at noon.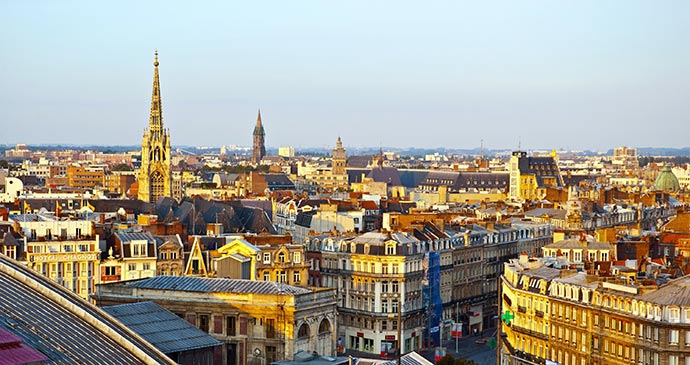 © Meiqianbao, Shutterstock
For years, Lille was France's best-kept secret. Despite charming cobbled streets, broad Flemish squares and the richest art gallery outside Paris, Lille was tucked away in a coal-mining region, scorned by Parisians and ignored by tourists. Then came Channel Tunnel trains linking Europe's key capitals, and the city was reborn. Lille may have a population of barely 227,000 but, with literally millions of people now living within an hour of the city, it is an unofficial capital in its own right, deservedly chosen as the European Capital of Culture for 2004.
Whether you are in Lille to meet up with friends, or just to celebrate your own special weekend; whether you are lifting a bière blanche in an estaminet or raising your fork in a Michelin-starred restaurant; whether you are admiring Old Masters in a museum or breaking bread with a young artist in his studio; whether you are among the crowds packing Grand' Place on a midsummer night's free rock concert or listening to a chamber recital in a baroque salon: wander, wonder and wallow in a corner of the world that has always been a capital city of culture. Let music follow your footsteps into history, let your taste buds tempt you from your chosen path. Let lunch segue into dinner, Art Deco streets lead you to the talents of tomorrow and the sounds of a lone midnight saxophone from an open window in the lamplight blend into a bedtime serenade in a city that, more than any other, knows the value of a great lullaby.
Author's story
Nobody was more surprised than I when Bradt decided to back my project to write a guidebook to Lille. On refl ection, it made a certain sense. Bradt has a global reputation for revealing the charms of places often overlooked, and when fi rst I began broadcasting and writing about Lille, even the French raised an eyebrow or two. On the original publication, as part of a guide to all the Eurostar cities, Bradt determined not to launch the title in Paris, London or even Brussels, but in Lille's Palais Rihour, imperial seat of the city's heyday well before its rediscovery as Europe's cultural capital.
To the outside world, the outside France even, Lille was a slagheap, a monochrome reminder of a failed industrial past. Echoes of Emile Zola's Germinal and simple metropolitan snobbery regarding northerners helped perpetuate the prejudices. I'd personally broken through the barrier when hitchhiking from the ferry ports in the rain – I found myself in a contemporary Brigadoon, where bright lights and pulsating partying punctuated the midnight hour and positively punctured the propaganda. People were vivacious, generous and fun. Next morning, in the dazzling sunlight of day, the glowing beauty of gabled cobbled Flanders lay before me, a true European jewel in a contemporary cosmopolitan pleasure-ground.
Since opening and sharing my no-longer-secret address book, each new edition, each reprint, has chronicled the blossoming of a metropolis coming of age at the heart of Europe. No more need to explain. This once unmentionable city has become a point of reference for the rest of the Continent, with style magazines and travel gurus ever hailing the next discovery destination as 'the New Lille'.