Written by Bradt Travel Guides
There's no getting away from it: Zambia's biggest draw is its wildlife. Setting aside the awe-inspiring majesty of an obligatory sojourn beside Victoria Falls, few visitors to this landlocked southern African country will be thinking far beyond their safaris. And to be absolutely fair, with an infrastructure that caters for all tastes and expectations, delivering elephants, lions, African wild dogs, leopards, giraffes, baboons and zebras (to name but a mere few) across 21 national parks, who can blame them? Nevertheless, Zambia is more than just its fauna. If you can find the time to engage with aspects of the country's human culture your visit could end up being not only unique but also truly memorable.
Leap of faith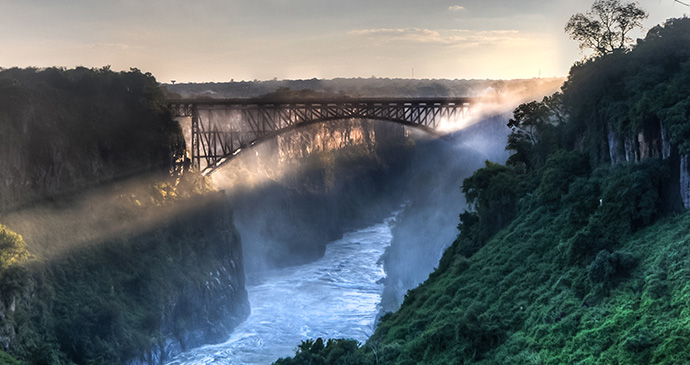 The bridge for bungee jumping over the Zambezi © Demerzel21, Dreamstime
For visitors fuelled by what must be pure adrenaline, a bungee jump off the bridge spanning the gorge between Zambia and Zimbabwe at Victoria Falls offers the chance to hurtle headfirst towards the Zambezi which runs 111m below them. Clearly not for the fainthearted, it is worth noting that there are no refunds for those who find that their confidence has deserted them at the moment of truth. Assuming you do go through with it, don't worry if it (rather inevitably) all rushes by in a blur – you can buy photos of your jump afterwards.
Cruising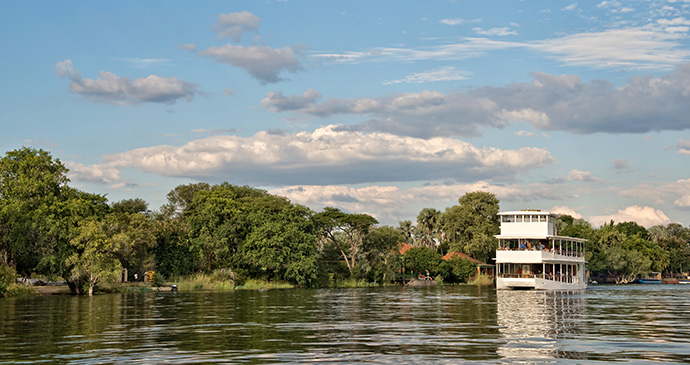 The African Queen cruising on the Zambezi © Delstudio, Dreamstime
If the Zambezi appeals to you but you want something altogether more refined, why not step aboard the African Queen, an old-style double-decker river boat, and cruises upstream. Supping cocktails and nibbling delectables, you and your fellow gentlefolk can peer through your binoculars and pick out hippos, elephants and other beasts from a suitably civilised distance.
Tuck in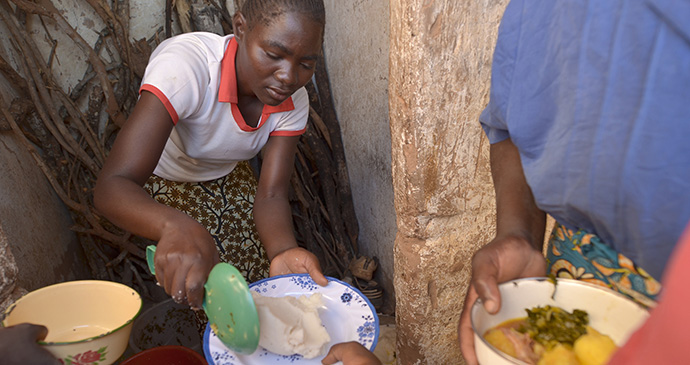 Nshima being served © Djembe, Dreamstime
Travelling can be hungry business, but thankfully the Zambians have that plate covered. The staple fare intended to fill you up is nshima, a cooked porridge made from ground maize that is not dissimilar to dishes which go by other names in Zimbabwe and South Africa. It's standard to have a thinner nshima with sugar for breakfast and then a thicker version accompanies by meats, relishes or dried fish for lunch and dinner. In addition, visitors to Zambia in November will be able to try sautéed termites.
The manor house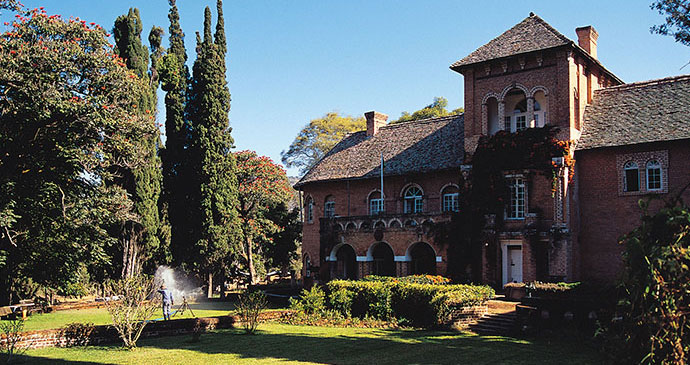 Shiwa Ng'andu © Trisha Hayne
The brainchild of Stewart Gore-Brown who, after earlier visits, settled in what was then Northern Rhodesia after the First World War, Shiwa Ng'andu is a manor house in the traditional English sense, albeit constructed both internally and externally from local resources. Such was the esteem in which Stewart Gore-Brown was held that, upon his eventual death in 1967, Zambia afforded him a full state funeral. After a period of decline, Shiwa is now once again a functioning estate and, for an experience of yesteryear's grandeur in the present day, it is possible to book a stay.
Urban adventures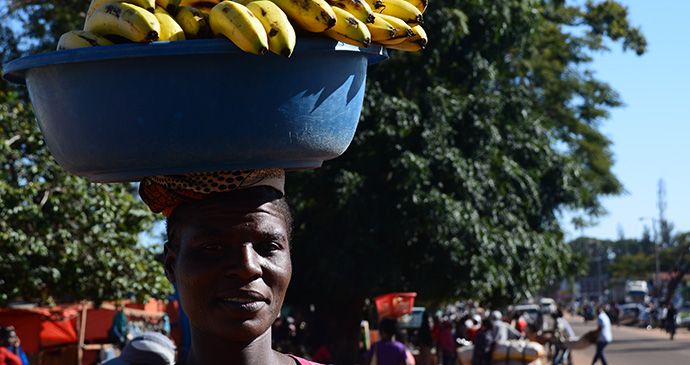 A woman selling bananas at a market in Chipata © Luca Roggero, Dreamstime
Zambia's capital city, Lusaka, has a reputation as a pretty edgy place (which is doubtlessly exaggerated) and its other human settlements often feel like little more than footnotes to a narrative about animals. So why should you consider adding a day or two in one of Zambia's urban locales to your itinerary? Essentially, a visit to one of these towns will give you a taste for of what everyday life means for many Zambians. Lusaka has some standout attractions, not least the impressive ethnographic component at the National Museum, but possibly the biggest draw to all larger Zambian settlements is the opportunity to people watch, whether in the structured hubbub of markets or just as the world goes by out on the streets.