Each month, Bradt Travel Guides (bradtguides.com) chooses a region of the world for star treatment: our Destination of the Month! We tailor-make a digital marketing campaign promoting that destination to our many readers and followers. This is your chance to link up with one of the world's best-respected travel brands.
A Destination of the Month (DoM) campaign is an intense burst of publicity over several weeks and includes not only branding and advertising on the Bradt website, but promotion of your country/region through Bradt's social media channels, blog and e-newsletter.
Adverts (all linked to your website)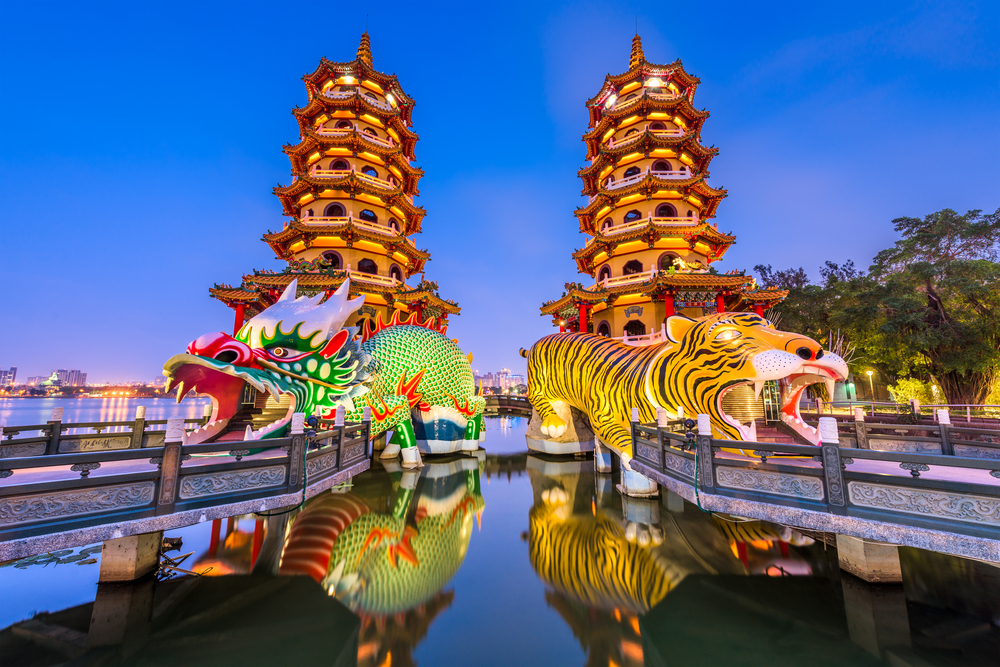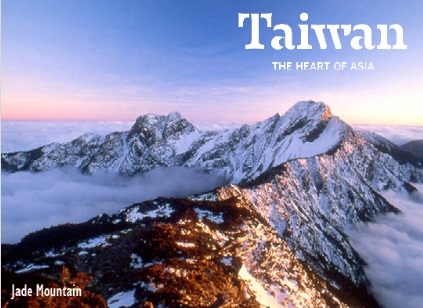 • Hero image: A photo of your destination (including marketing logo if you wish) featured on the Bradt website throughout the month.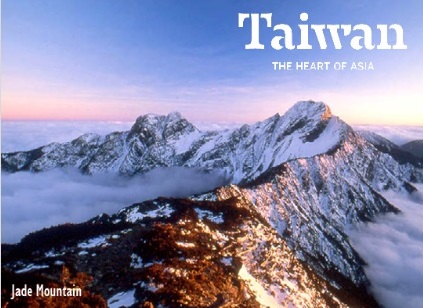 • An advert for your destination on the Bradt homepage throughout the month.
• Adverts for two months on all pages of the Bradt website containing dedicated travel information and articles about your destination
• An advert on a special Destination of the Month e-newsletter, sent to 11,000 opt-in subscribers.
Feature articles
• At least five articles about your destination published on the Bradt website blog and travel information pages.
• Two of the above articles to retain links to your website for at least six months, with continued social media promotion during that period.
• The chance for one of these articles to focus on your organisation specifically – perhaps your 'top tips' or similar.
Six months of social media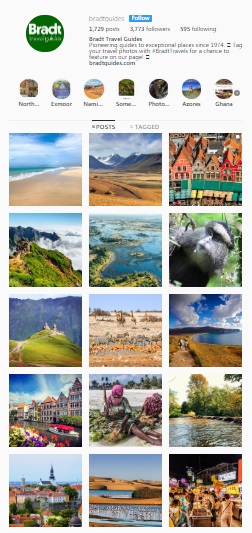 • Articles about your destination promoted daily on Twitter throughout the month.
• After that, two articles promoted twice a week for a second month, and weekly for a further four months.
• Facebook photo album linked to your company Facebook page.
• Video clip of your destination posted to Bradt's YouTube and Facebook accounts.
• 'Instagram takeover' – your favourite destination images showcased through the Bradt Instagram account.
• Twitter – 28,600 followers (up to 725,000 monthly impressions)
• Facebook – 7,000 page likes
• Instagram – 3,500 followers and around 80 'likes' per post.
• Video – Average 6,000 views and a Facebook reach of 19,000
• E-newsletter – 11,000 subscribers
Destination of the Month campaigns see traffic to the relevant pages of our website increase by up to 750%.
Email signatures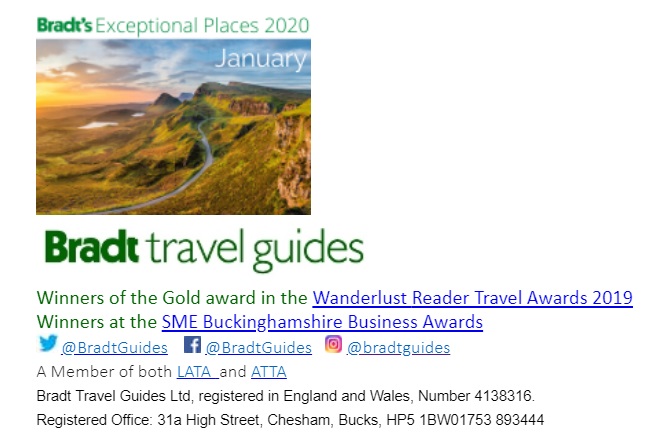 • Your country/region highlighted as our Destination of the Month in the email signatures of the Bradt team.
E-newsletter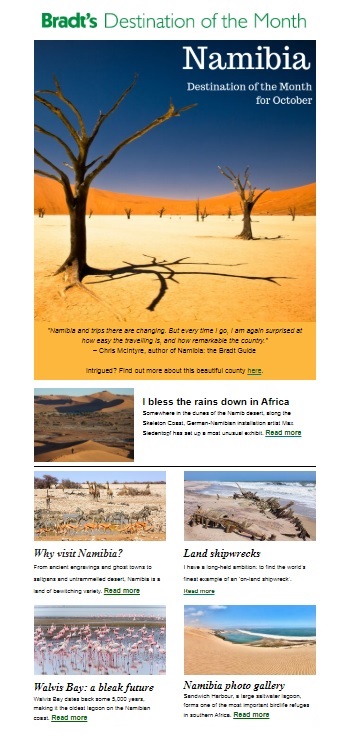 • A Destination of the Month e-newsletter sent to our 11,000 opt-in subscribers.
• Your country/region exclusively showcased in the e-newsletter and its articles.
• A prominent advert for your organisation in the e-newsletter if you wish.
• E-newsletter posted on our website, remaining live for at least six months.
Why Bradt?
Bradt Travel Guides is one of the world's longest-established and best-loved travel publishers – we've been producing pioneering guidebooks to exceptional places since 1974.
Last year we saw higher sales growth than any other guidebook publisher in the UK, and we won all three of the
major guidebook awards.
More information