Written by Lyn Mair and Lynnath Beckley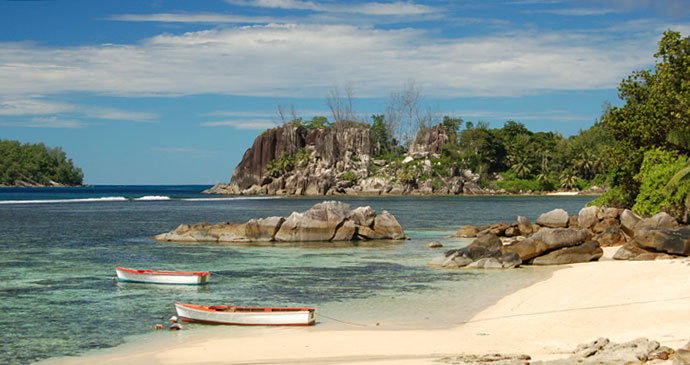 Vessels have disappeared without trace in Seychelles' waters © Seychelles Tourism Board
Modern navigation is a far cry from that of the early explorers who found their way around the Indian Ocean with sun, stars, sextants and leadlines. Over the years, the variable currents and the countless reefs and shoals around the Seychelles have resulted in many craft coming to grief.
One of the earliest was a wooden Portuguese vessel which foundered on Boudeuse cay in the Amirantes in 1550. Various artefacts have been recovered, including bronze cannons, copper nails, and a coin bearing the royal crest of Portugal. The Dom Royal, another Portuguese ship laden with treasures and slaves, ran aground on Astove in 1760. The slaves survived on the island for 26 years before they were eventually recaptured. Some gold coins and silver cutlery, reputedly from the Dom Royal, have been salvaged by divers.
In 1763, the French frigate Heureuse was wrecked off Providence in the Farquhar group, the start of a long list of ill-fated vessels that have succumbed on this atoll. Others include the British brigantine Aure (1836), the French barque Fédération (1894), the British schooner Maggie Low (1901), the British Endeavour (1906), the Norwegian Jorgen Bank (1906) and the Dagmar (1907). Other Farquhar islands have also claimed craft, including SV St Abbs which in 1854, en route from London to Bombay, hit a reef. There were only six survivors and an account by one of them, Edward Ross, is held in the Seychelles archives. In 1897, the British ship Aymestry went down off Ile Déposé; five years later, SS Hardwick Castle was wrecked on Farquhar, and Norden hit St Pierre in 1906.
The Amirantes claimed the British sloop Spitfire at Rémire (1801), the slave trader La Louise at Desroches (1809) and SS Sir Celicourt Antelme at Marie-Louise (1905). The French coal burner SS Dot was wrecked on Alphonse (1873), as was Tamatave (1903). Coëtivy claimed the corvette Eclair (1787) and the lugger Alice Adeline (1906). The whaler Greenwich was wrecked off Bird (1833) and La Perle succumbed on Plat (1863). The southern islands of the Aldabra group also have their share of wrecks with Cosmoledo claiming Merry Monarch (1874), the Norwegian barque Hamengia (1913) and, a decade later, the auxiliary schooner Meredith A White. In 1915, SS Glen Lyon was wrecked on Aldabra, and the lugger Reve hit the reefs of Assumption.
Over the years various , amongst them Briton, Cupido, Sea Queen and Lord of the Isles. Others such as Parachi Pachia and Voyageur have sunk in the precincts of the port of Victoria. The Royal Fleet Auxiliary tanker Ennerdale hit a rock about 15km northeast of Victoria in June 1970 and sank. In order to disperse the oil remaining in its tanks, Royal Navy divers placed charges on the vessel and attached the fuses to a helicopter overhead for ignition while the divers raced clear in an inflatable boat! The wreck, which is now a favoured diving site, lies about 2km southwest of Mamelles islet between Mahé and Praslin.