Written by Bradt Travel Guides
Since Sultan Qaboos came to power in 1970 women's status in the sultanate has been transformed. They now enjoy fair treatment and, broadly, equal opportunities in education and in the workplace. They increasingly take up careers in teaching, medicine and banking and can become members of the parliamentary body, and occupy full cabinet ministerial government positions. Sultan Qaboos's philosophy is made clear from the following speech: 'Many years ago I said that if the energy, capability and enthusiasm of women were excluded from a country's active life, then that country would be depriving itself of 50% of its genius. I have taken very good care that this should not happen to Oman, and I look forward to the further progress of women in my country with the greatest pleasure and confi dence.' The sultan has forbidden the full face veil for women in public offi ce; it is individual choice on other occasions. That said, there is still a traditional element in Omani society who believe that the changes are greater than should be allowed.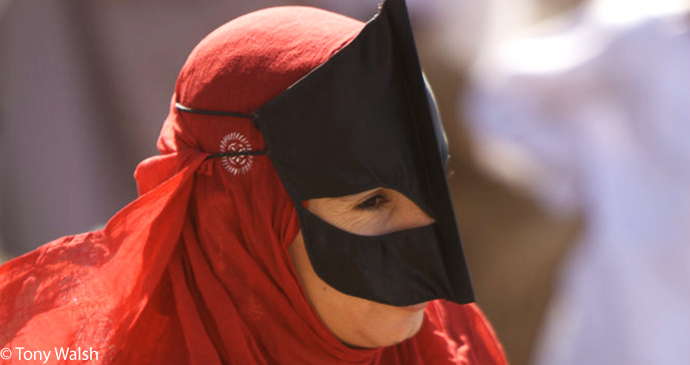 A Bedouin woman wearing an Omani burka mask at Nizwa's suq © Tony Walsh
Shari'a law also means women cannot marry without the consent of their male guardian, sons inherit twice as much as daughters, and the testimony of a woman is worth half that of a man. Undeterred, the sultan continues to champion women's rights and has established a new body with the aim of reforming education in Oman.
---