Written by James Lowen
On a hot July day in 1997, an excited colleague approached my desk. He bore news of Britain's first-ever twitchable lesser emperor at a nearby lake. I confessed to lacking the faintest inkling of this was. My friend was aghast. 'It's a dragonfly, and dragonflies are brilliant! You are missing out!' he exclaimed… and dragged me out the door.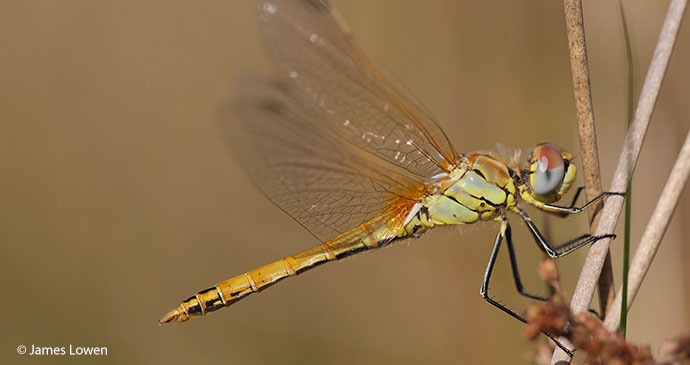 Check shallow, muddy-fringed ponds for red-veined darter, a largely Continental dragonfly © James Lowen
The lesser emperor proved to be a breathtaking aeronaut, scudding along at 25 miles per hour. This and other species I saw were as bejewelled as the brightest birds. That first imperial encounter hooked me. I've never looked back. High-octane predators, dragonflies have unrivalled powers of flight and sight, dexterity and determination.
Their names evoke flight styles: hawkers and skimmers, chasers and darters. Red and blue damselflies flutter meekly, demoiselles yo-yo extravagantly, and emerald damselflies helicopter gracefully. Their world may be fast, but watching dragonflies slows you down. Loll by a waterbody in the sun then gawp as you bask. Dragons are exhilarating in motion, but entrancing at rest. All repay close perusal. Gasp at a darter's compound eyes. Wonder at the fragility of transparent veined wings. Examine spiny legs that catch prey and pincer-like jaws that crush it.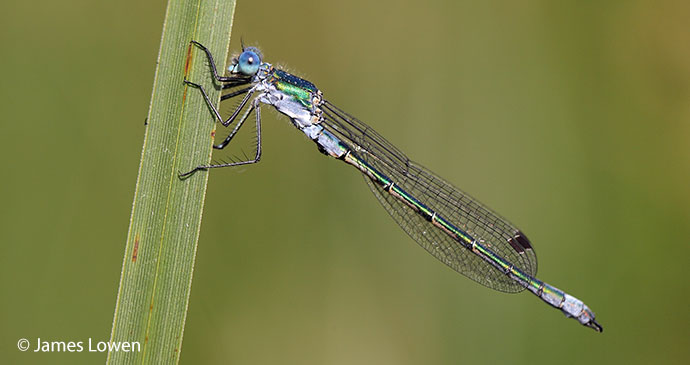 A male scarce emerald damselfly © James Lowen
Watch damselfly pairs float aloft, locked in mating wheels, or male chasers obsessively guard egg-laying partners. Play peekaboo with a dew-encased damselfly at dawn. Find a dragonfly nymph crawling free of water for the first and only time, then watch it 'hatch' into the winged wonder of an adult.
Throughout Britain, wherever there is water – lake or pond, canal or stream, ditch or bog – there be dragons. Their winged world hums from April to October. The number of species – 40-odd – is perfect. Too few to bamboozle; enough to excite. Most are easily identifiable; some pose tantalising conundrums.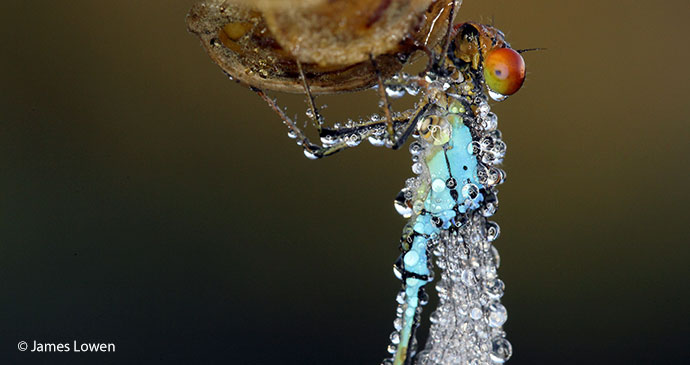 Glittering jewel: a dew-encased small red-eyed damselfly © James Lowen
Excitingly, Britain's dragonfly list is lengthening as species spread from continental Europe. Unknown here 20 years ago, small red-eyed damselfly is now common across much of England. Willow emerald damselfly looks to be following suit. If finding rarities is your thing, dragonflies offer rich rewards. Even I have discovered three 'megas', as well as my very own lesser emperors. I suspect I owe my friend a pint…
Want to know the best spots to find a willow emerald damselfly? Find out in James Lowen's new book, A Summer of Wildlife.