Written by Bradt Travel Guides
From fish festivals to bat watching, see what's hot around the world in November.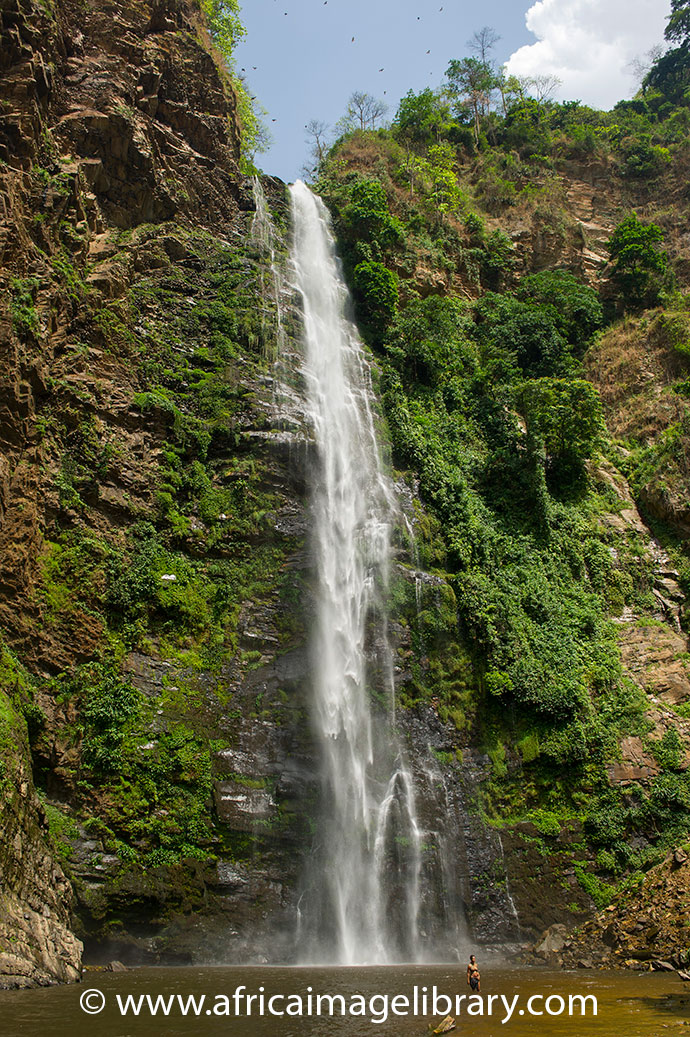 Hiking, Ghana
The early dry season is the ideal time to hike to the likes of Wli waterfall (West Africa's tallest drop) and Mount Gemi in the Avatime Hills, Ghana. Rainfall is low, but the countryside is still green, the sky is clear (prior to the arrival of the haze-carrying Harmattan winds in December) and waterfalls are still at close to full flow.
(Photo: Wli Falls, Agumatsa Wildlife Sanctuary © Africa Image Library)
Read more in Ghana: the Bradt Guide
Olive harvest, Liguria, Italy
Vendors fill the streets of Imperia, Liguria, selling the new season's olive oil, made from the delicately flavoured Taggiasca olive. Stalls are weighed down with whole olives in brine, olive paste and everything you could possibly imagine that could be made with olive oil and the wood from local olive trees.
Read more in Liguria: the Bradt Guide
Puno Week, Peru
The fiesta capital of Peru, Puno, celebrates its Amerindian roots over a week, starting with a huge procession from Lake Titicaca into town recalling the legend of the first Inca who arose from the lake to establish the empire. Day of the Dead early in the week is an especially joyous celebration with picnics in cemeteries.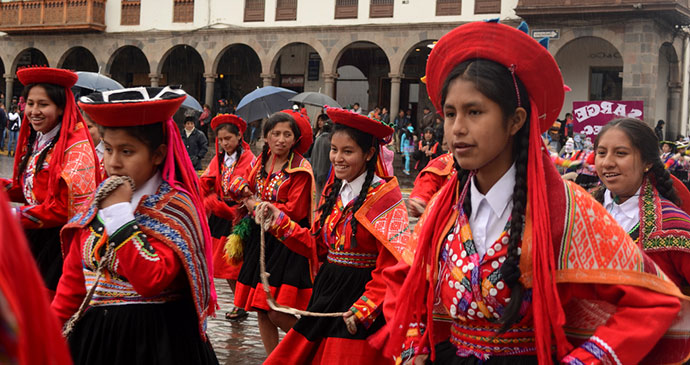 Children celebrating Puno week © Ana Raquel S. Hernandes
Read more in Peru Highlights
Bat watching, Zambia
Little known outside Zambia, Kasanka National Park comes into its own in November when literally millions of fruit bats home in on the riverine trees for the annual fruitfest. Watch from a tree hide if you can; crocodiles tend to occupy the ground space in search of bats that topple from overweighted branches.
Read more in Zambia: the Bradt Guide
Guarding the garlic, Sighișoara, Transylvania
Take a trip back in time to the Medieval age in Transylvania, to an era crowded with vampires, wolves and peasants. Walking along the ancient cobbled streets, you imagine yourself on a film set for a creepy Transylvanian thriller. As you pass the building where Vlad Dracul (father of Vlad III the Impaler, the inspiration for Stoker's 'Dracula') was born, you feel as though at any moment Dracula might swoop down from the belfry and sink his teeth into your neck. St Andrew's Eve (29 November) is 'Vampire's Night' when suspicious traditions like 'guarding the garlic' are followed.
(Photo: Sighisoara © Gabriela Insuratelu, Shutterstock)
Read more in Transylvania: the Bradt Guide
Adaa Equestrian Festival, Amman, Jordan
Magnificent horses and their riders from around the world come together in Jordan to compete at this prestigious equestrian event (end October–November).
Read more in Jordan: the Bradt Guide
Jazz Fest, Sarajevo, Bosnia and Herzegovina
Despite the hard economic times that have hit Bosnia and Herzegovina, the Jazz Fest gets better and better every year. The festival's director likes to mix things up and never goes for a clear cut genre of jazz, but is always looking for something new, creative and exciting. Cutting edge artists like Norway's Eivind Aarset 4Tet, Brazil's Hamilton de Hollanda, or the US' Jack Dejohnette Group have all played centre stage at Sarajevo's Jazz Fest as have the bigger names in jazz like the John Scofield Uberjam Band. After each concert there is a late night jam session, usually in a smoky, over-crowded basement bar somewhere in town.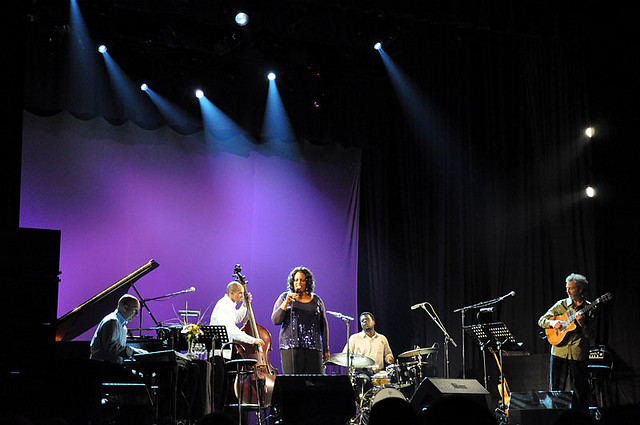 A performance at the Jazz Festival © Me5otron, Flickr
Read more in Bosnia and Herzegovina: the Bradt Guide
National Day, Oman
Celebration fireworks and high-spirited camel-racing. On 18 November is the Sultan's birthday, a one day public holiday, celebrated with dramatic firework displays and early morning camel-racing at As Sib race course. The festive mood reflects the genuine popularity of Oman's ruler.
Read more in Oman: the Bradt Guide
Rockstone Fish Festival, Guyana
This annual festival takes place at the community of Rockstone in Guyana, some 18 miles from Linden, in Region Ten (Upper Demerara/Upper Berbice). It is Guyana's largest fish festival, aimed at tourists and locals alike. A two-hour trip allows participants to experience camping , fishing, birdwatching, or simply exploring the Essequibo River.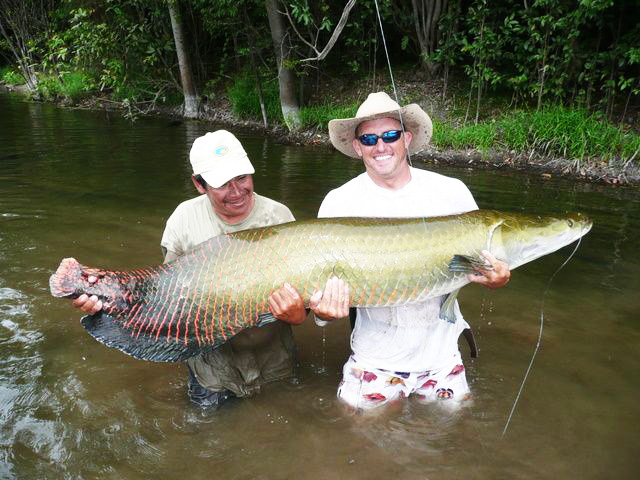 A freshly caught baby arapaima © Courtesy of Wilderness Explorers
Read more in Guyana: the Bradt Guide
Devour Festival, Nova Scotia, Canada
The town of Wolfville's Devour festival pairs cinema and cuisine: foodie film screenings, wine tastings, chef demonstrations and special dinners salute the best of Nova Scotia's local produce in film and fact.
Read more in Nova Scotia: the Bradt Guide
Bazar Art Festival, Uzbekistan
This annual art festival in Tashkent brings together fine artists, craftsmen and their work from around the country. The event includes demonstrations and master classes as well as art exhibitions and shopping opportunities.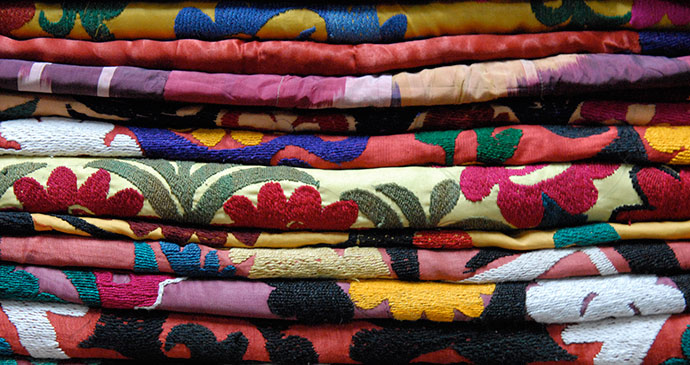 A stack of delicately embroidered suzanis © Sophie and Max Lovell-Hoare
Read more in Uzbekistan: the Bradt Guide