Written by Bradt Travel Guides
Carnival, Cape Verde
Visiting Cape Verde without catching one of its festivals is almost unforgiveable, and this is the mother of them all. Sometimes held in February, sometimes in March, and often compared to Rio de Janeiro's big bash, don't expect much rest if you visit Mindelo on São Vicente at Carnival time. Cape Verde's second city proudly calls itself the archipelago's 'cultural capital' and no one who encounters its carnival would support any counter-argument. The 'culture' is rough-and-ready, the drumming frenetic, the costumes outrageous, the gyrating flesh ubiquitous, the music endless and the participants' smiles infectious. A cacophony of noise and colour, this is a festival not to be missed. Bring your boa feathers and a lorry-load of energy, 'cos this party won't be shutting up shop early.
Nooruz, Kyrgyzstan
Nooruz, on 21st March, is the most important annual festival in Central Asia. Nooruz is a sort of Central Asian New Year that dates back to Zoroastrian times – is celebrated throughout Kyrgyzstan with street festivals and lots of partying and social visiting.
Fiesta de la Patria Gaucha, Uruguay
The Fiesta de la Patria Gaucha (Festival of the Gaucho Country), held at the Laguna de las Lavanderas, Uruguay, in the first or second week of March in Uruguay, is one of the biggest of its kind in South America, with thousands of country folk coming from far and wide (including Brazil and Argentina), all in gaucho garb and many with their horses. There are parades, riding competitions, lasso, boladera and other contests, and huge parrillas producing a steady supply of grilled meats. In the evenings there's music and dancing, and traditional gaucho poetry recitals.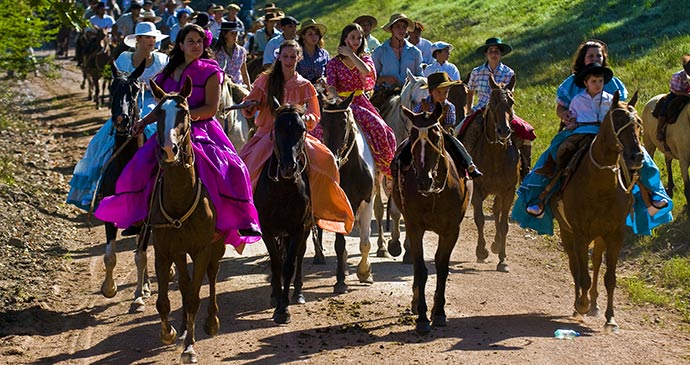 Fiesta de la Patria Gaucho is among the biggest of its kind in South America © Kobby Dagan, Shutterstock
Avetepe and Tepebaşi Festival, North Cyrpus
In North Cyprus, tulip festivals are held in both Tepebaşi and Avtepe in March, to coincide with the flowering of the Tulipa cypria, the dark crimson flower endemic to Cyprus. Although the flower is ostensibly the main event, it provides the two villages with an excuse for a bit of music and dancing, stalls serving traditional delicacies and handicrafts, and a few speeches by visiting dignitaries. The tulips themselves are protected, and to see them you'll have to wander through a few neighbouring fields. The sight of a few score people engaging in this is in itself a novel sight!
Semana Santa, Peru
A week of celebrations ahead of Easter in Peru. In Ayacucho, festivities involve the entire town and features handsome and spectacularly reverent processions that, after Good Friday, give way to several days of drinking and revelry in the belief that there is no such thing as sin until Easter Sunday, when the religious rites begin and again and culminate in music and fireworks.
Kupkari Championships, Uzbekistan
Uzbekistan's Kupkari Championships take place each year at the start of March. Also known as Buz Kashi or Kok Boru, this adrenalin-fuelled game sees teams of men on horseback trying to wrest control of a dead goat, race with it up the pitch, and ultimately throw it into the goal. Teams come from across the country to compete and winning here earns great prestige.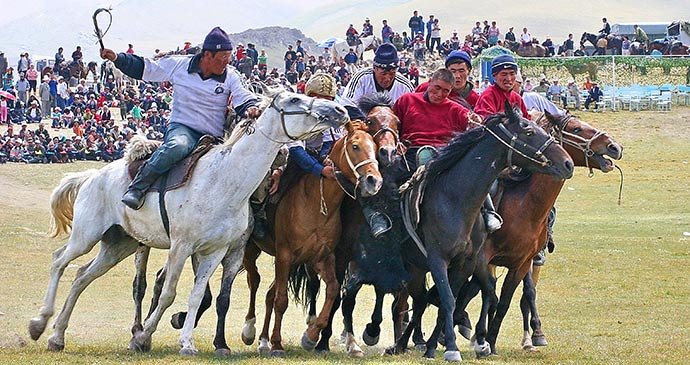 The stakes are high at the Kupkari Championships © Tracing Tea, Shutterstock
Wildlife migrations, South Sudan
Throughout the months of March and April, South Sudan bears witness to one of the most impressive wildlife migrations on earth as millions of animals are on the move from the floodplains of the Sudd to the confines of the Boma National Park.
---
Want to know more about these destinations? Check out our comprehensive travel guides: