Written by Katrina Manson and James Knight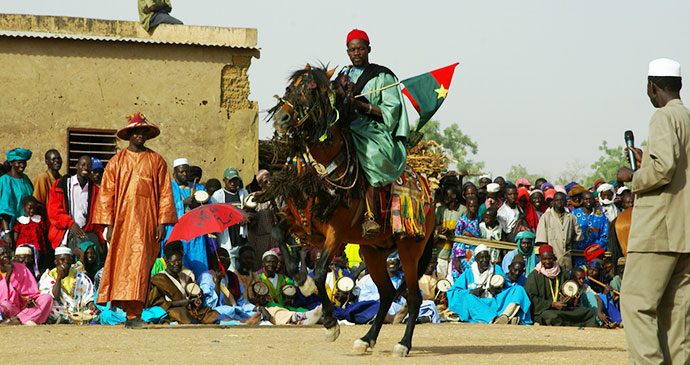 Barani's Fachiba festival has grown massively since it started in 2000 © Katrina Manson/James Knight
Barani's Fechiba festival is a lifeline for the village, which in recent years has suffered: no phone line, no electricity, no secondary school, jagged dirt roads impassable in the rainy season and hardly a horse to its name. Twenty years ago there were 600 people in the town. Barani's diaspora has tried to reinvigorate its equine heritage, to turn the eyes of the state towards the village's development needs. In short, horses mean houses. Several village proteges, from the worlds of business, academia and public service, have formed Adeba – the Association for the Economic Development of Barani – to raise the profile of their home town.
In days gone by, Barani hosted a festival to celebrate the skill of their riders, who could make their horses dance to the rhythms of deftly handled drums, and kneel before the chief, all amid a cacophony of wailing, singing and thunderous gunfire. The day would culminate with the haaro ('horserace' in Fulfulde), a frantic course with up to 200 horses taking part.
This has been reincarnated as the Festival Culturel et Hippique de Barani (Fechiba). The first hosting, in 2000, attracted 20 horses and a few villagers, but it has grown enormously since; now, extended family members from the great clans of Barani arrive from as far afield as Mali, Guinea, Senegal and Nigeria. Cultures from all over Burkina dance their hearts out and griots compete with one another to regale the village with the lineage of the visiting chiefs; indeed, visitors in recent years have said that speech-making has seemed almost as important as the horses. That said, it is the horses and riders, resplendent, wild, proud, that really steal the show.
The handful of foreigners who attend receive an extraordinary welcome, as villagers, already inundated with extended family and friends, make extra space for unexpected guests: sleeping in mud-brick houses, or pitching tents under the baobabs, or taking mats out under the stars. Meals are shared with families that take a shine to you.
As one of the organisers has said, 'We can give people a good meal. It's our custom. If you go to Barani and don't get anything you will think people don't like you.'
And the young children of Barani are once again asking their parents about horses.