Written by Sarah Woods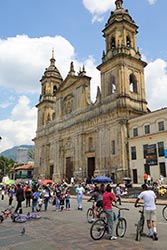 Vast, sprawling Bogotá continues to grow at an alarming pace and offers far too much ground to cover in a single visit. However, getting to grips with the neighbourhoods of La Candelaria and Plaza de Bolívar is more than achievable in a day or two – you won't have time to see everything but it'll be a decent introduction to the city's heart and soul. The distance between the pigeon-scattered Plaza de Bolívar (Bolivar Plaza) and the Parque Santander (Santander Park) is less than 2km but as the route is jam-packed with museums, churches, craft shops, cafés, bars and markets allow at least a day if you plan to break for lunch.
(Photo: The Catedral Primada in Bogotá, the starting point for the walk © Johnny Lawlor, Colombian Tourist Office)
Set off from the steps of the vast Catedral Primada, one of Bogotá's finest colonial structures, and head to the commemorative collection in honour of the 1810 Creole Rebellion at the Museo del 20 de Julio (20th of July Museum). Next it's on to the beautiful Casa de la Moneda (Coin House) and the fascinating artworks at Museo de Botero (Botero Museum, also known as Donación Botero) – an exhibition that is practically a review of late 19th-century art history and includes original pieces by Corot, Monet, Matisse, Picasso, Dalí, Chagall, Bacon and de Kooning. Take Calle 10 downhill from the corner of Calle 4 past the quirky roof-mounted sculptures that adorn some of the bubblegum-coloured houses to the Palacío de San Carlos (Sain Carlos Palace), the former government HQ before it was moved to the Palacío de Nariño. It was from this fine old palace that Bolívar fl ed through a window to escape a murder attempt, leaping half-naked from a bathtub, covered in soap. At Carrera 6, turn left to view the rather magnifi cent religious art collection at Museo de Arte Colonial (Museum of Colonial Art) before heading on to the ancient Iglesia de San Ignacio (San Ignacio Church) and the Iglesia Museo de Santa Clara (Santa Clara Church Museum). Push on up Carrera 7 from the grand Plaza de Bolívar to discover shops, boutiques and outlets galore before crossing Avenida Jiménez to the handicraft stalls, buskers and food vendors at Parque Santander (Santander Park). A visit to the resplendent Museo del Oro (Gold Museum) provides a fi tting fi nale to touring Bogotá on foot. Despite the extensive pillaging of pre-Columbian art by the conquistadores and the mass exportation of South American gold, the museum boasts the finest collection of pre-Columbian gold on the continent. It contains 33,000 individual pieces, from simple bangles to some of the most beautifully crafted masks and fi gures in the world.