Written by Paul Crask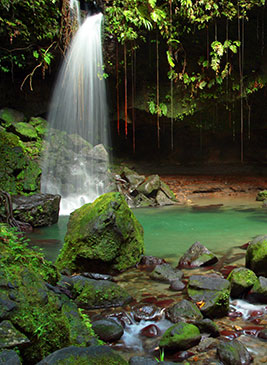 When I write about Dominica I have to think about you, the visitor; who you are, and what you can realistically and safely do during your short stay on the island. This means I have to be quite selective about the places I describe and the details I include. I want to tell you about more than the main tourist spots but at the same time I don't want to send you off into the bush in search of a hidden waterfall, never to be seen again. It is a fine balance and difficult for me to resist the urge to tell you about absolutely everything because I love exploring the island so much myself. I think my guidebook should be as comprehensive as possible for the majority, but also act as a useful starting point for people who would like to take their Dominica experience a step or two further. And so this is how I have tried to pitch it. Whether this means getting to know people or places better, learning a bush craft, or doing some extreme hiking, I hope I have managed to point you in the right direction.
So for the people who email me about all those 'secret places' that I am keeping to myself, this is for you. Whether you decide to follow them up or not, I think it gives you an idea of how much more there is to discover on this extraordinary island. And by the way, please do not try to find these places alone – do yourself a big favour and hire a local expert. No matter how many survival shows you may have watched, the dense rainforest is a disorienting place and people have been lost here. Local knowledge and expertise is invaluable.
I wish you the best of luck with your exploring. Comment below with your adventures!
(Photo: Waterfall into an emerald pool © Celia Sorhaindo, Tropical Ties)
Beyond Boeri
There are two small lakes beyond the Boeri Lake. Though diminutive, they are very atmospheric, locked away in the heart of Dominica's interior. They form part of the Boeri River that runs all the way to the west coast via the Middleham Falls. The track is rough and there is a continuation to the Middleham Falls though it is extremely muddy.
Bolive (Boli) Falls
Although this waterfall appears on some tourist maps, it is a very long and challenging hike and you must take a guide. Your reward is a threestage waterfall deep in the forest above La Plaine and the Sari Sari River. The trail arrives at the top of the second section where there is a great bathing pool.
Boetica River Gorge
There is a dramatic gorge, rock formation and waterfall along the Boetica River. A second very beautiful section of the gorge runs all the way down to the sea.
Boiling Lake from Freshwater Lake
This is a gorgeous hike in good weather. It follows a ridge above the Freshwater Lake, the Valley of Desolation, and reaches a high peak above the Boiling Lake. The hike ends at this viewpoint, a landslide destroyed the descent. The trail also passes a junction with a route down to the elevated east coast village of Morne Jaune. This is a great hike, one of my favourites, but you need company.
Fond England Waterfall
This waterfall is located in a deep river gulley off the Middleham Falls trail in the Tou Santi area. Best viewed in the wet season when it is bigger, access is via a steep climb that requires ropes.
Unbeaten paths
Kachibona Lake
Located in the heights above the west coast village of Colihaut is an area called Kachibona which was once a Maroon encampment. The lake was once quite large but a landslide reduced it to the size of a pond. Although the destination itself may not be that impressive, the hike here is beautiful and you pass some of the largest specimens of gommier tree on the island. Still tricky to follow, this route is occasionally walked by the people of Colihaut during cultural celebrations.
Maraque Falls
In the opposite valley to the Dernier Falls near Grand Fond is a very impressive, but extremely difficult to reach, waterfall along the Stuart's River.
Mahaut River Waterfall
Very deep within the bush above the Kalinago village of Mahaut River is a tall waterfall that cascades down a flattish rock face into a small pool. There are also several small rivers, streams and bathing pools in this area. Access is very difficult, however, and the climb up the river to the waterfall is quite a challenge.
Taberi River Waterfall
A two-hour hike up the very pretty Taberi River on Dominica's east coast brings you to a fabulous 25m waterfall.
Taffia Falls
A pretty waterfall on the northwest tip of the island that, rather like Wavine Cyrique tumbles from the cliffs on to the shoreline.
Who to ask
Well, not me, sorry. Although I am always exploring Dominica and have done all the hikes described here, I am not a hiking guide or a tour operator. A very good person to ask is Ken Dill, owner of KHATTS. Ken has explored Dominica extensively and should be able to help you get to some of these places and perhaps some others he may have found (ask him about his Layou River hike). Richard Metawi of Extreme Dominica certainly knows about Boetica River Gorge as well as several other interesting places he has discovered on his canyoning trips. David Victorin can take you to the Fond England Waterfall and a few other places in the Trois Pitons area. Elvis Stedman is forever exploring the Morne Trois Pitons National Park area and he also knows the whereabouts of a couple of nice waterfalls and pools in the Laudat area. You could also ask him about the Freshwater Lake to Boiling Lake hike. Octave Joseph knows Soltoun and is a good guide for Perdu Temps. And finally, it is also really worth getting in touch with Mike Rabess of the Hiker's Retreat – you can even stay there. He and his wife hike around the island very often and they know lots of Dominica's trails. Ask him about the Freshwater Lake, Bolive Falls or Morne Jaune to Boiling Lake hikes.