Written by Bradt Travel Guides
Ghana is a vast country, with sights dotted in all corners that you'll want to explore. The important thing to remember is that in reality, it's unlikely that you'll be able to fit them all in. In a typical two-week holiday, you can probably look to explore two regions (discounting Accra, assuming you just spend a night or two there in transit). The most popular region with travellers is probably the west coast, which contains an excellent choice of beach resorts, historical sites and interesting urban centres, as well as offering access to some fine forest reserves. For a combination of traditional cultural sites and good general wildlife viewing, Central Ghana stands out. Here is one potential itinerary:
Days 1–3
– Exploring

Accra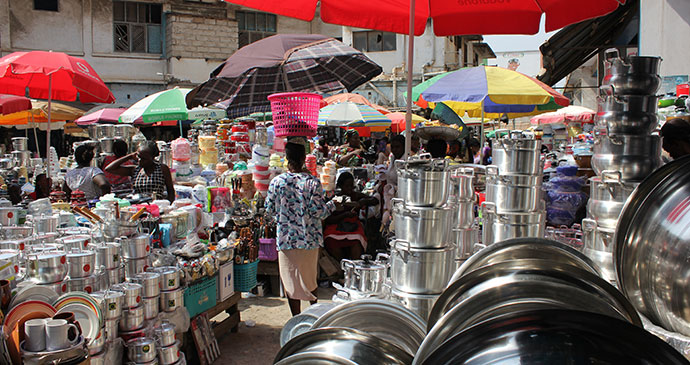 Makola Market is just one of the places to explore in Accra's historic old quarter © benggriff, Wikimedia Commons
Readily explored by foot over a day, the historic old quarter of Accra is studded with interesting landmarks, ranging from the venerable fort and lighthouse overlooking Jamestown beach to the moving Kwame Nkrumah Memorial Park and wonderfully chaotic Makola Market. With a full day to spare, and sufficient energy, you could head inland from Old Accra to the National Museum, or follow the coast east via the Kwame Nkrumah Memorial Park to Independence Square and (if it ever opens for tourism) Osu Castle, perhaps making use of taxis for longer hops.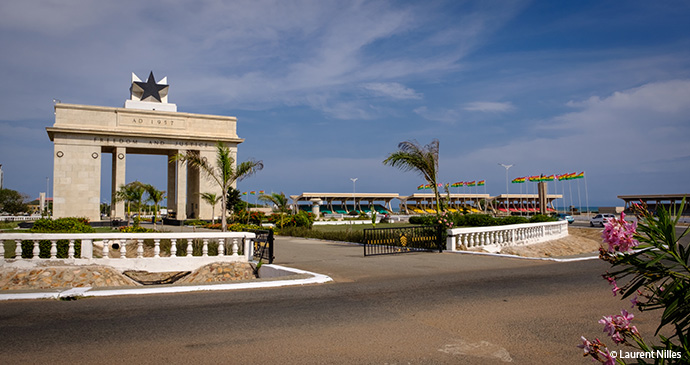 Black Star Arch on Independence Square is not what you'd expect of an African memorial, with its Soviet-esque angular style © Laurent Nilles
Many travellers also spend plenty of time in Osu, which is better known for the many shops and restaurants along Oxford Street than for any specific tourist sites. Flanked by boutique shops and craft stalls, it also comprises of the country's biggest concentration of eateries, bars and nightspots.
Less centrally, La Beach is Accra's best swimming beach and a great chill-out spot at any time of day, but Thursday night is party time. Of historic interest is the excellent W E B Du Bois Memorial Centre for Pan-African culture. This is the former home and now burial place of Dr William Edward Burghardt Du Bois, a prominent American antisegregationist, pan-Africanist and communist who served as leader of all the pan-African congresses between 1919 and 1927.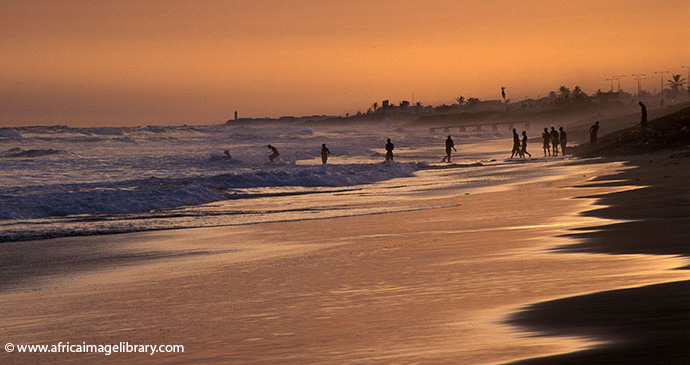 La Beach is your best bet for swimming while in Accra © Ariadne Van Zandbergen
If you want to go a bit further afield, Muni-Pomadze Ramsar Site is just under 2 hours west of the capital. Designated in 1992, this 95km² reserve to the immediate west of Winneba is listed both as a Ramsar Wetland and an Important Bird Area. It is dominated by the vast Muni Lagoon, which extends over 30km² when full, but also incorporates two forest reserves as well as the traditional hunting ground used in the Aboakyir Festival. Guided birdwatching excursions can be arranged and it is also the only official turtle-tracking site along the coast west of Accra.
Days 4, 5 and 6 – Cape Coast and Elmina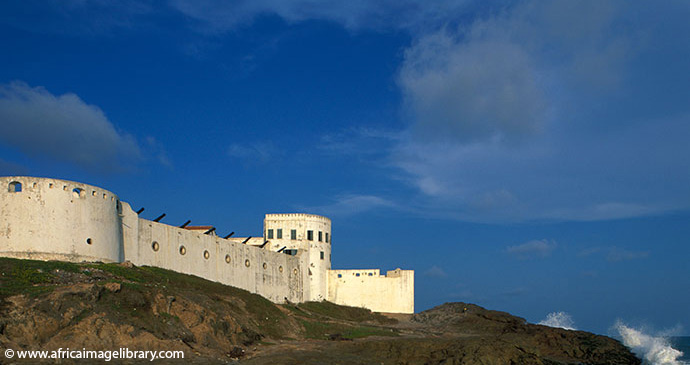 Now a UNESCO site, Cape Coast's castle was once one of the largest slave-holding sites in the world © Ariadne Van Zandbergen
Some 150km west of Accra, the attractive fishing port of Cape Coast is steeped in history. Settled at various points by Portuguese, Danish, Swedish and Dutch traders, it became the coastal headquarters of Britain's Royal African Company in 1664, and later served as the first capital of the Gold Coast. The town's antiquity is reflected in a varied range of architectural relicts spanning four centuries, most notably the hulking seafront presence of Cape Coast Castle, but also in its organic shape of tangled roads hugging the curves of low hills.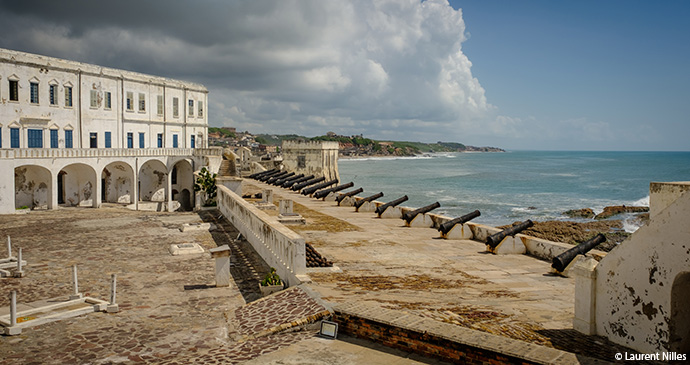 St George's Castle in Elmina is the oldest colonial building in sub-Saharan Africa © Laurent Nilles
Just 15km further west and bisected by the Benya Lagoon, its mouth seething with colourful pirogues, Elmina and its castle are the equal of nearby Cape Coast in terms of historical sightseeing. Much of this small town's fascination lies in the juxtaposition of its grandiose European architecture and modest African village roots.
Days 7 and 8 – Busua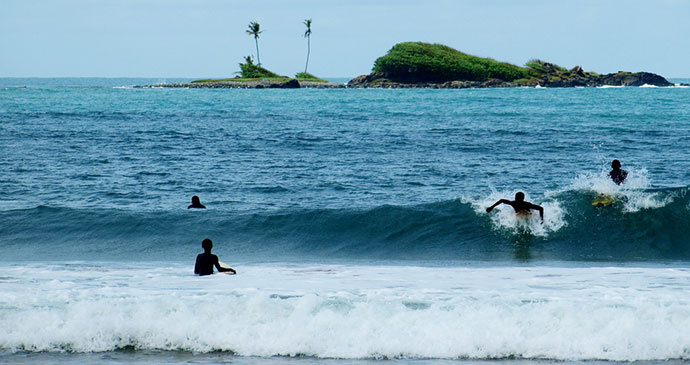 Busua is a focal point for surfing in Ghana © Michal Vogt, Wikimedia Commons
Reached via the regional hub of Takoradi, Busua is arguably the ultimate Ghanaian beach chill-out venue. This backpacker-friendly village is the centre of a growing surfing scene. Busua does also cater to a more upmarket crowd, with the Busua Beach Resort in particular being a popular weekend retreat for expats.
Since 2011, Busua has also been home to the Asa Baako Festival, which runs for three days every March and takes over the village with a series of concerts, parties, art exhibitions, sporting events, trekking, tree planting and more.
Days 9, 10 and 11 – Kumasi and around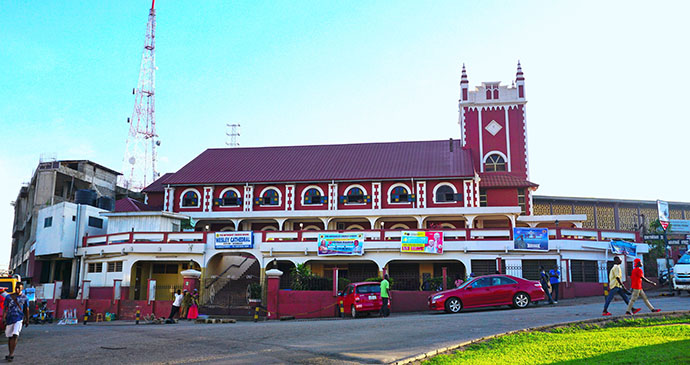 Kumasi serves as a useful base for nearby sites © Noahalorwu, Wikimedia Commons
Travelling north from Busua into Ghana's interior, Central Ghana's largest city is Kumasi, with a popultion of approximately 2.2 million. Combining chaotic modernity with cultural and architectural landmarks such as the 19th-century fort, Prempeh II Jubilee Museum and historic Okomfo Anokye Sword, central Kumasi is easily explored on foot and studded with a few great eateries.It must be noted, however that surging throngs of humanity and constant traffic jams emanate in every direction from the market and lorry station, creating an emphatically modern mood that can be positively overwhelming to newcomers, particularly those arriving from the relatively provincial north.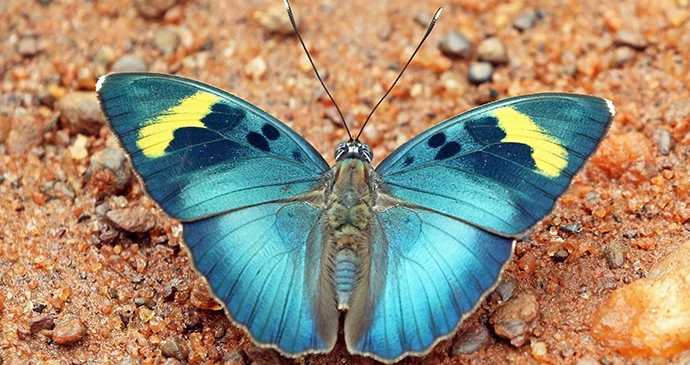 Bobiri Forest is home to a butterfly sanctuary that will thrill lepidopterists © Charlesjsharp, Wikimedia Commons
Bobiri is one of the most worthwhile day or overnight destinations in the Ashanti Region, particularly for those seeking a peaceful and affordable forest retreat rattling with animal life. Set aside as a forest reserve in 1939, the sanctuary comprises 55km² of near-pristine semi-deciduous forest, and though some parts are logged selectively on a 40-year cycle, significant sections of high canopy forest preserve some fine examples of giant African teak (Milicia excelsa) and mahogany-like Entandrophragma trees. Supporting a wealth of colourful butterflies and localised forest birds, as well as four species of monkey, the Bobiri Butterfly Sanctuary is a well-organised reserve 30km east of Kumasi.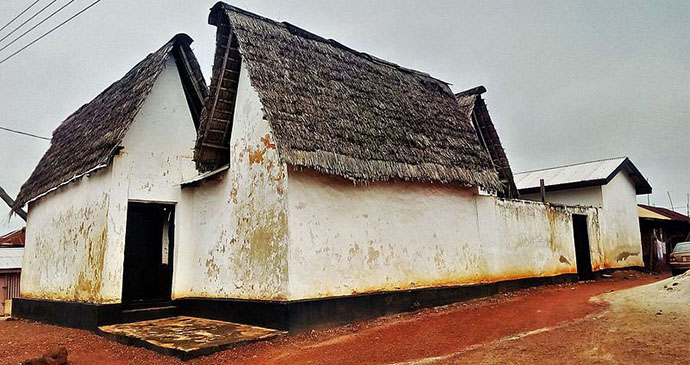 The restored Ashanti shrine in Ejisu gives an indication of how nearby Kumasi would have looked in the 19th century © Joy Agyepong, Wikimedia Commons
Designated as Ghana's second UNESCO World Heritage Site in 1980 (and still one of only two such sites in the country), the Ashanti Traditional Buildings Site comprises a scattered collection of ten ancient fetish shrines or abosomfie (singular obosomfie), most of which lie to the east or northeast of Kumasi. Originally constructed in the 18th or 19th century, these vulnerable mud, wood and straw buildings have been described by UNESCO as 'the last material remains of the great Ashanti civilisation'.
For the most part, they remain active shrines, and their existence provides curious travellers with a strong incentive to explore a mystical aspect of Ashanti tradition easily overlooked in the urban bustle of modern Kumasi. Several shrines are still in acrtive use, most notably the cluster around Ejisu on the Accra road 20km east of Kumasi.
Days 12 and 13 – Lake Bosomtwe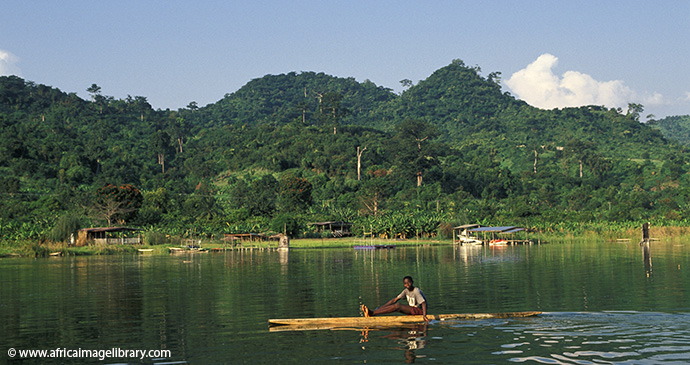 Lake Bosomtwe offers plenty of opportunities for outdoor activities © Ariadne Van Zandbergen
The beautiful Lake Bosomtwe, cupped within a near-circular meteorite crater, encircled by thickly vegetated and raggedly mountainous crater walls, lies about 35km south of Kumasi. With an average diameter of 8km and a total surface area of more than 50km², it is Ghana's most expansive natural freshwater body. Bosomtwe is now serviced by half a dozen or so lakeshore lodges, most of which lie within a few kilometres of Abono, and it offers plenty of opportunities for outdoor activities such as walking, birding, swimming and horseriding.
Day 14 – Back to Accra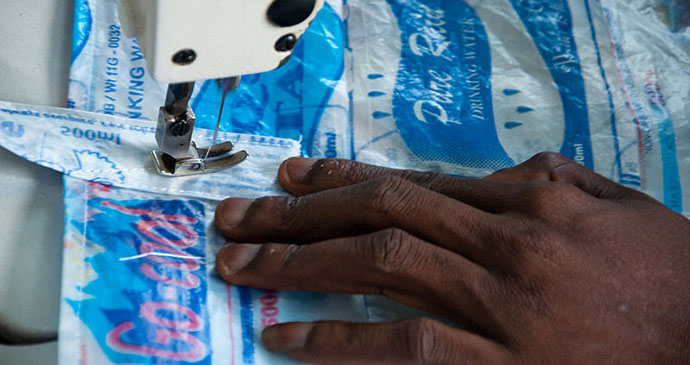 Trashy Bags collects around 200,000 old plastic bags per month © Tomas Prochazka, Wikimedia Commons
Returning to Accra, take this opportunity to visit anything you missed first time around and then do some further exploring. Why not pick up some souvenirs at the Centre for National Culture, Ghana's biggest craft market. There are many dozens of stalls where you can buy just about anything from traditional medicines and genuine kente and other local cloths, to carvings, masks and statues from all over Ghana and elsewhere in West Africa. It's also a good place to pick up colourful dyed shirts and cheaper trinkets such as imitation kente wallets and bead necklaces.
Even if you're not looking for crafts, Abajo Culture & Art Café is a most welcome addition to the centre. Set in a sculpture garden just to the right of the centre's western entrance, this warm and welcoming café puts on live performances or a jam session every Friday night, and serves Ghanaian and continental dishes for US$5–10.
---
Intrigued? Learn more about Ghana and what it has to offer by ordering a copy of our 2019 guide to the country, now with a 10% discount: