Written by Claire Strange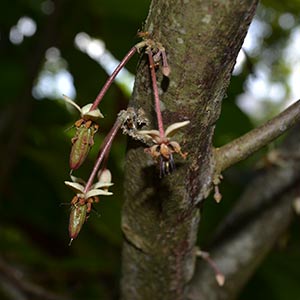 If we'd thought that the road to Soufrière was steep and winding, it was nothing in comparison to the access road to Anse Chastanet. The well-sprung taxi bumped and weaved along the potholed track and we hung onto the straps, cheerfully anticipating the afternoon ahead. We were booked onto a 'Cocoa Tree to Chocolate Bar' experience at one of the world's top hotels, Jade Mountain. As a self-confessed chocoholic, this was to be one of my personal highlights of our family holiday in Saint Lucia. At the front gate we were met by Wouter Tjeertes, Director of Pastry at Jade Mountain and its sister resort, Anse Chastanet. Wouter's obvious enthusiasm and passion for his job was immediately apparent – and he swept us into another taxi to take us back up the treacherous track and high into the hills behind Soufrière, to the 600-acre Emerald Estate plantation that supplies much of the produce used in the hotels' kitchens. As we climbed through the vine-entwined rainforest covering the steep hillsides of volcanic peaks, Wouter pointed out bananas, mangoes and breadfruit growing at the roadside.
(Photo above and below: Cocoa beans on the tree © Adam Strange)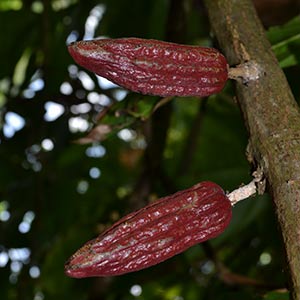 On arrival at the plantation, Wouter introduced us to Bowen, the estate's manager, and to Martin, a fifth-generation estate worker. Nick Troubetzkoy, owner and architect of Jade Mountain, purchased the Emerald Estate in order to supply the kitchens with organic, locally produced fruit and veg. Before us, though, we could see that this ran to more than just lettuce and tomato. There were peppers, limes and pineapples, but there was so much more that we didn't recognise. Wouter led us across the slopes, stopping from time to time to ask us if we could identify plants. He pulled a couple of long leaves from the ground and broke the stem for us to smell. Lemongrass, we decided. Passion fruit wasn't hard to guess at – the purple and white flowers were similar to a vine we have at home, and star fruit was obvious when he sliced one for us to try. But we were clueless when it came to the West Indian cherry and soursop. At one point he carved a small slice of bark from a tree that had been similarly vandalised for many years. No – that one wasn't obvious until we had a good sniff. Cinnamon. Of course.
We'd come to see the cocoa, though, so when Wouter pointed out the large, broad leaves of a 6m-tall tree, we saw other similar trees surrounding us in every direction. A close-up look at the trunk and branches revealed small white flowers growing straight out of the bark. At the centre of some flowers a small brown fruit was beginning to grow. Here and there, bigger fruit could be seen hanging from the bark, and on some trees, ripe, yellow pods around the size of a large mango were ready to be picked.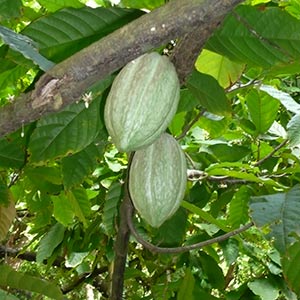 Back at the plantation house, Bowen led us to an open shed where beans are extracted from the pods. The pods are split and the beans, covered in a sweet, white pulp, are removed, left in barrels to ferment for a week, and dried. At Emerald Estate, the drying is done in the traditional way; large trays, set like drawers in the side of a timber shed, are slid out into the sun but can be pushed back in to avoid the rain. Two weeks of hot sunshine is needed in order to reduce the beans' water content to a point when they can be roasted.
(Photo: Cocoa beans on the tree © Adam Strange)
Back at Jade Mountain, Wouter escorted us to his chocolate lab. Somewhat smaller than Willy Wonka's outfit, at about 6m2 Wouter's chocolate lab was an air-conditioned paradise, furnished with curious tailor-made machinery and shelves of stainless-steel trays holding an assortment of half-finished handmade chocolates. The aroma of strong, dark chocolate filled the room.
Wouter outlined the next stage of the process by showing us a Perspex and stainless-steel box about the size of a rabbit hutch, designed to thresh and winnow the roasted beans, and chop them into 2­–3mm chips called nibs. Wouter showed us a stainless steel mixer where liquid chocolate was grinding continuously.
He explained that the nibs are combined with various proportions of sugar and placed in the grinder. This is allowed to run for 48 hours, to allow the cocoa solids to be broken down into a fine paste, and while mixing with the sugar, it becomes liquid chocolate. Some chocolate manufacturers grind for 72 hours, and, although this makes the chocolate smoother, it can result in a deterioration in flavour.
He went on to illustrate that after two days in the grinder, the chocolate is poured into large moulds, and cooled into 5kg blocks to be sent to the resorts' kitchens for transformation into individual hand-made chocolates, aromatic desserts or intricate sculptures like the half-finished Saint Lucia parrot that was Wouter's current project.
So, did the tour of Jade Mountain's chocolate venture have any effect on this chocoholic? Definitely. I couldn't believe the complexity of the flavours of really fresh chocolate. As the chocolate melted in my mouth I could identify subtle undertones – forest fruits, a hint of coffee, and the suggestion of earth and almonds. While the 92% nibs/8% sugar combination was a bit overpowering, my personal favourite was a 78/22% mixture with the plantation's own cashew nuts, chopped and sprinkled over the top. In future, I'll definitely go for quality over quantity – although I'm not quite sure where else in the world I'll find chocolate that is manufactured within sight of where the beans are grown.