Written by Hugh Collins
At a wonderful ceremony at Stanfords Bookshop in London, the winners of our 2015 Independent on Sunday/Bradt Travel Guides travel-writing competition were announced.
To an audience of Bradt authors, previous winners and nervous finalists, Simon Calder revealed the overall winner to be Liam Hodkinson. Liam, a runner-up in last year's competition, wrote 'Sun at Peace' an evocative, artistic piece that described his train ride to Hungary. Liam wins a trip for two to Iceland, courtesy of Discover the World, and a commission from The Independent on Sunday to write about the trip.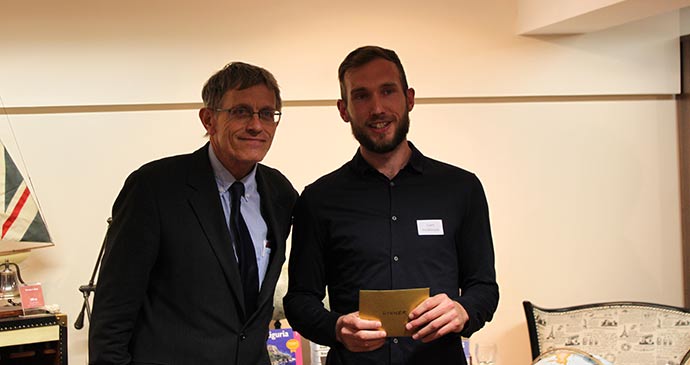 The winner of 2015s Unpublished Writer award was Deborah Parrott. Deborah's tale, 'Joy of Rain', is an accomplished piece of writing revealing the see-sawing of her emotions after being asked to talk to a class of African schoolchildren. Deborah wins a trip to Italy's Cinque Terre, provided by Railbookers, a commission to write about the trip for The Independent's website, plus a place on a travel-writing weekend courtesy of Travellers' Tales.
Winning entries:
Overall winner: Sun at Peace by Liam Hodkinson
Unpublished winner: The Joy of Rain by Deborah Parrott
Finalists:
One Morning in Russia by Matt Dawson
52 Card Pick Up in Laos by Joanna Mason
Prisoners of Pompeii by Sally Stott
Wild Garlic by Susanna Thornton
Highly commended entries:
Many Christmas by Matthew Adams
Bird in the Hand by Moira Ashley
The Dart Reloaded by Sarah Bianchi
Saved by a Frog by Michael Crome
Serendipity… or Perhaps Destiny by Sandi Dunn
Friends indeed by Stephen Fabes
À la recherche du Sam B by Catherine O'Sullivan
A Light in the Darkness by Rory Osborne
Do you agree with our judges? Read through the entries above and let us know in the comments below which tale you would have picked as your winner!
With thanks to our competition partners: