Written by Bradt Travel Guides
200th anniversary
The Battle of Waterloo took place 200 years ago, so now is a perfect time to visit because the anniversary has seen a major shake-up of the battlefield site. The battlefield centre, the Hameau du Lion, has been transformed by the new, innovative Memorial of the Battle of Waterloo visitor centre and new exhibitions and displays to mark the anniversary have been created in the various museums. The Ferme de Hougoumont, a fortified farmhouse from which the Battle of Waterloo started, and the Ferme de Mont-Saint-Jean, where Wellington slept for three hours before the battle and which later became a military hospital, have also both undergone major renovation. Every year, on the weekend closest to 18th June, hundreds of dedicated re-enactors from all over Europe descend on Waterloo to recreate the battle. 2015 will see the largest re-enactment ever undertaken – a very good reason to visit this year.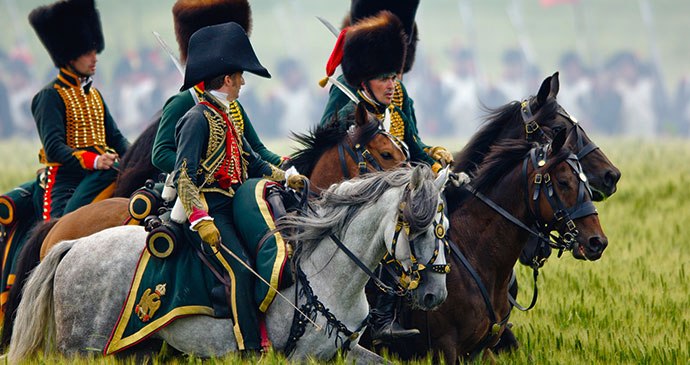 © M Fasol
More than just a battlefield
The small town of Waterloo is situated about 15km south of central Brussels in the Province of Brabant Wallon in Wallonia, the French-speaking southern half of Belgium. The battlefield lies 4km to its south; however, the Waterloo region offers far more than just a battlefield. A wealth of sights beckons the curious tourist, including the historic town of Nivelles, with its towering Collegiate Church of Saint Gertrude, the exhilarating Walibi theme park at Wavre and the profoundly tranquil ruins of the Abbaye de Villers. So, explore the key sites, memorials and monuments associated with the most famous battle in British history, but also take time to discover the fascinating surrounding area.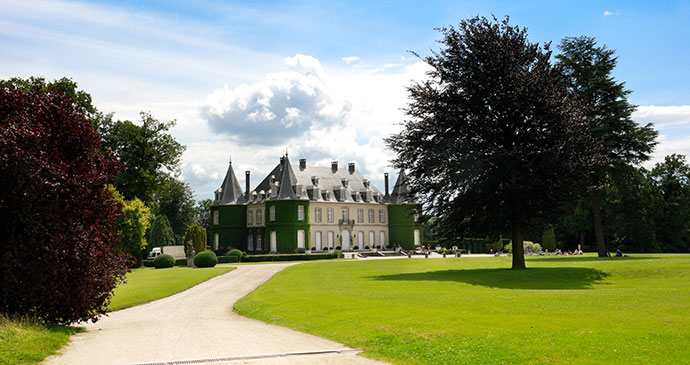 Château de la Hulpe © Emilianm/Dreamstime.com
Food and festivals
Waterloo is a place to enjoy, with plenty of good places to stay and to eat and drink. You can expect gastronomic flair at Waterloo's best restaurants, excellent seafood, French and Italian cuisine plus health-conscious alternatives and more basic fare. Waterloo was a sugar town and its sucrerie first opened in 1837, using the local sugar beet. Its speciality is a sugar tart, tarte au sucre brun, and its integrity is protected by the Brotherhood of the Master Pavers, Writers and Eaters of Sugar Tarts, founded in 1993. Waterloo also has its own beer, called 'Waterloo', brewed at Braine-l'Alleud by the Brasserie de Waterloo. Then there are the festivals. To name but a few, the largest carnival in Walloon Brabant is held in Nivelles over the weekend following Shrove Tuesday; a horseback procession involving 150–200 riders and mounted musicians takes place in Saintes on Trinity Sunday and the last Friday and Saturday in August sees the beautifully lit ruins of Abbaye de Villers filled with song on the Nuit des Choeurs. And don't forget to find time to buy top-quality Belgian chocolates from a choice of shops either side of the busy Chaussée de Bruxelles.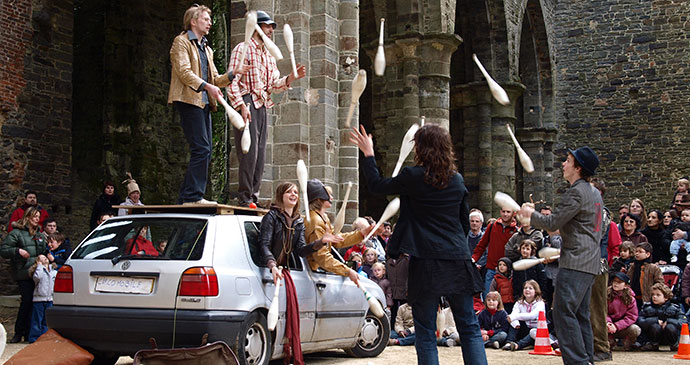 Circus fun among the ruins of the Abbaye de Villers ©Joseph Jeanmart/Whybelgium.co.uk
Get 25% off our Waterloo guide throughout June