Written by Bradt Travel Guides
Africa is renowned as the ultimate safari destination, but game drives aren't limited to just driving around reserves in a 4×4. For a safari experience with a difference, check out these extraordinary wildlife-viewing opportunities.
Balloon safaris over the Serengeti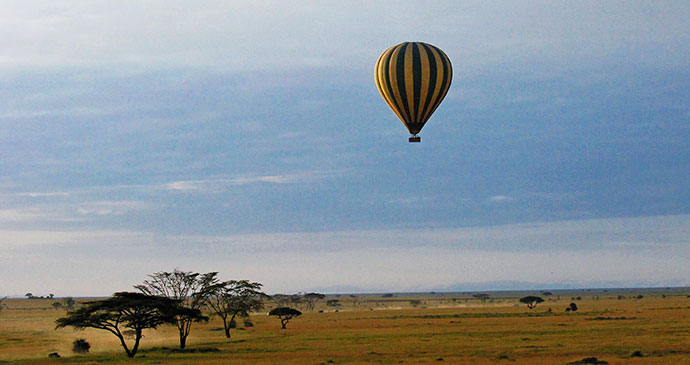 Hot-air balloon is a great way to see the wildlife of the Serengeti © Harvey Benson, Wikimedia Commons
Although not cheap, a balloon safari is definitely worth the expense if you can afford it while in Tanzania. Gliding serenely above the trees as the sun rises allows you to see the expansive plains from a new and quite thrilling angle. It also offers the chance to see secretive species such as bushbuck and reedbuck, and, because you leave so early in the morning, you are likely to spot a few nocturnal predators. That said, any images you have of sweeping above innumerable wildebeest and zebra may prove a little removed from reality. Launching from Seronera or the Western Corridor, you can only be confident of seeing large herds of ungulates during the exact week or two when animals concentrate in the immediate vicinity. Odds are a lot better from Ndutu as the large herds tend to congregate there throughout December to March.
Bumblebee safari, UK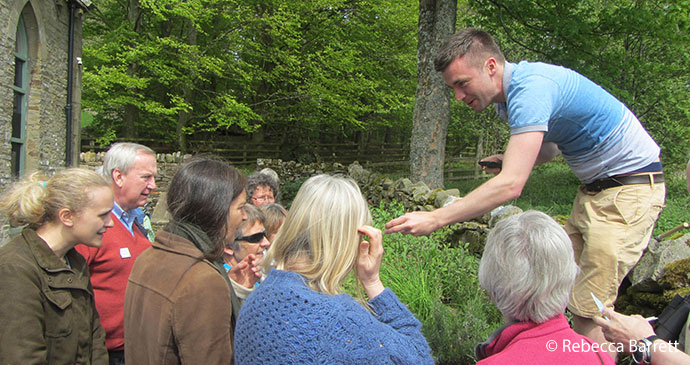 There are over 250 different species of bee in the UK – a handful of which you will be able to spot on the safari © Rebecca Barrett
How does one safari with bumblebees, you may ask? With a butterfly net in hand, through wildflower-rich meadows and referably in the company of children, so as to share their uninhibited curiosity in one of the most extraordinary and precious of nature's creatures. There are several locations in England where guides from the Bumblebee Conservation Trust lead the safaris. There are over 250 different species of bee in the UK – a handful of which you will be able to spot on the safari.
Canoe safaris along the Zambezi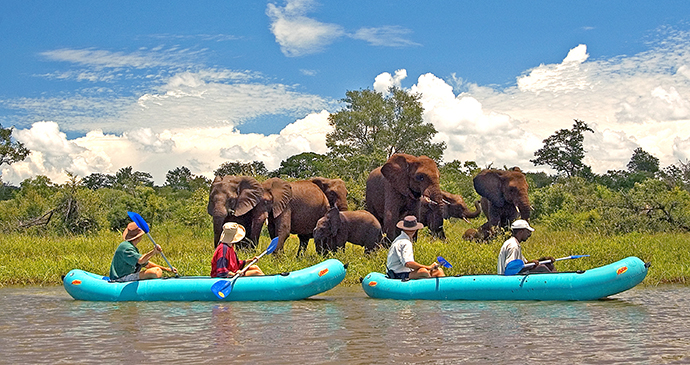 Drift along the banks of the Zambezi River and come face to face with elephant, hippo and crocodile on an unforgettable canoe safari © Wild Horizons
Many people would challenge that there is nothing better than a walking safari to give you an appreciation of the African environment. Cruising on the Zambezi in a canoe is possibly an even more appealing way to be at one with nature, and like bush walking there is a similar range of comfort options. Words like 'tranquil' and 'serene' leap to mind as you gently paddle downstream, wending your way round pods of hippo and marvelling at how close you can get to that elephant quenching his thirst from the bank. Binoculars and cameras will be used to the full with the dazzling array of riverine birds and wildlife on offer, but don't put your paddle down for too long or you'll fi nd yourselves drift ing a little too close for comfort towards hippo territory.
Horseback safaris in Lake Mburo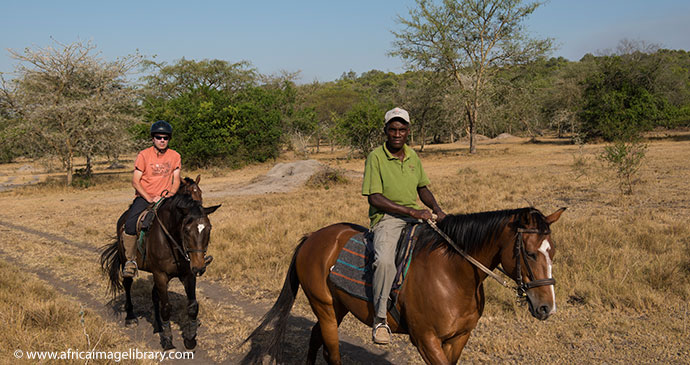 The horseback safaris on offer in Lake Mburo are the first of their kind in Uganda © Ariadne Van Zandbergen, Africa Image Library
Mihingo Lodge has introduced horseback safaris in the east of Lake Mburo National Park – a first in a Ugandan protected area. This low-key, acacia-dominated reserve supports a rich variety of ungulates, ranging from giraffe to half-a-dozen antelope species. Horseback safaris are a great opportunity to get close to such animals as they are far more relaxed around horses than around cars. The lodge offers a number of different excursions, including a 30-/60-minute taster in the grassy valley floor (an area habitually filled with game), half-day excursions to various hilltop viewpoints with a picnic breakfast and several overnight options.
Whale safari, the Azores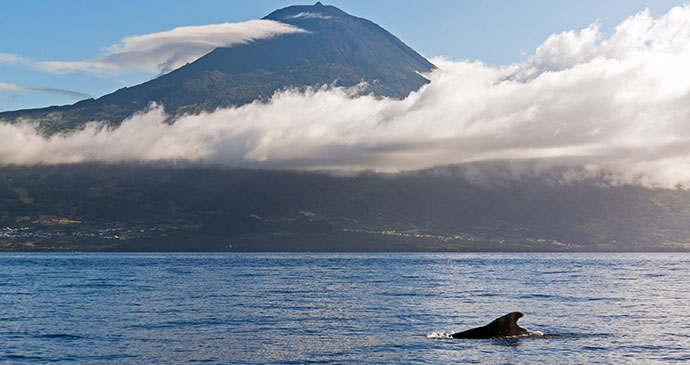 27 of the 80 recorded cetacean species have been spotted in the Azores © pico, Dreamstime
Whale watching has become tremendously popular since it first began on Pico years ago and still uses the old expertise of the lookouts in hilltop towers to spy the cetaceans. It is a truly world-class cetacean hotspot and a single 3-hour trip might reveal two or three whale species and almost certainly some playful dolphins. Numerous enterprises now offer the experience.
Bat safari, Zambia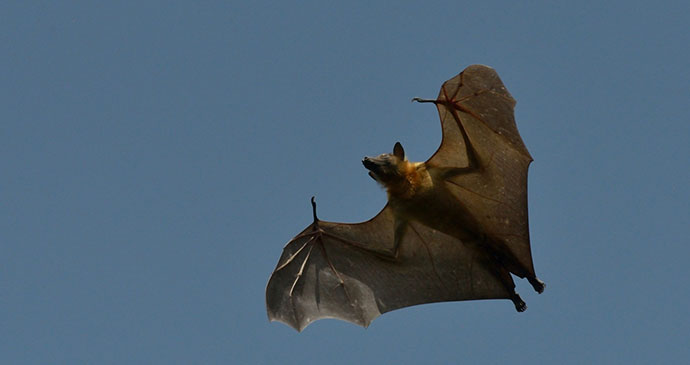 Kasanka hosts the bat migration in the later months of the year © Chris Meyer
Without doubt the most spectacular sight in Kasanka occurs around the start of the rains, in November and December, when an enormous colony of strawcoloured fruit bats (Eidolon helvum) converges on the park to roost in the mushitu forest. Sometimes known as flying foxes, they pour out of their resting-place each evening just after sunset, filling the sky as they fly in search of food. The bats have wingspans of up to 85cm, making a grand spectacle that is best observed from the area of the Fibwe hide. During late November and early December, bat safaris are run by two safari operators, including Robin Pope Safaris who organise seven-night trips that combine their Nkwali property in the South Luangwa with three days at Wasa Lodge and a night in Lusaka.
Boat safaris in Liwonde National Park, Malawi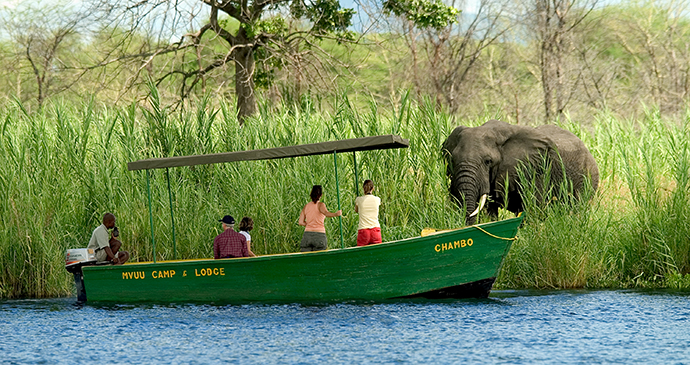 Close encounters with elephant are a highlight of any boat safari in Liwonde National Park © Dana Allen, Central African Wilderness Safaris
Motorised launch trips along the Shire River leave Mvuu every morning after breakfast and from the other camps by arrangement. The vegetation along the river is splendid: thick stands of borassus and wild date palms, ghostly baobab trees, yellow fever trees and dense beds of papyrus. Close encounters with hippos are guaranteed, you can be confident of seeing elephants, waterbuck, impala, crocodile and vervet monkeys, and there is a fair chance of seeing sable antelope from the boat. Birds are everywhere: among the more common species are fish eagle, jacana, white-breasted cormorant (these breed along the river profusely in the dry season), darter, long-toed lapwing, African skimmer, and a variety of kingfishers and herons.
Night boat safaris from Mvuu Lodge are a must for serious birders as they offer an excellent chance of spotting Pel's fishing owl in action, as well as the nocturnal white-backed night heron. You'll be amazed at how closely the boat is able to approach roosting birds such as giant and malachite kingfishers (the latter nothing short of dazzling in the spotlight), as well as huddled flocks of colourful little bee-eaters.
Puffin safari, Iceland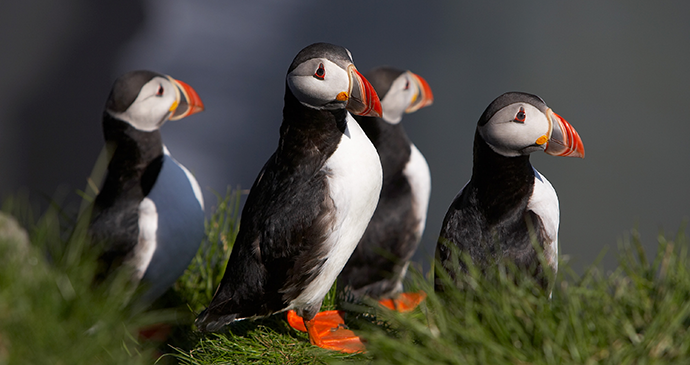 It is common to see a puffin flying around with as many as ten fish in its mouth © Visit Iceland
Puffins are the iconic bird of Iceland, and quite an entertaining species. The puffin's appearance is unmistakable: black wings, neck and hood, with a podgy white tummy and white cheeks. Their eyes look like triangles, and their parrot-shaped beaks show bright red, yellow and blue in summer. Látrabjarg is the very best spot on the island to encounter puffins as hunting is prohibited on the cliffs, so the birds are fearless and allow you to get within a few inches of them. At the height of summer, when the birds (and tourists) are in full force, the real secret is to go to the cliffs at night. Few realise that the puffins only start returning from the sea after 22.00.
Penguin safari, Falkland Islands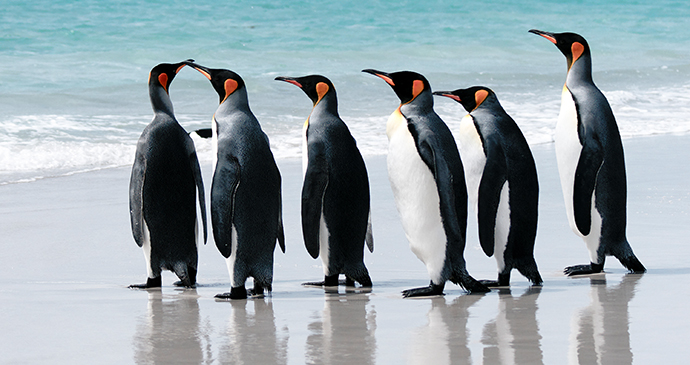 This scenic site is most famous for its king penguin colony where over 1,500 adults have been counted in recent years © Richard Burn, Shutterstock
For many, the opportunity to see penguins is one of the Falkland Islands' major draws; five species breed around the coasts. One of the best places to visit to be in with a chance of seeing them is Volunteer Point. This colony of king penguins continues to grow and over 1,500 adults have been counted at this site in recent years. Most will be breeding adults with 600–700 young being produced each year. A few of the adult birds have been found to be carrying tags put on them in South Georgia, so new birds coming into the colony from this distant island is a factor in this colony's success story. The penguins make their nests on a grassy strip of land that separates the lagoon from the open sea, linking the headland to East Falkland. The main colony now has a circle of white stones around it to indicate permitted areas. It should be noted that some penguins, particularly the young birds will often come and investigate those sitting outside the circle! If you sit still and quiet they will often come very close before deciding you are not worth investigating and carrying on with their business.
---
Start planning your next safari with one of our comprehensive guides: