Written by Bradt Travel Guides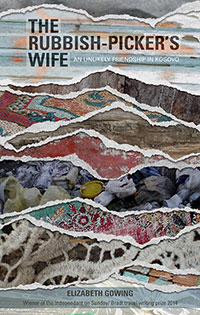 'In front of the mosque, the rubbish heap steamed, and the children crawling over its stench shimmered like visions of angels. It was hard to distinguish anything in the waste other than the forms of the waste-pickers – anything with soft vegetable edges was oozing into a soup of discarded nappies and rotten food, though off to one side I could still see the shape of a dead puppy glistening like a burst fig.'
This is the opening of Elizabeth Gowing's winning piece in the Bradt/ Independent on Sunday competition in 2014. It narrates an episode from her experiences with the excluded Ashkali community in Kosovo; experiences which have now been turned into a book.
The Rubbish-Picker's Wife; an unlikely friendship in Kosovo (Elbow Publishing) – www.rubbishpickerswife.com -was published this summer and Elizabeth tells us how the fortunes of the book and the impoverished families it introduces have intertwined.
"It's a strange experience writing a book about a story which hasn't finished yet, but it's also wonderful to see how the book can influence the story to have a happy ending," she says. "The Kosovan Ambassador to London, Lirim Greiçevci, read the book, and was moved to host a fundraising event this month at the Kosovan Embassy to raise money for the education of the children from this community. We raised enough money to offer a daily snack for all the children who attend the kindergarten we've started. He even organised for Hatemja, the 'rubbish-picker's wife' of the title, to come to London for the event. Since the book's publication, the community described has had a visit from Kosovo's president, Atifete Jahjaga, and others from within Kosovo and beyond have read it and been moved to donate money or become volunteers with our charity, The Ideas Partnership (www.theideaspartnership.org), which works with the rubbish-pickers and their families."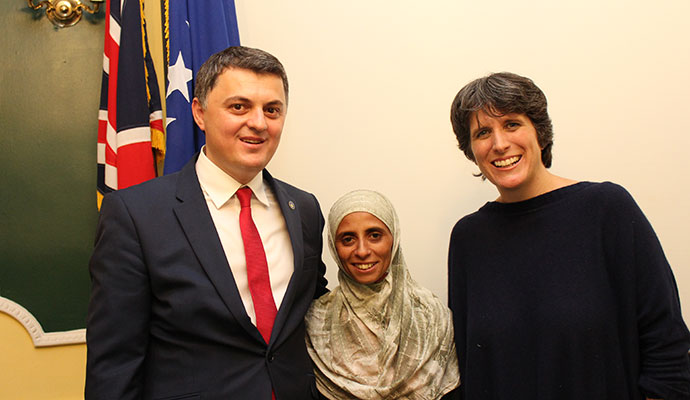 Kosovan Ambassador Lirim Greicevci with Hatemja and Elizabeth Gowing in London. Image credit: Besim Gerguri
The book tells the story of how Elizabeth and Hatemja learn with, from and about one another's lives; and how together with a team of Ashkali and other Kosovan volunteers and with helpers from abroad they have managed to get 300 children into education – in a desperate community where 96% of people haven't finished compulsory schooling. It also tells the story of how the chance encounters when you are 'just passing through' can lead to enduring friendships; of what happens when you find your community, but it's a long way from home.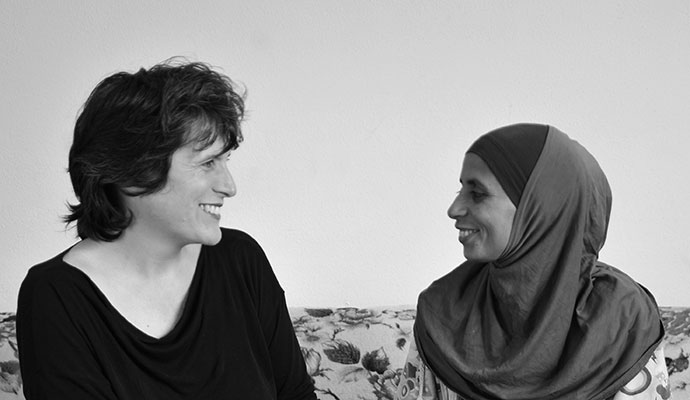 Elizabeth Gowing and Hatemja. Image credit: Dorit Hoffmeister
The Bradt guide to Kosovo is now in its second edition and has been reviewed as 'the gold standard to which other guidebooks should aspire'. It has details of Unesco World Heritage Site monasteries, homestay guesthouses, and the funky cafes and restaurants of the capital's vibrant night life, as well as the traditional stone kullas which feature in The Rubbish-Picker's Wife. The biking and hiking trails described will show you stunning scenery and perhaps also the trickier elements of terrain vividly described in The Rubbish-Picker's Wife
"The roads were almost all mud, and as Hysni and I picked our way along them, I realised how little I'd understood mud until now. It had always seemed an incidental detail – a grey splash spoiling your car's paintwork on a rainy day, or something within the creosote lines of a sports field to be banged off your hockey boots when you came home. Fushë Kosovë mud was, instead, a fifth element. It clogged up any spaces in the tread on your soles, and then formed further clumps and clags under your feet, squashing into great unsteady plates extending either side of your shoe, so that you walked with something pulling at you with every step. Mud here was a feature of the landscape requiring particular techniques for navigation in the same way that a river or a mountain does. It made you slip and fall, it pulled you down and it spun you round. It flicked and slicked across your skin so that you found it silting up your shower when you washed at night. Hatemja's tin trough for washing the children's clothes was a sludge of mud as their trousers and socks sat steeping in the grey-brown stew."