Written by Mike Bagshaw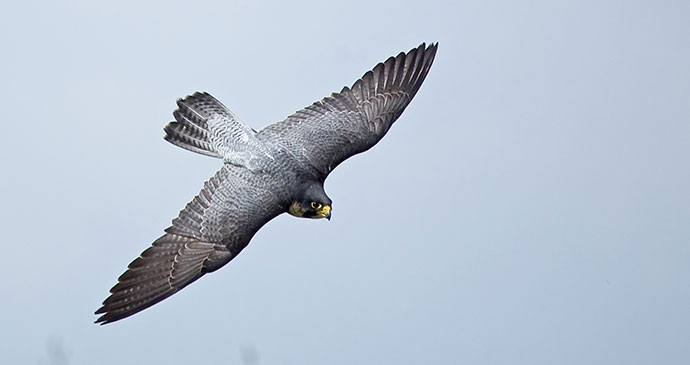 The peregrine falcon is making an excellent comeback across Britain © Sue Robinson, Shutterstock
Back in the late 1970s, when I was still in my teens, I read a book called The Peregrine by J A Baker, a man obsessed by these most magnificent of birds. For this passionate and poetic naturalist, peregrines didn't just fly, they sliced a parabola in a smooth outpouring, like water gliding over stone, or fell as a black bill-hook does into splinters of white wood. What's more, his meticulously observed winter's diary wasn't only inspirational prose, but damned good for scientific recording too.
Some of his passion rubbed off on me and I dreamt of seeing peregrine falcons flying in the wild. Those were dark days for birds of prey generally; organo-chlorine pesticides added to crop seeds had found their way into the food chain via seed-eating birds and had ended up in such concentrations in the bodies of top predators that the poisoning proved fatal. Where it did not actually kill the birds, it weakened eggshells to the point where they smashed easily in the nest and breeding failed. By the 1970s the peregrine was on the brink of extinction in England. Those few pairs that did nest on isolated crags in the north and west of the country were guarded 24 hours a day by dedicated volunteers to prevent the theft of their rare eggs or chicks. Thirty years ago egg-collecting was far more widely practised than today, and the hatched young birds could be sold to unscrupulous falconers for thousands of pounds.
I was introduced to my first pair of wild peregrines by an inspirational schoolteacher, Alan Stoddart, who, when on holiday from teaching me and my peers in industrial Lancashire, lived in a caravan in Dentdale. The nest, or eyrie, was on a crag called Combe Scar near the village of Dent, and one Easter I and a few other equally excited schoolboys were sworn to secrecy and taken up to meet the 'guard' in a derelict barn below the crag.
For the following hour or two we watched entranced through binoculars as the male (tiercel) screamed into view at a speed scarcely believable, to deliver food to the female (falcon) who sat incubating eggs on the nest, their staccato calls echoing around the combe. I have seen peregrines many times since, but nothing has ever matched that first electric experience.
Thankfully, those poisonous pesticides have long since been banned, and wildlife crime is now very well policed. Consequently peregrine falcons have made a remarkable recovery all over the country, recolonising all their old haunts and even spreading on to the artificial cliffs (tall buildings) in many towns and cities. The Yorkshire Dales now boast about twenty pairs nesting on crags dotted across the national park, including, I am happy to note, the descendants of 'my' pair, still on Combe Scar.
You could come across them anywhere in the Dales, usually given away by their distinctive anchor shape in flight, like a squat kestrel, or their phenomenal hunting speed of over 100mph, if you are fortunate enough to see it. For an almost guaranteed viewing though, go to Malham Cove where the RSPB has a telescope set up between Easter and August on the resident peregrine nest.
---
Want to find out more about the wildlife of the Yorkshire Dales? Check out our comprehensive guide: