Everyone in Liguria has an opinion on how to make a perfect pesto sauce. Purists use a traditional pestle made of olive wood and a stone mortar. A marble one is considered too cold to pummel or pound the ingredients. Pestare in Italian means 'to pound'. The key thing about pounding the herbs and nuts is that the heat produced by the wood releases the fragrances from the herbs.
Many cooks use a blender but those who opt for this faster method, myself included, all have an opinion on what sort of blender will do. I prefer a handheld model. Basil leaves are surprisingly tough and can fuse cheap models, so watch out if you get whizzing.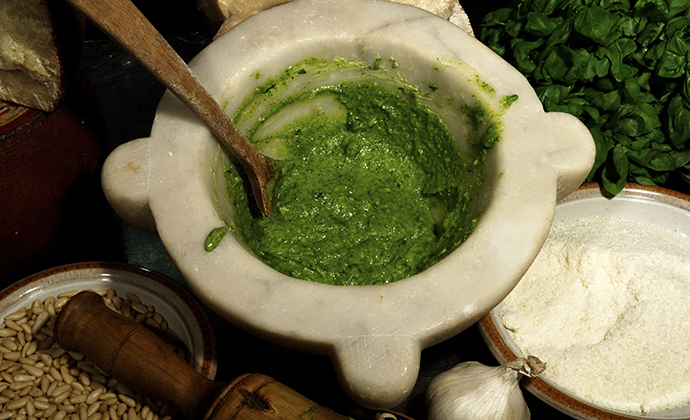 The key is to use the leaves of young plants not more than two months old. I like to grow my own. I have a basil farm in both London and Liguria. It's rather a case of spot the difference as you can see in the pictures but the bottom line is the fresher the better. Pesto is incredibly easy to make and tastes a million times different from anything that comes off supermarket shelves even in Liguria itself.
Sprinkle a pinch of sea salt, which protects the green colour of the basil, on two large bunches of basil, add two garlic cloves, a sprinkle of pepper, four tablespoons of olive oil and three tablespoons of pine nuts. If you are in Liguria, you can harvest your own pine nuts. Our neighbour's kids are regularly sent out to forage for fallen cones and love smashing them to release the nuts.
Whizz all the ingredients and then mix in a handful of grated pecorino cheese. Here again the debate can get quite heated as in some parts of Liguria Parmesan cheese is used but I think it lacks the cutting edge of a good sharp pecorino or sardo. There is no need to even grate anything as most shops in Liguria sell fabulous pecorino ready grated. Look out for it on supermarket shelves.
Serve your with trofie, little twists of pasta, which are traditionally cooked in water with potatoes and green beans, which can be served chilled in a salad. I love the trofie from the Vallle Scriva, just behind Genoa.
In some parts of Liguria walnuts are added instead of pine nuts and ricotta is mixed in instead of pecorino.
The Pesto World Championship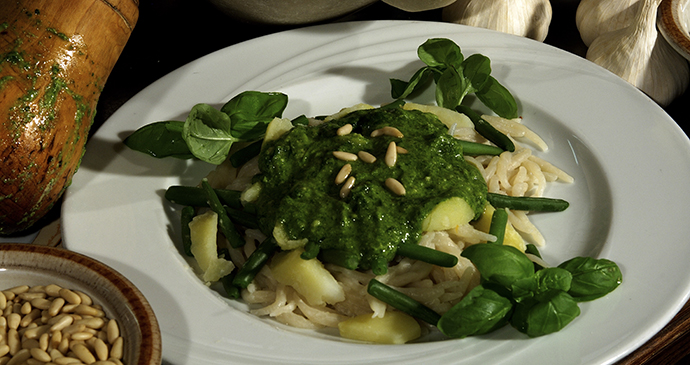 Since 2007, every two years the best cooks have battled it out to win the Pesto World Championships. No electric machines are seen here, as everything has to be done the traditional way, with a pestle and mortar. Over 100 contestants gather in the Palazzo Ducale and use the same ingredients and equipment provided by the Palatifini Assocation of Genoa.
Anyone can enter and the preliminary contests are held all over the world. Age is no limit. There are even children's contests and the winner of this prestigious award, the Pestello d'oro, the golden pestel, in 2014 was 86-year-old Alfonsina Trucco. She makes the pesto in the family run Trattoria Rosin in Montoggio.
For more on Ligurian cuisine, take a look at our award-winning Liguria guide, the only standalone guide to the region.