Written by Hugh Sinclair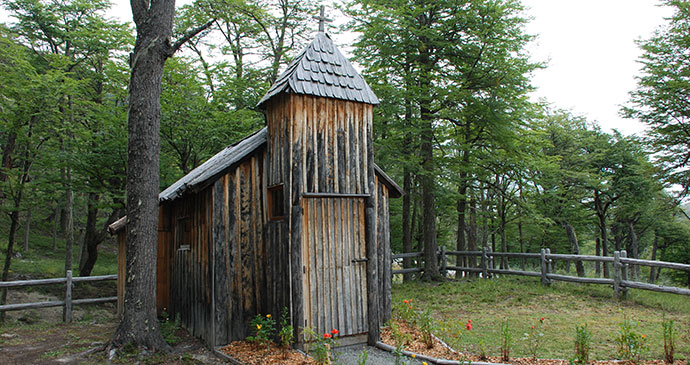 Ronchi's chapel in Villa O'Higgins © Hugh Sinclair
Father Ronchi, the self-proclaimed 'rascal priest', came from a small village in Italy to remote Chilean Patagonia with the sole goal of transforming the region. Three decades of total devotion forever changed the destiny of more than 50 towns in the regions of Aysén and Chiloé. He founded three new villages, created an extensive network of radio and television stations, built dozens of chapels, schools, lodges, boats and workshops, and developed a number of projects that nowadays might well be described as 'social enterprises'. He had many loyal followers and friends within Aysén, but he also had critics. Many of his peers did not agree with his focus on the poorest and most isolated communities of the region, while others did not approve of his methods. For his life's work, parliament granted him Chilean nationality, and today he is adored in all corners of southern Patagonia.
Antonio Ronchi Berra was born in Bálsamo, Milan, Italy on 3 February 1930. He was the second of the thirteen children of Agnese Berra and Pierino Ronchi. His early teenage years were marked profoundly by the Second World War, and a movie about a priest that suffers while trying to benefit society prompted Antonio to consider the priesthood. He enrolled in the seminary in 1950, aged 20.
Ronchi was sent to Chile in 196, to work in a shelter in the city of Rancagua with the Mother of the Divine Providence Mission. The following year he moved to the Shelter San Luis of Puerto Cisnes in Region XI of Chile – his official arrival in Patagonia. In addition to his pastoral services, he worked closely with several local authorities and businesses to encourage them to help the local inhabitants progress in their spiritual, personal, social and economic development. In 1967 he moved back to Rancagua to become the local parish priest but lasted only five years until he was sent back to his beloved Puerto Cisnes. He lived in the Parish of Nuestra Señora del Trabajo (Our Lady of Work) and for more than 20 years he worked predominantly in the most remote towns in the region. Many such villages had neither roads nor communications and were surrounded by dense forests, mountains and fjords. Thus, one of Ronchi's first accomplishments was to install FM radio antennas and television transmitters. Such was the impact of connecting such villages to the outside world that to this day the FM transmitter remains a historic monument in Puerto Cisnes and is marked on maps.
Father Ronchi was known for his direct approach. He would literally go knocking on people's doors in the communities in which he was working, walking great distances from farm to farm, requesting their help in the development of a certain project. Beyond helping to build infrastructure he helped to connect communities. According to a fascinating thesis written by a Chilean student on Ronchi, in 1985 he was the first person to travel by horse from Coyhaique to Villa O'Higgins. He was lost for two months and had to kill his horse to feed himself.
Father Ronchi died on 17 December 1997 in Santiago, aged 67. His was buried in the cemetery of Puerto Aysén. Today he has a foundation named after him, the 'Fundacion Obra Padre Antonio Ronchi' (Foundation for the Works of Father Antonio Ronchi) that seeks to keep his legacy alive and continue the works that he started. His legacy remains visible today in various villages across the region:
Puerto Cisnes: The annual Fried Fish Festival held in late January is an example of the legacy of Father Ronchi's work. He brought the Chilote custom of minga (community support) to Cisnes, whereby the community comes together and builds a house each year for a less fortunate family in the community.
Caleta Tortel: Here, Father Ronchi built a church, the FM radio station and set up several productive projects. Testimony of this is the hull of the boat which he brought to improve the transfer of passengers and stimulate activities of production. Today the boat is no longer in use and its condition has deteriorated, but its shell is still intact. Outside one of the well-known chapels is a life-size wooden statue of Father Ronchi in honour of his memory.
Puerto Yungay: Ronchi built a school, a church, four houses and an electric turbine. The school unfortunately burnt down. Ronchi hoped that families living in Caleta Tortel would relocate to Yungay as it was more accessible – at this time the Carretera Austral ended at Puerto Yungay and Caleta Tortel could not be reached by road. According to Ronchi, Yungay provided important access to the Pacific through the Mitchell Estuary, and was therefore a more strategic location to build a town. Ronchi's plan to connect Caleta Tortel with the Carretera Austral sadly never took off, and it was not until 2003, 20 years later, that roads finally reached the boardwalk village. The boat that takes passengers from Puerto Yungay to Río Bravo (and on to Villa O'Higgings, the last and most southern town of the region) now proudly carries the name of Father Antonio Ronchi.
Villa O'Higgins: The Padre Ronchi Museum is housed in what used to be the church that Father Ronchi and the community built in 1977. The museum provides an overview of his work. Towards the Río Mayer border crossing lies a fine example of a chapel built by Ronchi incorporating an unusual roof-construction called canogas – inter-locking hollowed-out tree trunks.